Jenner | To Live is To Suffer
by Joe Mis
– Sr. Columnist —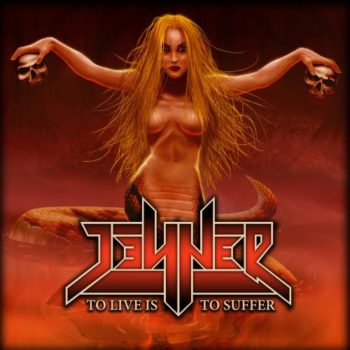 Fans of old school speed or Thrash Metal owe it to themselves to check out the latest release from the Serbian four-piece called Jenner. To Live Is To Suffer is not only a decent Thrash release but what makes it unusual is that Jenner is an all female group – and these ladies pull no punches.
Founded in 2013 by sisters Aleksandra Stamenković (guitars) and Marija Dragićević (drums). Jenner started as a cover band, paying tribute to the greats – Judas Priest, Warlock, Grim Reaper, Anthrax, Overkill, Exodus, Agent Steel, and others. The founding pair is now joined by vocalist Andelina Mitić and bassist Mina Petrović. They started writing original material for a 2015 demo, and have not looked back. To Live Is To Suffer is their full-length debut. This band packs a wallop, cranking each tune up to 11 and not missing a beat. Their influences are blatant and obvious throughout, but not derivative. They are Speed Metal through and through.
Their sound is classic speed, even down to the mix and engineering. As in many older releases, the vocals tend to get buried in the manic drum lines, and this is no exception. Andelina's vocals – unlike those on many of the old Thrash tracks – are crisp and clear rather than muffled, so it seems that this was a deliberate choice by the band to pay homage to the traditional sound. While not having the greatest range, Andelina uses her voice well and has a killer high end – a screech that could raise the dead.
Stamenković's guitar work is excellent. She lays down simple and punchy riffs as all good speed players do, but she shines as a soloist – the sparking break on "Factory of Death" speaks volumes. The influence of Anthrax is quite obvious on "Hear The Thunder Roar," particularly in the coordination of Marija's drums and Mina Petrović's bass, the shouted gang vocals, and relentless guitar hooks. "Demon's Call" is delivered with the intensity of old Metallica or Testament, and packed full of wild tempo changes, manic double bass drumming, and rapid-fire guitar work. Petrovic's bass is at its best "On the Judgement Day" a true barn-burner of a track that is the essence of Thrash Metal.
Jenner's To Live Is To Suffer is fast and furious, and extremely old school. Like all good thrash, listening to this release is an adrenalin rush and a half, a jackhammer pounding that will leave any fan wanting more. It is a well-written album overall, filled with the traditional biting lyrics, and songs that allow each band member to shine. While not perfect, this is a very strong debut that speaks well for the future.
Genre: Speed Metal, Thrash Metal
Band:
Aleksandra Stamenković (guitars)
Marija Dragićević (drums)
Mina Petrović (bass guitar)
Anđelina Mitić (vocals)
Track Listing:
1. Factory of Death
2. Hear the Thunder Roar
3. Demon's Call
4. The Heath is Coming Again
5. On the Judgement Day
6. How Deep is Your Greed
7. Silent Killer
8. Opened (On The Table)
Label: Inferno Records
Website: http://facebook.com/jennerserbia
Hardrock Haven rating:
(7 / 10)