Labyrinth | Architecture of a God
by Franco Cerchiari
– Senior Columnist —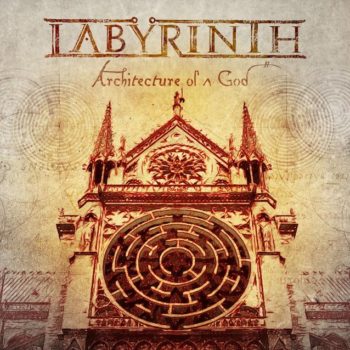 Impossible to play at normal volumes, after a seven-year absence, Italy's Labyrinth returns with this, their eighth studio release, Architecture of a God, released on the excellent Frontiers Records label. Completely melodic, with fantastic vocals, and layers of guitar and keyboard work that is truly out of this world, fans of Seventh Wonder, Cloudscape, Anubis Gate, Circus Maximus, Vanishing Point or Sun Caged are going to love this. Joining founding members/guitarists Olaf Thorsen and Andrea Cantarelli, and vocalist Roberto "Rob Tyrant" Tiranti (A Perfect Day, Wild Steel, Odyssea,) are new band members, drummer extraordinaire John Macaluso (TNT, Riot, Ark, Starbreaker), keyboardist Oleg Smirnoff (Vision Divine, Eldritch), and bassist Nik Mazzucconi (Edge Of Forever)
By way of comparison to Labyrinth's 2010 release, Return To Heaven Denied, Part 2 that was released on the Marquee/Zoom label, the biggest difference between …Heaven Denied, and …God is the overall sound and mix. While Return To Heaven Denied, Part 2 did feature some great songs, ("The Sailors of Time," "The Morning's Call," "In This Void,") the sound of CD was in parts muddy and not as crisp as one would have liked. However, on Architecture of a God, the switch to the Frontiers label was a great choice for the telltale clear, full, engaging and gorgeous sound that Frontiers is so precise at bringing forth is one of the many reasons …God sounds so stunning. It has to be said that Frontiers Records is truly one of the world's best in bringing out the best sounds from the bands on their roster.
While two songs do present with galloping, fast riffs ("Take On My Legacy," and "Stardust and Ashes,") Labyrinth's latest has been given by some the moniker Progressive Power Metal, which doesn't really match what is heard. Yes, in a time or two the Progressive can be felt, but the "Power" part doesn't really fit. A better description would be to call this Melodic Metal with hints of the Progressive and even Melodic Hard Rock.
The Architecture of a God opens with "Bullets" that features a mid track guitar and keyboard solo that simply shines. The give and take between the guitar and keyboard are absolutely phenomenal. "Bullets" is without question this CD's highlight, and to do this song justice and invest in some real decent headphones so every nuance, riff, and the musical arrangement of this outstanding song can be appreciated. From there pay attention to the bass guitar of "Still Alive," the mid-tempo Melodic Metal of "Someone Says," and the technical, precise arrangement of the title track, (which is really reminiscent of the excellent band Seventh Wonder.) The gentle "A New Dream," the cosmic-ish, progressive instrumental "Children," the lush "Those Days," the shifting from fast to slow tempo of "We Belong To Yesterday," and the piano of the closing track "Diamonds," were all well played and worth a definite listen.
Again, give heed to the guitar and keyboard work, for it was exhilarating. Overall this was a great CD. The musicianship was excellent; the harmonic vocals fantastic, the way the songs came toward the listener was incredible. Nothing forced, nothing demanding to be heard, but instead, the songs came together nicely with each instrument doing what it is that they were supposed to do – add an emotion, a riff, or a solo. This was an inspiring showing of great talent that deserves to be heard on the radio but of course won't be, for time and again American radio proves how useless they are in helping support bands like Labyrinth (and so many others.) Truly well done is Labyrinth's Architecture of a God.
Genre: Melodic Metal
Band Members:
Olaf Thorsen – guitars
Andrea Cantarelli – guitars
Roberto "Rob Tyrant" Tiranti – vocals
John Maculuso – drums
Nik Mazzucconi – bass
Oleg Smirnoff – keyboards
Track Listing:
1. Bullets
2. Still Alive
3. Take On My Legacy
4. A New Dream
5. Someone Says
6. Random Logic
7. Architecture of a God
8. Children
9. Those Days
10. We Belong To Yesterday
11. Stardust and Ashes
12.Diamond
Label: Frontiers Records
Band Website: www.labyrinthmusic.it
Hardrock Haven rating:
(8.5 / 10)