by John Kindred
– Publisher —
Rock Candy Records Remastered & Reloaded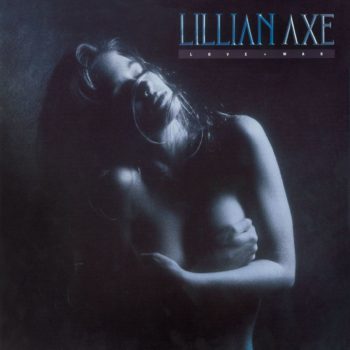 Lillian Axe gets the 'Rock Candy' sugary-sweet treatment as the label has reissued the band's sophomore album Love + War as a "special deluxe collector's edition," complete with a multi-page colored booklet with a 4000-word essay. The reissued album has been remastered in High Definition by John Astley from an audiophile recording from the original master, shaped from 24 BIT digital technology.
New Orleans-based Lillian Axe was founded by guitarist Steve Blaze. Originally the group performed for their enjoyment but the local music scene helped to propel the interest of music labels. The band — comprised of guitarists Steve Blaze and Jon Ster, vocalist Ron Taylor, bassist Rob Stratton and drummer Danny King — released their debut self-titled studio album in '88 on MCA Records. The follow-up Love + War arrived in '89 and although well received by fans the album was all but ignored by their labels promotions department. Even landing a video on MTV for the song "Show a Little Love" did nothing to spur the label's promotion of the album.
Twenty-eight years after the initial release of Love + War, with the resurgence in interest of '80s Metal and Hard Rock bands, the album gets another release on life with its reissue and remaster of this classic album. Back in 2007 Metal Mind Productions delivered the much sought after album in a re-mastered limited (2000 manufactured) digipack edition. And with that one now a hard to get collectible Rock Candy teases your sweet tooth yet again giving fans a second chance to hear the classic album again.
Love + War packs a wallop with 10 songs produced by Tony Pratt (AC/DC) that seethes with melodic overtones, hard and heavy rhythms, blazing solos (no pun intended Mr. Blaze) and stylish, gritty vocals. The '80s were known for lyrical content that tied into sexual innuendos and Lillian Axe was not shy about dabbling within the confines of sexual context; "She Likes It On Top," "Diana," "Down On You," "My Number" and "Show A Little Love." Whether or not you cared for those sexual references, Lillian Axe's strength came through within the confines of the music.
Others songs, that didn't play up to the often pretentious sexual escapades, helped showcase the band's engaging musical explorations; "The World Stopped Turning," "Ghost of Winter," "Fool's Paradise" and "Letters in the Rain."
A band is nothing without a good vocalist. Lillian Axe again was ahead of their peers as Ron Taylor's voice had matured since their debut release. His gritty, soulful voice complimented the music that was written by both Taylor and Blaze. The songwriting partnership of both men helped steer the quality of Lillian Axe's sophomore release.
Where the debut self-titled studio showed the bands rookie explorations, Love + War delivered polished well written and well-crafted songs. The first single released, "Show A Little Love," fit in with the current trends on MTV. This alone should have sparked the interest of a mass audience as the band's visual appeal was the same as their peers. Lillian Axe though could also deliver in the music department and should have never fallen into the hair-metal classification.
Love + War is a flashback to a time when Metal music delivered much more than hairspray and lipstick. The compositional ideas and flamboyant vocals highlighted exactly what was positive about '80s metal. Although Lillian Axe continued to release music, suffering through lineup changes and the band continues to release new music; Love + War was the pinnacle of the band's creative endeavors. The album deserves a second look by naysayers. Even if they come away with negative criticism, we the fans know exactly what genius lies behind the album.
Genre: Hard Rock, Melodic Hard Rock, Melodic Metal
Band Members:
Ron Taylor – vocals
Stevie Blaze – guitar, keyboards and background vocals
Jon Ster – guitar, keyboards and background vocals
Rob Stratton – bass and background vocals
Danny King – drums
Additional Musicians:
Michael Dorian – keyboards
Track listing:
01. All's Fair In Love And War
02. She Likes It On Top
03. Diana
04. Down On You
05. The World Stopped Turning
06. Ghost Of Winter
07. My Number
08. Show A Little Love
09. Fool's Paradise
10. Letters In The Rain
Lillian Axe – "Show A Little Love"

Label: Rock Candy Records
Web: http://www.lillianaxe.com/
Hardrock Haven rating:
(9 / 10)