by Franco Cerchiari
– Senior Columnist —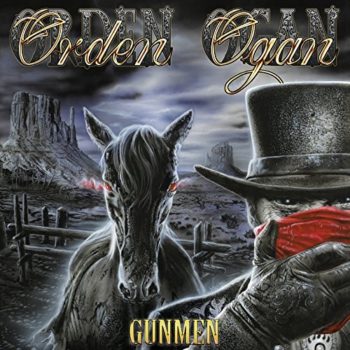 Gorgeous, dramatic, melodic, galloping, loud, bombastic, and ripe with the sounds of Power, Celtic, Progressive, Folk and Heavy Metal is Orden Ogan's latest, Gunmen, released under the AFM Records label. And oh my god is this one astonishing release. From the moment the refrains of the opening title track come within earshot is an instant reach for the volume knob made and what happened next is everything that is great about this incredible band all comes together in one swirling tidal wave of music. The towering vocals, the structure of the songs, the chord progressions and the bridge going from the verses into the choruses swells, and perfectly does it all come together, then it is just best to forget about all, and let Orden Ogan take you away on a journey of music and sound.
Formed in Germany in 1996, and originally going by the moniker Tanzende Aingewaide, it was in 1997 the band changed their name to Orden Ogan (German, Celtic for Order of Fear,) Gunmen is an absolute must have for fans of Blind Guardian, Vexillium, Evertale, Solar Fragment, and Falconer. But let's get back to the music for all the similarities to other bands, images of soaring vocals, and flowery imagery of "musical tidal waves" and "journeys of music and sound" don't mean a damn thing if a release can't stand on its own merit.
At its core Gunmen is seemingly simple in its delivery, for it is everything that Power Metal is supposed to be, but … a careful listen to the core of the songs and one hears imaginative music structures and songwriting that is truly complex and masterfully difficult. Keyboards and guitars when not front and center providing a solo, sit back, but are never idle, rather they fill in beautifully, and wind their way in and around the vocals while at the same time the rhythm section of bass guitar and drums do an incredible job of giving these songs a true bottom end. Lyrics tell stories of heroes; being alone, battles fought, sins and the sinners begging for forgiveness and freedom.
Listen to the glorious keyboards of the opening title track, the majestic guitars, heaven sent keyboards, extravagant vibe, imperial feel, and loud drums of the CD highlight, "Fields of Sorrow," and the mix of Folk and Power on the heavy "Vampire In Ghost Town." "Come With Me To The Other Side," featuring the gorgeous Liv Kristine (Theatre of Tragedy, Leaves' Eyes, Eluveitie,) starts beautifully enough but quickly explodes into a monster of a galloping Power Metal outing. Also worth a definite listen was the ghostly, eerie "The Face of Silence," the regal "Ashen Rain," the fury and magnificence of "One Last Chance," and closing this amazing release is the almost 9-minute head nodding, simply killer drums and guitars of "Finis Coronat Opus."
Yeah, all over Gunmen, the boys of Orden Ogan prove time and again that they are at their artistic peak. Not a single song out of place, for put together, listening to this release tells the story of a group of warriors and brave men fighting for what it is they believe in. And for the knowing, a disgust, and hatred for radio becomes even more intense, for when such a band as Orden Ogan puts out a collection of songs like that which was heard on here, a middle finger is pointed squarely at radio wondering why it is that they refuse to give music like this a spin. Certainly, the bands deserve it, but way past that so do the fans of the Power Metal, for it just isn't fair that Orden Ogan (and so many bands like them) aren't given the radio time they deserve. For when it comes right down to it, isn't that the reason that radio exists, to begin with, and that is to open bands up to a wider audience? In any event, listen to Gunmen, revel in its music and agree when it is said – this really is one amazing CD.
Genre: Power Metal, Folk Metal, Heavy Metal
Band Members:
Sebastian "Seeb" Levermann – guitars, vocals, keyboards
Tobi – guitars
Niels Loffler – bass
Dirk Meyer-Berhorn – drums
Track Listing:
1. Gunmen
2. Fields of Sorrow
3. Forlorn and Forsaken
4. Vampire in Ghost Town
5. Come With Me To The Other Side
6. The Face of Silence
7. Down Here
8. Ashen Rain
9. One Last Chance
10. Finis Coronat Opus
Label: AFM Records
Web: www.ordenogan.de
Hardrock Haven rating:
(9 / 10)