Rhapsody Of Fire | Legendary Years
by John Kindred
– Publisher —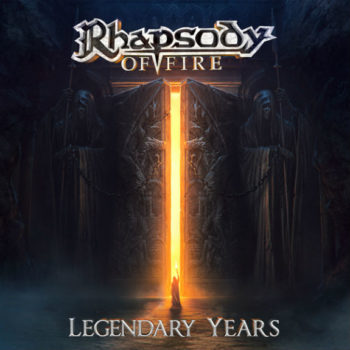 The Italian Symphonic Power Metal band Rhapsody of Fire, previously known as Rhapsody, returns with a new album and a new vocalist and drummer. Formed way back in '93 by guitarist Luca Turilli and keyboardist Alex Staropoli, the group obviously had had to deal with a name change, as well as lineup turnover, which includes the loss of Turilli, who left the band in 2011. Changes happened again in 2016, when longtime vocalist Fabio Lione and drummer Alex Holzwarth departed from the band after the 2016 20th Anniversary Farewell Tour.
This first outing with new singer Giacomo Voli and drummer Manu Lotter doesn't bring fans new music but revisits the past. Titled Legendary Years, the album's track list is derived from re-recorded songs from The Emerald Sword Saga, which is a five-concept albums-long story that began with the group's first album 1997's Legendary Tales and was wrapped up with 2002's Power of the Dragonflame.
So here, we find ourselves returning to the 'Rhapsody' era, as the band revisits the music co-written by Alex Staropoli and Luca Turilli. All the music has been re-recorded; drums, bass keyboards, orchestral elements and choirs, with the mixing and mastering falling into the hands of Seeb Levermann (Orden Ogan).
Epic, melodic, Symphonic, magical – many words describe the world of The Emerald Sword Saga. With the storyline musically condensed from five albums to just one, the first obvious sticking point is continuity and flow of the 14-track CD. Musically, the track list meshes rather well. Symphonic Metal is all about drama, huge sounding orchestral elements and choirs, filling up the room with its pompous, yet majestic instrumentation. Rhapsody of Fire has mastered the art of Symphonic Power Metal and has crafted the group's sound into a finely tuned musical machine.
Of the two newest recruits to Rhapsody's army, Voli, on whom the spotlight shines most brightly as he is forefront in the mix, takes these 're-recorded' songs and makes them his own. While Lotter, the glue of the arrangements, unleashes his thunderous drumming. Both musicians appear meant to perform this style of music.
The achievement here may not be making the music fit into the context of a new album with music pulled from different time periods, after all its Power Metal – which in it of itself always maintains a familiar vibe and energy level. Staropoli has set the table with a musical bridge that ties the past to the future, showing a new voice can maintain the edge and power of the past, all the while seeking to move forward into the yet undiscovered musical ventures of the band.
New fans can start their musical journeys with Rhapsody of Fire's Legendary Years, while initiated die-hard followers can appreciate the old ways and look beyond to the next wave of musical explorations.
At the end of the day, Staropoli makes no apologies for revisiting the past: "To re-record old historic tracks is not that common among bands because there is probably a lack of self-confidence or because, for some musicians and fans, what is part of the past should not be touched. We do not agree."
Genre: Symphonic Power Metal
Band:
Giacomo Voli – lead vocals
Roby De Micheli – guitar
Alessandro Sala – bass
Alex Staropoli – keyboards
Manu Lotter – drums
Track Listing:
1. "Dawn of Victory" (Dawn of Victory)
2. "Knightrider of Doom" (Power of the Dragonflame)
3. "Flames of Revenge" (Legendary Tales)
4. "Beyond the Gates of Infinity" (Symphony of Enchanted Lands)
5. "Land of Immortals" (Legendary Tales)
6. "Emerald Sword" (Symphony of Enchanted Lands)
7. "Legendary Tales" (Legendary Tales)
8. "Dargor, Shadowlord of the Black Mountain" (Dawn of Victory)
9. "When Demons Awake" (Power of the Dragonflame)
10. "Wings of Destiny" (Symphony of Enchanted Lands)
11. "Riding the Winds of Eternity" (Symphony of Enchanted Lands)
12. "The Dark Tower of Abyss" (Symphony of Enchanted Lands)
13. "Holy Thunderforce" (Dawn of Victory)
14. "Rain of a Thousand Flames" (Rain of a Thousand Flames)
Label: AFM Records
Web: https://www.rhapsodyoffire.com/
Hardrock Haven rating:
(8 / 10)