Vain | Rolling With the Punches
by Derric Miller
– Managing Editor —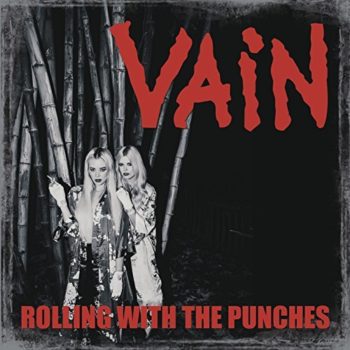 Vain is one of those bands that were both everything addictive about Sleaze/Glam Rock but also one of the reasons WHY it died a thousand deaths when Grunge took over. In essence, you can blame it on lyrics like this, from the track "Beat the Bullet" off of their biggest album No Respect: "You got temptation in your eyes; now one and one is two." Well, it certainly was sturdy math, but it paved the way for bands that sold more hot dogs than albums too, like Wild Boyz.
Before you take this review the wrong way, Vain was better than most bands of their ilk. "Beat the Bullet" was a catchy, hooky song that had no soul, but people ate it up. Singer/songwriter Davy Vain, though, had a lot more skill up his sleeve than he was showing at the time, and through the years, he should have garnered a lot more respect than "Beat the Bullet." Think Jani Lane and "Cherry Pie;" that song didn't tell Jani's story now, did it?
Or, if you need to hear proof, listen to "Turn to Sand" from the album On the Line. That whole album is to be reckoned with, but "Turn to Sand" is all Pink Floyd atmosphere, haunting with emotional brilliance. It's not just Vain's best song; there are a thousand bands out there who will never write anything that good.
Davy Vain figured shit out, in other words.
It's been six years since Vain has released new music with Rolling With the Punches. The self-titled track gets things kicking, and like most of their music, it owns a sexual vibe, something you can groove to, hopefully with a lustful partner … or two, but who's counting. It's Vain. Davy somehow has both an innocent and slutty delivery; it's smooth aural sleaze he emits, on key with intense lust and power.
"Long Gone" is a guitar-driven anthem, much like something you'd find on the aforementioned No Respect. There's more guitar leads and fills than in the past though. It's sort of a sexually threatening track, but that's with someone getting turned on by said threat. Another turn-it-to-11 composition from Vain.
The slower they get, the better Vain is. It's not a ballad or softening of the sound by any means, but the songs tell more of a story, the compositions become more complicated and you get a fuller picture of what Vain is, or can be if they want. "Dark City, they clipped your wings that's what I heard … that's what I heard" is the refrain on "Dark City" and the melody just drips from the way Davy bites those words as he sings.
"Bury Some Pain" is another slower song, another story worth telling. When Davy sings, "You're like a holy grail; I keep wanting to drink from you" it's not nearly as dirty as it could be. It's Vain, how lovey-dovey can they really get and be authentic about it, anyway?
If you have to go with a "best" track, it's probably "Don't Let It Happen to You." This is one of the harder songs on the release, seemingly straightforward, about young strippers leaving it on the stage night after night. Davy's vocals, though, are driving and as strong as you've ever heard as he reaches for the notes when he sings the warning of, "Don't let that happen to you!" Sing along to it and see how your voice handles things. Hope your breathing technique is up to par.
As you'd expect, Vain doesn't close anything out with nuance. "Show Your Love" ends the punch rolling, a fevered, jerky song with some crazy-cool guitar riffs. Not like Vain is going to be overly glorified for their musicianship but the guitar playing—riffs and solos—is the best on the release.
So the naysayers will probably not pay attention, and the true fans will find everything they love about Vain. Here's hoping those in-betweeners at least give Rolling With the Punches a whirl. A lot of bands from that era gave up over time, and they should have. Vain is not one of those bands.
Genre: Hard Rock, Glam
Tracklisting:
01 – Rolling With The Punches
02 – Deliver The Passion
03 – Long Gone
04 – Dark City
05 – Bury Some Pain
06 – It's a Long Goodbye
07 – Inside Out
08 – Don't Let It Happen To You
09 – Sacrifice
10 – Show Your Love
Label: Jackie Rainbow Records
Online: www.davyvain.com
Hardrock Haven rating:
(7.6 / 10)