by Joe Mis
– Sr. Columnist —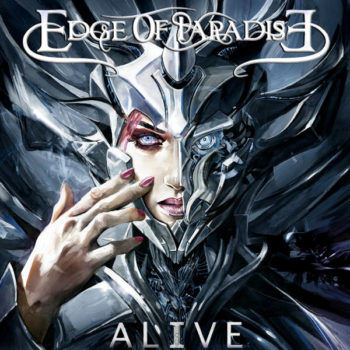 American rockers Edge of Paradise have been at it as a unit for six years – and it seems that their perseverance has finally paid off. The band's dogged determination has landed them a well-deserved deal with Universal, and their new 5-track EP Alive is the first fruit from what hopefully will be a long and successful partnership.
Stability is the key to success for the band – their lineup is unchanged from their prior releases, giving them a truly cohesive and veteran sound. Margarita Monet's dynamic vocals and keys front the band, dropping the listener right into familiar territory. Her range is as solid as ever, ranging from a hushed, almost little girl whisper to a high powered air raid siren. The other members of the band prove that Edge of Paradise is not built solely on her voice – that are all extremely talented and play together like true veterans. Guitarist and founding member Dave Bates is joined by bassist Nick Ericson and drummer John Chominsky.
Edge of Paradise continues to blaze their own musical path, blending Modern Melodic Metal with hints of Alternative, Orchestral, and Industrial Metal. Monet and Bates are the primary songwriters, and they support each other's talents well. Monet sings as a breathy, innocent little girl and then suddenly becomes a roaring lioness, while Bates delivers very catchy hooks and memorable riffs without dominating the music, and his solos are the things of guitar heroes.
"Alive" opens with its upbeat title track, a tune that seems to blend Melodic Metal with a touch of Industrial,
Electronica, delivering a very catchy rhythm line. Very riff heavy, it gives Margarita a chance to display her full vocal range without dominating the rest of the band. It is obvious from this track that the band as a whole has continued to mature in both songwriting and performance. Ericson and Chominsky drive this rack from the bottom end. "Dust to Dust" is a darker song built around vocals and bass, channeling Nine Inch Nails at times. Monet's voice soars during the chorus and her keys add tons of texture to the track. Bass and drums are in perfect sync, and Bates' guitar ties up everything in a neat package. Monet's piano work is the highlight of "Mystery," a softer tune that starts with vocals and keys and then gradually climbs in power to unreal heights. "Shade of Crazy" gives Bates a chance to show off his six-string prowess while floating above Chominsky's massive drums. "Humanoid" somehow blends genres from thrash to underground to J-Pop into a confusing, rowdy, and raucous cacophony that pushes the band to its limit while remaining satisfying to the listener.
If there is a weakness on Alive, it is more a personal opinion than hard fact – at times Margarita's superb voice is overshadowed by the music. A bit of a boost on her mic volume would do wonders for fans of the female voice. Well that, and the fact that this is only a 5 track release…
Edge of Paradise continues to be a band worth watching. The way the band blends genres and influences coupled with smart songwriting and veteran performances makes for a winning combination. Monet's outrageous range and firey delivery backed by Bates' awesome guitars give the band a potent punch. The strong teamwork and polish added by Ericson and Chominsky complete the picture.
Edge of Paradise blurs the lines between many Rock genres yet manages to create a unique and intense sound. Overall, Alive is a very good release that should whet the appetite of fans of Female-fronted Rock. If their next release continues this maturing growth it will be a barn-burner indeed!
Genre: Melodic Metal
Band:
Margarita Monet (vocals / keyboards)
Dave Bates (guitar)
Nick Ericson (bass)
John Chominsky (drums)
Track Listing:
1. Alive
2. Dust to Dust
3. Mystery
4. Shade of Crazy
5. Humanoid
Label: ILS, Universal
Website: www.EdgeOfParadiseBand.com
Hardrock Haven rating:
(8 / 10)