by Franco Cerchiari
– Sr. Columnist —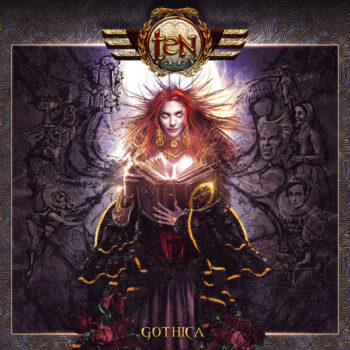 Moodier, darker, and in parts even heavier than past studio albums is Ten's latest, their 13th, Gothica, released on the Frontiers Records label. A listen shows a mesh of Hard Rock, the Melodic, and AOR, while the smooth, rich almost operatic baritone voice of Gary Hughes coupled with his talent for songwriting and lyricism evokes images of nightmares, visions of fantasy, the eerie, crusades and journeys to far away lands, erotic ladies that turn heads, and killers lurking in the darkness. The drums punch their way through the melodies, three part guitar harmonies are beyond fantastic, and the keyboards are perfectly done. All over Gothica, the melodies are so warm, so lush, so inviting, so engaging, that it becomes virtually impossible to not become part of the storylines. Completely loaded with sentiment and emotions, how wonderful it is to hear music like this that is so instantly likable but never comes across as verbose, pompous or become a forced listen. Hughes' voice is, of course, a focal point of this collection of music but what makes this (and so many of Ten's past releases) so noteworthy is his voice so magnificently blends with the instruments resulting in a band that sounds so incredible as a whole. It can be said with a virtual certainty that Ten as a band and Gary Hughes as a songwriter are on an imaginative crest, and have put all their talents into what very should be one of 2017's highlight releases.
Praise must be given to the artwork done by the talented Stan W. Decker, which shows a gorgeous temptress reading from large journal while images of darkened shadowy figures seeming to be coming straight out of the book she is holding.
So difficult to pick out positive highlights to Gothica, as there were so many, but certain mentions need to be made, so here goes. Listen to the vigor, the passion, and the rocking attitude to the luminous CD opening "The Grail." With an introduction that shows Hughes singing in Latin, soon coming into focus are synthesizers, riffing guitars, a loud bass guitar, and heavy-handed drums while a reach for the volume knob is made. What a killer opening track. Footsteps, the sounds of a creaking door open "Jekyll and Hyde" that shows Hughes at his vocal best. Listen to how his voice fluctuates and heaves and gives way in pitch and volume. The eerie tick tock of a clock with keyboards to die for are the highlight to "Travellers," and the multifaceted "In My Dreams," features heaven sent melodies and vocal harmonies. Also worth a listen is the trancelike "The Wild King Of Winter," the piano of "Paragon," the beautiful, heartfelt "Man For All Seasons," the sinful lyrics of "Welcome to the Freak Show," ("…she is a hellcat in leather … she's got you hypnotized as she walks on by. Everything about her is too hot to touch, she's burning curves and lines of the shot glass kind.") The almost Metal vibe of "La Luna Dra-cu-la," was excellent and closing this beyond good CD is "Into Darkness," a somber, vocal heavy song that features Gary Hughes singing alongside a piano and bass guitar accompaniment.
Gothica is full of layers, larger-than-life, and praise needs to be made how the songwriting stayed focused and never allowed the music to stray of course. The mixing of the album was wonderfully done by Dennis Ward. The lyrics told so many different narratives, while Gary Hughes' voice gave the songs dimensions and sensations and isn't always a part of even great albums. While it has been said so many times about other songs and their music that their "songs come to life," for different reasons, on this release that statement couldn't be truer. Fans of Lionville, First Signal, Harem Scarem, Fair Warning, FM, and Unruly Child will love this one, and want to hear Gothica and too be amazed at how incredible this is. Of course, ineffective, worthless, hopeless and every adjective that can be thought of as to how useless American radio is in helping give music like this much-deserved airtime, is completely spot on. But be that as it may, for radio will never change, but, please buy this, and lose yourself in all the brilliance and musicianship that is all over Gothica.
Genre: Melodic Hard Rock, Melodic Rock, AOR
Band Members:
Gary Hughes – vocals, guitar
Dann Rosingana – guitar
Steve Grocott – guitar
John Halliwell – guitar
Darrel Treece-Birch – keyboards
Steve McKenna – bass
Max Yates – drums, percussion
Track Listing:
1. The Grail
2. Jekyll and Hyde
3. Travellers
4. Man For All Seasons
5. In My Dreams
6. The Wild King of Winter
7. Paragon
8. Welcome To The Freak Show
9. La Luna Dra-cu-la
10. Into Darkness
Label: Frontiers Records
Website: www.tenofficial.com
Hardrock Haven rating:
(9 / 10)