by Derric Miller
— Managing Editor —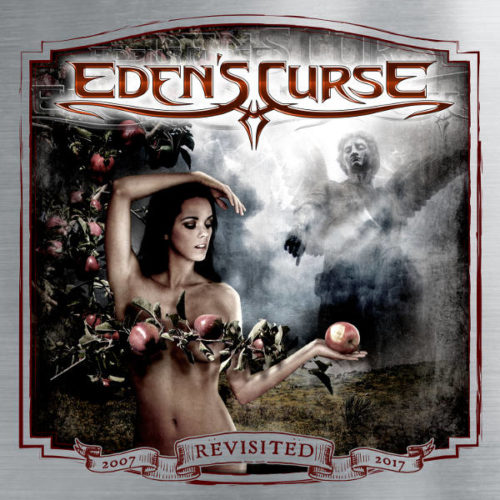 (Disclosure: Hardrock Haven has been a strong supporter of Eden's Curse members going back to before their debut. Bassist Paul Logue was introduced to and featured on Hardrock Haven with his earlier band Cry Havoc (review, interview), and when he formed Eden's Curse with Michael Eden, Hardrock Haven was more than happy to highlight this new band on the site, because the music was incredible from every perspective—songwriting, musicianship, lyrics, and vocals.
The site's relationship with Eden's Curse was such that on the band's four-track Angels & Demons EP, track four was an interview with Hardrock Haven, with Paul Logue, Michael Eden, and Pamela Moore. Hardrock Haven review quotes were publicized with the band's press kits, posters, on their website, etc. and multiple hilarious and engaging interviews from the band were conducted through the years.
Then, Michael Eden left the band. At one point, he had an hour-plus long interview with the site addressing what he felt were baseless/unfair rumors and accusations flung his way and giving his own side of his leaving of Eden's Curse.
The interview helped ignite some industry hubbub, but in the end, the two parties had severed irreparable ties. Hardrock Haven is just recognizing its minuscule but perhaps notable role in the story.
This review of Revisited, therefore, has a bit of a back story, and now you know it. It is not apropos of nothing—it's apropos of Eden's Curse's beginning and all of the music and memories they made while with Michael Eden and without, and brings it all into the now.
One more note: Hardrock Haven did not receive the bootleg live edition of this release, just the studio remakes.
Now the review …)
Back in 2007, the debut of Eden's Curse was catching lightning in a bottle. The band did everything right, when much of the Hard Rock industry was going too far into AOR land—smarmy, boneless, almost whiny lovey-dovey and "whoa is me" music. Back then, when you heard for the first time the track "Judgement Day," with the hyper-talented Michael Eden slamming you with, "Who's the one who stood there for you? Who's laughing on judgement day …" and soars into a wail while Thorsten Koehne slays one of his insanely melodic yet heavy solos, it was like "where the hell has this sound been?"
On "Judgement Day" Revisited, you can't help being jarred by the vocals when instead of Michael Eden, you hear Nikola Mijic, a singer with a little bit edgier voice than Michael Eden and a slight accent. He has the same kind of power and range, and once you get into the song, you can accept this is who they are today.
It's obvious that Mijic can take on the heavier elements of Revisited, but it's not until you hear, "The Voice Inside" you understand the chameleon-like nuances of his voice. Michael Eden was always one of those singers who could sing as innocently as he desired; it'd be almost Steve Perry-like when he wanted to soften the blow. Mijic isn't quite there, but he's good. This is the first song where you realize while Paul Logue and the boys, after several attempts with other singers, chose and stayed with Mijic.
Eden's Curse wrote a song called "Eden's Curse" which typically is never a good thing. In this case, as was mentioned in 2007's review, it may be the best track on the release. It really is the perfect synopsis for everything Eden's Curse has ever done—there's brilliant vocal melodies, a crescendo to the chorus, those threatening lyrics, and Koehne expertly continues even to this day with how he bends the guitar to his will. "They lost their innocence that day …" Yeah, it kind of wraps up everything Eden's Curse.
A weird track to cover when it's covering a cover is "We All Die Young." It was strange when Michael Eden sang it, now it's just more so. Certainly, they want to show the same dynamics and flare Michael Eden delivered, and Mijic does a strong job. He's a talented singer by any measure.
One thing Eden's Curse did by re-recording their debut is attaching themselves to Nikola Mijic. They cannot legitimately go another direction without things becoming a bit like Spinal Tap. And maybe that's the intent of doing so—they have moved on 100 percent and then so, take it or leave it. If you have heard Cardinal, with stellar tracks like "Prophets of Doom," "The Great Pretender" or "Saints and Sinners," it seems Logue has tailored the compositions to Mijic's style, which isn't far from Michael Eden's anyway, and it all fits.
So in the end, as a fan of heavy Melodic Rock and Metal, the question lies before you: is the musical landscape better off with Eden's Curse making music today? Their answer is both Revisited and Cardinal.
And fans of Michael Eden want to hear his musical answer just as much.
Genre: Melodic Rock, Metal
Band:
Nikola Mijic (Vocals)
Thorsten Koehne (Guitars)
Paul Logue (Bass)
Chrism (Keyboards)
John Clelland (Drums)
Tracklisting:
01. Book Of Life (Intro)
02. Judgement Day
03. Eyes Of The World
04. Stronger Than The Flame
05. The Voice Inside
06. After The Love Is Gone
07. Fly Away
08. What Are You Waiting For
09. Eden's Curse
10. Don't Bring Me Down
11. Heaven Touch Me
12. The Bruce (Intro)
13. Fallen King
14. We All Die Young
Disc II: Live In Glasgow – Official Bootleg (DVD)
01. Symphony Of Sin
02. Break The Silence
03. Masquerade Ball
04. Black Widow
05. Trinity
06. Fly Away
07. Just Like Judas
08. Fallen From Grace
09. Jerusalem Sleeps
10. Guitar Solo
11. Time To Breathe
12. Rock Bottom
13. Devil In Disguise
14. Wings To Fly
15. No Holy Man
16. Unbreakable
17. Judgement Day
18. Evil & Divine
19. Angels & Demons
Label: AFM Records
Web:
www.edenscurse.com
www.facebook.com/edenscurseofficial
twitter.com/edenscurse