Fiction Syxx | Tall Dark Secrets
by Derric Miller
— Managing Editor —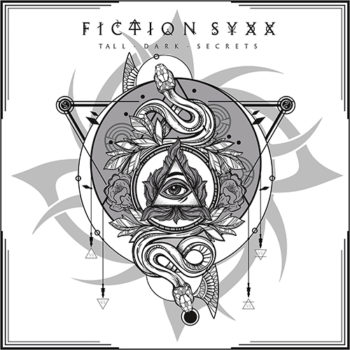 When Mark Allen Lanoue interviewed with Hardrock Haven earlier this month, the best thing he said was that the song, "Tall Dark Secrets" didn't make this album—the title of the release—but will be on the next one. With so many musicians in various projects around the world (and isn't Billy Sheehan in like, 80 percent of them) it's refreshing knowing Fiction Syxx isn't a one-off, "on to the next" type of band.
There's a bit of mysticism and numerology to the band, as you can tell by the Yin and Yang inspired cover art, along with the opening track, "Given Sight." The expert musicianship is apparent from the onset, especially with drummer Rory Faciane, known mostly for session work, giving off a bit of a Fates Warning vibe. "I don't know why I'm given sight," sings Lanoue about the song's premise (seeing the dead). Lanoue owns a throaty, warm, extremely relaxed delivery. You never hear him stretch or even strain; it just flows. Knowing keyboardist extraordinaire Eric Ragno is in the band, well, you are going to get some otherworldy keys that match the song, and then some.
"Play on Words" is more of a mainstream AOR track, with buoyant backing vocals, and honestly feels like one of the songs the guys had the most fun recording. You'd have to hear it to understand it fully, but there's a vibrant energy to the composition.
"Tow the Line" is one of the tracks that features a bevy of guest musicians, because why crank it to 10 when 11 exists, right? Guitarist Bill Leverty brings an original element to the song, as he always does on this mid-tempo brooding composition, that builds into an arena anthem. As with every Fiction Syxx song, the guitars can't help but be prevalent.
"Demon in My Window" goes into that supernatural space of ghosts and spirits and evil presences again. It's on these kind of dangerous, slower songs that Tony Franklin gets to steal the air a bit more, and he's Tony Franklin, so he'll do so. One of the highlights on Tall Dark Secrets.
JK Northrup plays all sorts of guitar on the release, from rhythms to blazing solos to acoustic and slide guitar, and then the gents bring in Steve Brown on "Larger Than Life." Kind of like eating yourself sick at a buffet by now, but this is America, and if we want to weigh 500 pounds dammit we will! The riffs are chunky as hell on this one, probably leading everyone to a sonic buffet in their head without prompting.
"Spirits Collide" is another airy, open composition, the kind Lanoue shines on the brightest as a vocalist. There's a lot of uplifting grace to the lyrics, especially with lines like "spread your angel wings and fly," and "I see you dancing in the light, right beyond Heaven's door. I'll meet you right beyond the clouds, right there on the other shore."
Most bands don't remember to save the best for last. Don't accuse Fiction Syxx of that sin. "Children of the Night" is a monster of a song. It's a guitar fans' wet dream. It's their heaviest song, at least in sections, and features a couple of the best guitar solos on the release, the second solo in this song by Lanoue. Even the damn singer is a good guitarist in this band—seems fair, right? This has all the majesty of a Dio chorus, but it's how they pack so much music, solos/leads, tempo changes and lyrics that paint pictures that make this the song you'll go back to time and time again.
After hearing the album, it should make one wonder how the title track, "Tall Dark Secrets" didn't even make the debut. What other cards are these guys holding? Yes, the entire album has a sense of mystery about it, and really, with the players in the band and a bevy of guests (like Jimi Bell, David Cagle, Thoersten Koehne, Christian Wentz and more) everyone should be excited to see what they come up with next … in this world or the next one.
Genre: Melodic, Progressive Hard Rock
Band:
Mark Allen Lanoue – Lead and Backing Vocal, Rhythm- Lead and Acoustic Guitar
JK Northrup – Rhythm- Lead- Slide and Acoustic Guitar, Backing Vocal
Tony Franklin – Bass
Rory Faciane – Drums and Percussion
Eric Ragno – Keyboards
Guest musicians:
http://fictionsyxxrocks.com/artists.html
Tracklisting:
01. Given Sight 04:48
02. Play On Words 04:03
03. Tow The Line 04:16
04. Welcome To My Nightmare 04:38
05. Demon In My Window 04:49
06. Larger Than Life 04:36
07. Where We Belong 04:11
08. Your Promised Land 03:49
09. Spirits Collide 03:42
10. Time To Heal 06:44
11. Children Of The Night 05:20
Label: MelodicRock Records
Web:
www.fictionsyxxrocks.com
www.alien1111.com
www.melodicrockrecords.com
Hardrock Haven rating: 8.6/10
Hardrock Haven rating:
(8.6 / 10)