Bobby Caldwell of Captain Beyond
by Steve Patrick
— Sr. Columnist —
Captain Beyond was one of the first bona fide super groups to ever grace the 1970s rock landscape. The pioneering psychedelic and space rock quartet originally consisted of drummer Bobby Caldwell (Johnny Winter, Derringer), vocalist Rod Evans (Deep Purple), guitarist Larry "Rhino" Reinhardt and bassist Lee Dorman (both of Iron Butterfly).
After three studio albums and various lineup changes (Caldwell sat out the recording of the Sufficiently Breathless album released in 1973 and Evans retired from music entirely later that same year), Captain Beyond left an indelible mark on rock music. Caldwell resurrected Captain Beyond in 2013 and has been touring the band's legendary tunes in recent years.
Sometimes the evidence of Captain Beyond's influence on younger generations of musicians turns up in unexpected places. Case in point, nearly every Doom Metal band on the bill at the 2017 Maryland Doom Fest took a moment to say how excited they were to see Captain Beyond headlining set later that night.
Moments prior to taking the stage at Maryland Doom Fest, Caldwell spoke with Hardrock Haven about Captain Beyond's history and future. Recently some live recordings and demos have been officially released, so there was a good deal to talk about. Caldwell also touched on his own storied career playing drums for Winter, Derringer, and even the Allman Brothers.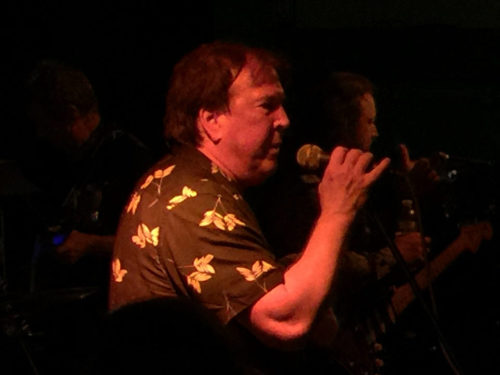 HRH: Well here we are with Bobby Caldwell of Captain Beyond. Thanks so much for taking the time to talk.
BC: My pleasure.
HRH: Purple Pyramid just released the Captain Beyond: Lost and Found demos from 1972-73. Were you involved in the preparation of those demos?
BC: Yes I was.
HRH: You had possession of the tapes originally, right?
BC: Well, I had been sitting on those tape for ages and it just so happened that we started talking about having unreleased tracks with Rod had been singing on. So we decided to see if anybody was interested and that's how we put it out.
HRH: Well I can imagine that people were very interested.
BC: Yeah, it's seeming that way.
HRH: You were mentioning those tracks that no one had heard Rod sing before. One of them is titled "Uranus Highway" …
BC: "Expressway." They mistakenly wrote that (on the album packaging) and I don't know why.
HRH: Oh okay. I was curious myself because "expressway" is clearly in the song lyric. Why didn't that song make it on the finished Captain Beyond debut record?
BC: I don't know. It was one of those things where you just…you know, you go down through some songs…I don't think it was ever really finished. I don't think it was ever to the point where we came back to it and went, "Yeah, yeah, yeah! This is really working!" So I think that we just left it.
HRH: Well for a dusted off left-over from your perspective, it sounds great to me in 2017. It's amazing the sound that you guys captured, even in a demo tape.
BC: That's all it is.
HRH: Well it sounds great.
BC: Thank you.
HRH: Absolutely. Do you recall playing this demo tape for the Allmans?
BC: Not "Uranus Expressway." Only "I Can't Feel Nothin'" and maybe "Raging River of Fear."
HRH: And those versions you played for them are on Lost and Found?
BC: That's on there. We didn't play "Icarus" or any of that. We only had that one original demo.
HRH: Well those 2 tracks were enough to make them jump out of their seats, right?
BC: Well we went over to see the Allmans in L.A. that night and Rhino (Reinhardt), Lee (Dorman) and I went over there and played it for Duane and Gregg. There were…yeah…they were pretty excited about it.
HRH: Purple Pyramid has also released a couple Captain Beyond live recordings from the band's heyday. Is there more of that to come?
BC: I think so. It's funny how that works because everything starts surfacing after a while you're thinking is there that many people recording this or that. You just don't realize how many people are, you know…and they'll say, "Oh I've got this show you in such and such a place!" and I'll go, "Oh! No kidding!"
HRH: It seems that Captain Beyond is one of those bands that has a huge cult following now. People who really know rock music will eventually gravitate to what the four of you guys did. Question though, what was your fan base like back when you started as a band?
BC: The curious thing is that it was a tempest even then.
HRH: Well I'm 34 and grew up listening to your music through the records of my parents' generation, so from the perspective of a person that missed all that the first time around it is great to see these old recordings and demos coming to light. It really adds to the legend of Captain Beyond.
BC: Well the odd part, Steve, is that it just continues to grow. I've got a friend of mine about your age and he said, "Oh no Bobby, it all just keeps turning over. More people start discovering it." It's very weird.
HRH: Here we are at the Maryland Doom Fest with a bunch of doom metal bands and Captain Beyond is headlining. A lot of the musicians here would cite Captain Beyond and you're playing as an influence. On paper you might look at the lineup and think "Well why is this band from 1972 at this festival?" but it totally makes sense.
BC: There was a similar sort of thing in the Netherlands called Roadburn. Do you know that?
HRH: Oh yeah.
BC: Well they wanted Captain Beyond on that a couple of years ago. I started looking at the list of the people and I said, "I don't think we've got much in common with these bands." And the Roadburn guy says, "Oh no, all these guys really love you." Well, we ended up not doing it, but it's a similar sort of thing. He contacted me a year ago, the guy that runs this festival…JB (Matson).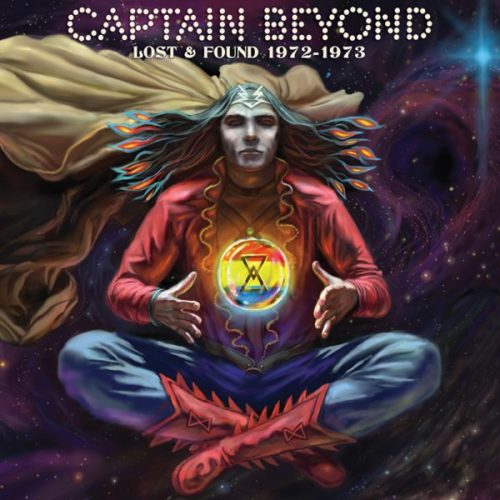 HRH: What led you to reactivating Captain Beyond in the live setting?
BC: Well, I had been thinking about it for quite a while but I was trying to find the right people to do it. A lot of factors, Steve, go into making it successful. It's changed so much, the music business, that 30 years ago we'd pick up the phone and an agent would tell us we need to do this and you need that. Now it's a little bit different. You have more of a challenge and hoops that you've got to get past to get it up to where it's supposed to be.
HRH: What was Bobby Caldwell's musical life like prior to playing in Johnny Winter?
BC: I was just playing in a group out of Florida. I've been playing professionally since I was about 14 maybe? Professionally meaning getting paid to do it. So, just playing for a bunch of different people like Noah's Ark, different groups. Getting some record deals here and there, just trying to get a break.
HRH: And how did you get that break with the Johnny Winter gig?
BC: I'll try to tell you the shortest version of it. This is what happened. A guy that was working for the band that I was in called me one afternoon and said, "How'd you like to come down and jam with Johnny Winter?" Now, this was in Winter Park, FL which is kind of a sleepy little community, okay? So I said, "Not interested." And he said, "Oh come on." And we talked for a little bit longer. And he said, "Why don't you just come down here for a lit bit." And I said, "Dave." His name's Dave, a great guy. I said, "Dave, I'm not really interested. I'm sorry." The whole jammy thing where you sit back for everyone to…
HRH: Noodle on top of?
BC: *laughs* Yeah. So I finally relented. Drove over. Stood outside of this house for 2 hours in the heat and people just kept coming in and out. In and out, in and out. Then all of the sudden what happened was…it was time to do it, Dave said: "Okay they're ready". I kept saying, "I'm getting ready to leave. I'm going to take my girlfriend out." So he's like, "No, no, no. They're ready." So that was it. I walked in and sat down at this feeble set of drums and just started playing this real intricate thing and they all just joined in. At the end of it, Johnny looks at me and he says, "I want you to join my band." Edgar, his brother, was standing behind him and he said, "I want you to join my band." That's exactly how it happened. So the lie was that it was a jam and it wasn't. It was an audition. They didn't want to say that.
HRH: Well maybe they didn't want to put that pressure on you.
BC: Yeah and all the host of things that come with that.
HRH: What do you recall about the live shows that yielded Live Johnny Winter And, one of the most iconic live albums of the 70s?
BC: Powerful. When we played, to say it was a juggernaut would be a serious understatement. Because Rick (Derringer) and Johnny played so different and we just…once we got our stride, it was all happening, you know. It was really powerful. We played with everybody and everybody played with us. It was great.
HRH: What was your musical relationship like with The Allman Brothers Band? I know you played onstage with them frequently and are on the At Fillmore East live album.
BC: Well, I'd been playing with the Allmans since the beginning. Since they started. Since the first album was just released or about to be.
HRH: Is it correct that the famous Fillmore East show was, in fact, a Johnny Winter headlining gig?
BC: That's right. A lot of people don't know that.
HRH: So you were already there in that capacity as Winter's drummer.
BC: Well I'd been traveling with them. Every time that Johnny would do an interview the guy would ask about it and he'd go, "Well I don't know where Bobby is…he's out with the Allman Brothers." He didn't care, you know. But yeah, I'd been with them for a long time. In fact, they asked me to join them. Duane did.
HRH: Obviously, we just lost Gregg Allman recently. What are your fondest memories of that time with Gregg?
BC: We just had a lot of laughs. We had a lot of laughs. Gregg was a wonderful guy…and Duane as well. There was a point where we were having so much fun that it was just tremendous. Those were some great times.
HRH: Briefly could you go into the events that led to the formation of Captain Beyond? I know there were internal issues in Iron Butterfly, correct?
BC: Yeah, Rhino and Lee had met up with me in Santa Monica one night. We were playing out there and Lee said, "Butterfly's gonna shut down. We want to do something and we want you to do it with us." And I said, "Okay." So that's pretty much what happened. Johnny went into this rehab kind of thing, so I went out there and we started putting it together. That's just how it happened.
HRH: Did Lee and Rhino pull Rod into the band as well?
BC: Well, Iron Butterfly's manager had heard that there's this guy Rod Evans who had come over from England who had left Deep Purple. I knew his name because I knew the first three albums by Deep Purple. So that's how Rod got drawn into it. So we all kinda congregated basically at the same time. We came together.
HRH: It's sad to me that so many people don't know who Rod is. I always cite "Hush" to people that are unaware of him. Saw Deep Purple and Ian Gillan still has to sing "Hush" after all these years.
BC: Rod is a giant as far as I'm concerned. I'm talking about real talent. This guy was just a tremendous talent.
HRH: Lyrically…
BC: Oh lyrically, yes. Well, he and I shared all those lyric duties. He's tremendous. I really admire him.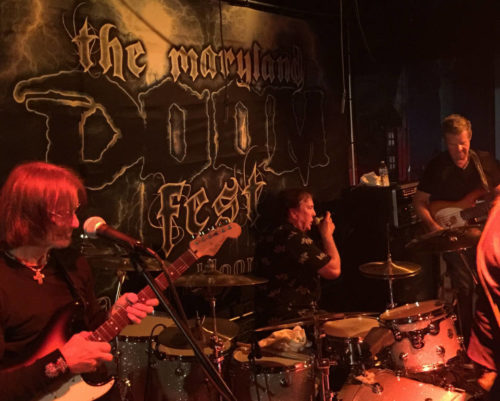 HRH: What led you to step away from Captain Beyond after the first record?
BC: We had this big fucking problem with what we should do about the direction. I said to Rhino, "We need to stay right on course. Stay right with what we're doing. Don't change anything." So we just had this kind of opposite sides of the fence thing going.
HRH: The dreaded "musical differences." (laughs)
BC: You could say that. It was more like an exercise in sheer stupidity. 6 months later we sort of kissed and made up. That's what happened.
HRH: So then you toured Sufficiently Breathless…
BC: We played a lot. We were out a lot and we were playing with King Crimson, Trapeze, a lot of people. We went on a long tour with Alice Cooper and the Allman Brothers. You name it, we played with them.
HRH: Shortly after that, you made the Armageddon record in 1974, right?
BC: Yeah, summer of '74.
HRH: How does one start up a band with Keith Relf of The Yardbirds? Were you just collecting English singers that used to be in big bands? *laughs*
BC: *laughs* Oh man. We were in L.A. and I ran into Keith. We just started talking. Actually, Aynsley Dunbar was the one who told Keith about me. And so we got together and that's how it started.
HRH: That's a monster of a record too.
BC: Lot of management problems, sir. That's why it's a real unusual album.
HRH: So we talked about why you left for the recording of Sufficiently Breathless, but why didn't Rod come back for Dawn Explosion?
BC: It was just a very strange thing, Steve. I don't know. Rod had some…I don't know what it was. He just decided he didn't want to carry on. What are you gonna do? No one could really find a discernible reason. I don't really know exactly what it was. He just decided he had it. Of course, when you're in a group like that…you're not talking about your own life, you're talking about everyone else's. You've just derailed the entire business model for everyone who has put years into this. It's very serious.
HRH: Oh yeah, absolutely. What are your thoughts on Dawn Explosion looking back?
BC: The thing that I said to Lee when we were talking is what bothers me about that record is the fact that it wasn't recorded at the same place, in the same fashion. To me, the sound of it… it was recorded at the Record Plant in Sausalito. It was really…it was too studio-ish. It did not have that buzz to it that we had (on the debut) and that, to me, really hurt it.
HRH: A lot of people might know your work drumming for Rick Derringer. Do you still stay in touch with Rick?
BC: I just saw Rick! About a month ago maybe. He's out there with his little group.
HRH: Speaking of staying in touch, do you have regular communication with Rod?
BC: I actually do talk to Rod.
HRH: He's kind of the Bigfoot of classic rock at this point. A very mysterious character.
BC: Always walks his own path. Tremendous guy.
HRH: I know a lot of folks were hoping he'd show up to Deep Purple's induction into the Rock and Roll Hall of Fame.
BC: I knew he wouldn't go. I knew he wouldn't go.
HRH: I know they're trying to get you set up onstage, so last question. What's in store for the future of Captain Beyond?
BC: We're gonna do some more albums.
HRH: Alright, so there is going to be new music?
BC: Absolutely! I'm not interested in just going out and re-exposing people to the old music. I want to do some real stuff. I'm talking to people now about who to communicate with producer wise. I want the right producer.
HRH: I know you did some demos w/ Rhino in 2000. Will any of that be made available?
BC: Well, that's an EP that we're selling at these shows. So many people asked for that thing and it wasn't even finished!
HRH: That's great to hear there's such a demand. Thanks for chatting with me Bobby. It's been a real pleasure!
BC: Absolutely, Steve. Thank you.
For more information on Captain Beyond and Bobby Caldwell, please visit www.officialcaptainbeyond.com and www.theofficialbobbycaldwellsite.com