Jake Thorsen of Death Valley Knights
by Marija Brettle
— Sr. Columnist —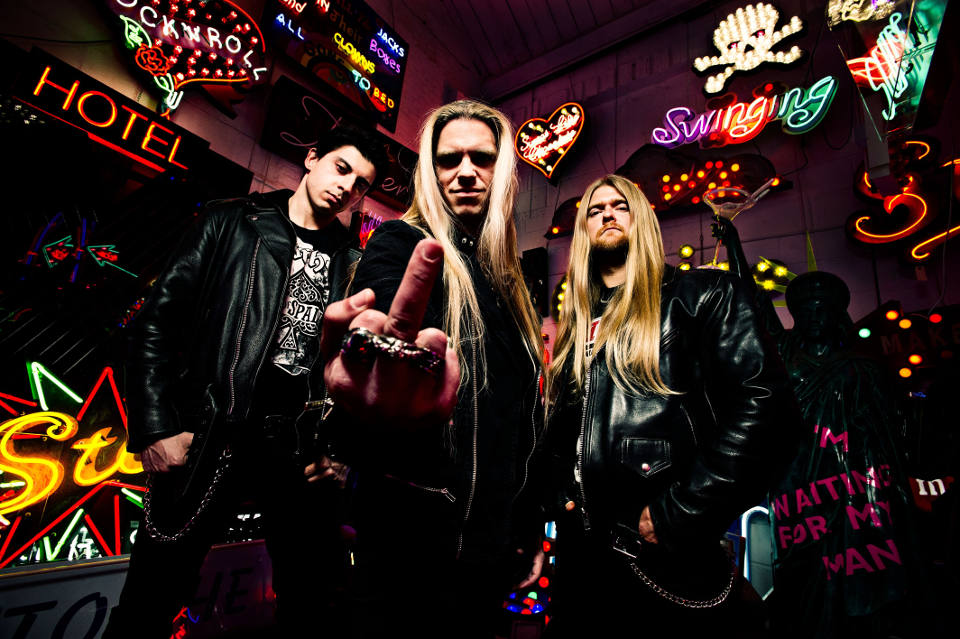 London-based four-piece Death Valley Knights have been around since 2011, playing fierce and fiery British Hard Rock and Metal, carrying on the glorious tradition of music greats like Iron Maiden and Judas Priest. The band featuring Jake Thorsen (Guitar/Vocals), Pawel Matuszkiewicz (Guitar/Vocals), Hugo Terva (Drums) and Ashley Porter (Bassist).
At the beginning of 2014, The 'Knights went back to the rehearsal room and after almost a year of tireless work, they slam out new material for their first EP, Nothing Left To Steal. The project yielded five tracks of pure hard-edged, head bangin' Metal sound that sets the band apart from the rest. Nothing Left To Steal was well received and with strong reviews by the British press, such as Kerrang, Metal Hamer and Terroriser!
The band continued to tour the U.K. in support, playing Bloodstock Festival and later on alongside Savage Messiah, Fallen Fate, and Dragonforce, culminating in a show stopping performance at Hammerfest 2014.
The bands newly released EP Valhalla Vintage is the latest in a long line of releases from bands looking to put their own spin on the tried-and-tested classic formula. Engineered and co-produced by acclaimed producer Scot Atkins (who has worked with the likes of Amon Amarth and Cradle Of Filth) hard rockers Death Valley Knights are confident this is their best release to date! Ahead of the release of Valhalla Vintage record, the band has launched a new video for "Be The Grizzly."
Following the release of the 'Knights new EP, we managed to catch up with the frontman and founder of Death Valley Knights, Jake Thorsen, discussing the making of the new record, music influences, the band experiences playing Festivals and what the future holds for the band…
Hardrock Haven: Hi Jake. Thanks for taking the time to talk to us! Must be very exciting and busy time for the band since the release of your new EP record … already 'scooping' yourself strong reviews, radio play, and great ratings?
Jake Thorsen: We're just really glad people are enjoying the music.
HRH: You've been working tirelessly on your new EP Valhalla Vintage. At what point did you decide to get together in the studio and start working on the record?
Jake: Our main goal was to get the riffs from our heads to the recording as best we could without compromise. I've been working on some of these riffs for a while, Pawel was new to the band and he had some riffs that he was trying to flesh out and we had not been playing together long. The challenge was adding our parts, bringing together our individual influences, to help turn these riffs into complete works that we as a band would be happy with and I think that we've managed to do that. Ash and Hugo are the best rhythm section you could hope for because they just sat down and "got it." I felt like Hannibal from the A-Team, you gotta love it when a plan comes together.
HRH: Tell me more about the process of making this five-piece record. What was the vibe in the studio?
Jake: There was quite a bit of experimenting as Scott was a very "hands-on" producer and engineer. I arrived fairly late the first day in the studio. I must have walked in at around 10 in the evening and the rest of the band were sitting in a circle talking to him about some of the basic tracks they had just played for him. He was like "Oh great you're here, you want to get your guitar out?" The next few hours was us rewriting what would be "Taste of the Kill" and sections of "Legacy."
HRH: How did you get to work with Scott Atkins?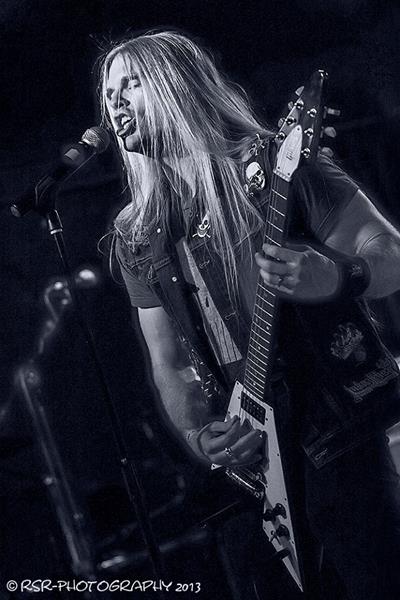 Jake: We dropped him an email. I was a big fan of his work with Amon Amarth and Cradle of Filth. The sounds he was getting were what I wanted and I think that we were keen to work with someone like Scott that we felt would help us on the "production" side. Someone who would listen to the music, chip in ideas to make it better, and work with us until the music sounded its' best. I admired the fact that Scott wasn't kicking us out at the end of the day, he really wanted to work with us until we were all happy and I believe that translated through the music.
I really must make mention that Scott worked with us on "Legacy" and "Taste of the Kill." However, Meyrick De La Fuente (Exist Immortal) recorded and produced "Valhalla Vintage" and "Be the Grizzly." Meyrick is a tremendously talented vocalist so I felt that he was really able to inspire my performance in that respect as well as producing some meaty guitar sounds to stand alongside what we had done with Scott so that we could roll out a complete EP for the fans.
"Shut Up and Drink" was a last minute addition to the release (available on the physical EP) and, although it was previously released on its own, has never been part of a compilation. We thought it would be a good way to get it back out there and also a nice way to round off the EP with a drinking song.
HRH: Any particular significance behind the EP's title?
Jake: We're really into Vikings and feel they were the original rockers, the "wildlings" and don't feel you see much of that around right now. So the title "Valhalla Vintage" is meant to channel the free and wild spirit of old times with a modern sound.
HRH: You've just released a stunning new single a "Be The Grizzly" followed by an amazing music video to go with it … What made you decide to use this song for the single?
Jake: Thanks for that! "Be the Grizzly" is the first song that we wrote with Pawel and, indeed, he deserves most of the credit as the majority of those riffs are from him. But everyone contributed to such a degree that when we listened back we could hear everyone's ideas, the "sum of us." Definitely had to be the lead single.
HRH: Your new EP has been described by a few British critics as a 'No-holds barred, heavy, and larger than life record!' So in your own words, what would you say the EP is about and why should the Knights fans go out and buy it?
Jake: They should buy it so we can release another one! (Laughs) We poured as much of ourselves into this material as we could, we bang our heads when we play the songs and feel the adrenaline "level up" with each track. Party on and be excellent, that's what we want for our fans and we feel that "Valhalla Vintage" shouts it from the mountain tops.(Laughs)
HRH: How does this record differ musically from your debut EP Nothing Left to Steal, considering you've been working with a different music producer?
Jake: We really took our time with Valhalla Vintage. When Death Valley Knights went into the studio for Nothing Left to Steal, we were really watching the clock. The budget was tight and, whilst I'm proud of what we accomplished, I listen back and feel that we could have done better.
"Valhalla Vintage" sees a new band lineup where we've all contributed to the music; we're all fans of heavy metal and know what gets our blood going. (Laughs) Translating that through our ideas to create an original body of work we can be proud of was the motivation for all of us on Valhalla Vintage, no matter how long it took.
HRH: 'Death Valley Knights' is a fairly new band that stormed the British Rock scene with great force in 2011. How did you guys get together as a band?
Jake: Gumtree adds, friends of friends and Facebook. (Laughs) I met Ash when our original bass player, Elliott left the band to focus on his career. I believe that he responded to an add that Nik, our other guitarist at the time, put in Gumtree. Ash came down, plugged in his bass and thundered through our first EP like a champ. He was also about the exact same things I was about, drinking, smoking cigars and listening to loud Rock and Metal.
Pawel joined on guitar after knowing Ash for a while and we saw that he was looking for a new project. Pawel was a regular at all of our favorite rock bars, pulling in on his Harley and shaking hands with patrons and bar staff alike. When we jammed with him he just fit in so well, we liked the riffs and he is such a cool guy. He's become a fixture in Death Valley Knights.
We've had a few drummers and session guys sit in with us over the years as it was not an easy task to find someone we could work with on drums and who was available for all of the rehearsals and shows. We hired Hugo as a session drummer and he just stuck around! I can honestly say that I've not played with such a solid drummer and great guy who actually loves the music as much as I do. Hugo adds to every song and we're lucky to have him as part of the band.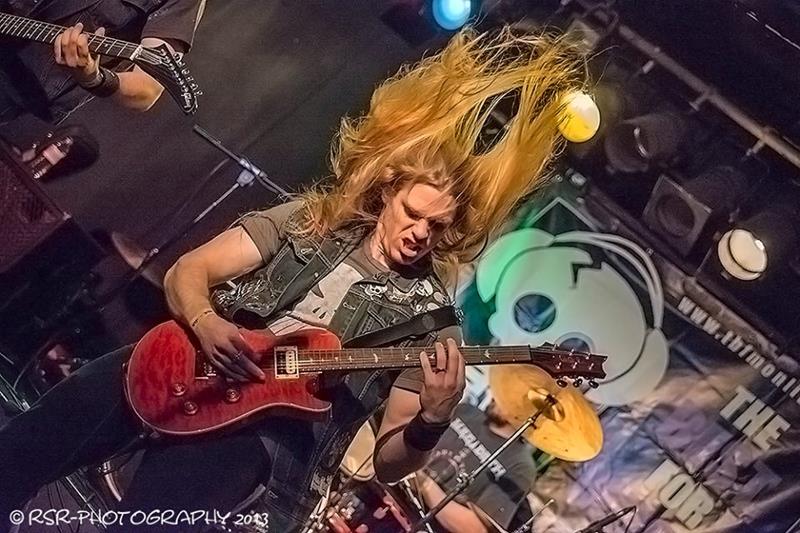 HRH: Who were the musicians or bands that influenced you the most growing up and when you were forming the band's sound?
Jake: I grew up with AC/DC, Judas Priest, Megadeth and then I fell heavily into Morbid Angel, Cannibal Corpse, and Napalm Death.
Now it's anything that rocks really. I'm always interested in listening discovering new artists to hear how they do it. I'm always interested in how another songwriter will approach a bridge section or pre-chorus. If I can learn from their process I think it helps me grow as an artist no matter their genre.
HRH: Considering that you're one of the bands that try to carry on the legacy of many classic British Hard Rock and Metal bands, would you say that digital recording and modern cut and paste techniques can really strip the magic out of the band's performance?
Jake: I actually think that it has enabled us to work smarter. What I used to sit at home and play hundreds of times on a four-track recorder in order to capture a "full" take I was happy with I can now do in less time by taking the best parts of fewer takes. Sure, some people can use technology to cut creative corners but that will only hurt them when it comes time to jump on stage and deliver.
HRH: Being a big fan of Classic Rock/Heavy Metal myself, I must say that I love your new record, especially songs like; "Be The Grizzly" and "Shut Up And Drink!" Do you have any particularly favorite songs and a reason why?
Jake: On this one, I think that "Be The Grizzly" is my favorite as it's the one we all really worked on together. Playing it live is a real pleasure as well because we usually build up to it in the set, Pawel's outro solo takes us home and we feel that we've completed a good night's work. The EP title track "Valhalla Vintage" is probably my second. I just really dig the groove.
HRH: You've played many shows and Festivals together, such as 'Bloodstock Open Air 2012', 'Hammerfest 6, 2014′, and more recent ones like Stone Free Festival, 2017' … sharing the stage with such bands as; Machine Head, Testament and Overkill! Looking back now, are there any highlights and special moments that you would like to share with us?
Jake: All such great experiences and opportunities to connect with more excellent people. We recently played Hard Rock Hell Ibiza and the venue was an old zoo. The acoustic stage was in the "Seal Enclosure" so bands were sitting on stools, singing/playing their hearts out on their instruments. All the while there was this pool of water across the front of the stage where the seals would swim out to do their tricks. (Laughs) It had to be seen to be believed, it was quite funny (though the seals never made an appearance). (Laughs)
Anyway, we were not on the acoustic stage but located inside on a fair sized stage with lighting and sound which was really cool. Now Ash was meant to drive out and meet us at the airport to fly out to this event, however, the day before he had been rushed to the hospital where he was advised not get on an airplane under any circumstances.
What could we do? It was really too late to cancel and the flights/hotel had already been booked. In the end, we flew out, did the show without a bass player and managed to pull it off.
The next day we spent at the swimming pool, jousting atop inflatable animals and generally acting foolish (as one does in Ibiza). Thanks, Hard Rock Hell!
HRH: 'Death Valley Knights' are often described as one of the fierce and fiery British bands that are straight up Heavy Metal, with an old school vibe! How would you describe the band in your own words?
Jake: Thunderous, fire-breathing heavy metal monsters bred with the purpose of inspiring the masses to bang their heads and throw the horns whilst slamming copious amounts of alcohol! (Laughs)
HRH: What's next for 'Death Valley Knights'?
Jake: We're going to play a few more shows at the end of the year, release another music video, record a new single in the new year and hopefully announce another string of shows and festival.
HRH: Thank you, Jake! It's been a real pleasure catching up with you and I hope to see you guys again at one of your upcoming shows, maybe even next year's Download Festival. Good luck with the new record!
Jake: The pleasure is all this side! Thanks so much for throwing some questions our way and we look forward to catching up again!
Photo Gallery
Current DVK line up:
Jake Thorsen -Guitar/Vocals
Pawel Matuszkiewicz -Guitar/Vocals
Hugo Terva- Drums
Ashley Porter- Bassist
Valhalla Vintage' track listing:
1. Valhalla Vintage
2. Be The Grizzly
3. Legacy
4. Taste Of The Kill
5. Shut Up And Drink
'Be The Grizzly' video link:
Photos appear courtesy of Ester Segara, Jadranka Jade, Sally Newhouse, Robert Sutton Photography and Luka Viola.