Julian Angel | The Death of Cool
by John Kindred
– Publisher —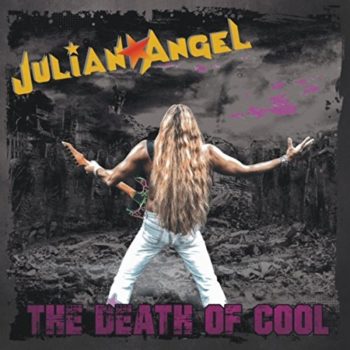 Poison meets L.A. Guns, Glam, and Sleaze … Julian Angel's take on the '80 Hard Rock scene is encapsulated within the confines of his latest studio album titled The Death of Cool.
Known for his other band Beautiful Beast, Angel recent work on movie soundtracks in Hollywood hasn't derailed his musical dreams. The Death of Cool, his third solo release, puts Angel back in his comfort zone as he time travels back to the '80s, the decade of decadence, debauchery, drugs and alcoholic excess … ten years of the never ending party, eventually silenced by an era of the dark, brooding, flannel-shirt wearing Grunge rockers.
The Death of Cool features 11 new songs, which pulls elements from Glam, Hair Metal, Sleaze and Punk then molds it all into '80s Hard Rock. Complete with soaring guitar solos and huge arena sing- along-choruses, Angel takes the old and infuses new life into the genre.
Angel, who handles all vocals and guitar tracks, wrote all the music, as well as took on the role as producer. This most certainly has his stamp all over entire project as he interprets the genre from his own musical perspective.
Angel's voice can be described as one part Olli Herman (Reckless Love) and the other Phil Lewis (L.A. Guns), both good company to be associated with. This trip back in time leans heavily on those key elements that defined the genre in the '80s. For those fortunate to remember those sounds that filled up arenas, stadiums and concert halls worldwide.
The music on The Death of Cool is built on the back of power chord rhythms allowing the vocals to fill out each arrangement. It wouldn't be right to leave out the obligatory guitar solos, Angel doesn't shy away at all from showcasing his fretboard skills. The CD has a heaviness to it, this certainly isn't Pop Metal. The choruses' highlights Angel vocal harmonies, again reminiscent of that era of Arena filled anthems.
While the album has been released as a solo album for Angel, the music is on par with his work with Beautiful Angel. The main caveat to Angel's solo music is he is the mastermind for the entire CD. Moreover, this gives him a platform to highlight him as a writer, musician, and producer. It's great to have an artist perform a style of music that is near and dear to his heart. Although in 2017, with a resurgence of '80s bands releasing music, and other new bands reprising the genre, the competition to be heard falls into a very crowded landscape.
Genre: Hard Rock, Glam, Sleaze, Hair Metal
Band:
Julian Angel (everything)
Track Listing:
1. Shoot Me Down
2. The Death of Cool
3. Clock Strikes
4. She's on Fire
5. Reach
6. Phonograph Needle
7. Rock Like a Woman
8. Hideaway
9. Monsterous
10. Summerbreak
11. Friday Nite Wild
Label: Platinum Blonde Records
Web:
http://www.angel-rock.com
http://www.julianangel.biz
https://www.facebook.com/julianangelroxx
Hardrock Haven rating:
(7 / 10)