by Anabel DFlux
– Sr. Photojournalist —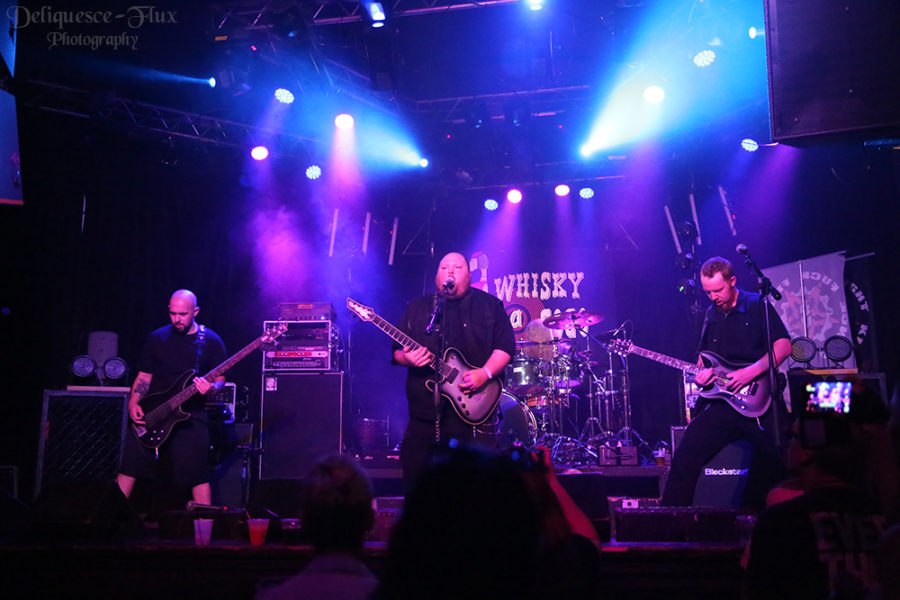 August 28, 2017 at the Whisky a Go Go in West Hollywood, CA. —
Sometimes you come across a band that is just remarkable- plain and simple. Fracture is one of those acts. A Metal band hailing from Los Angeles, after the founding members took the plunge to move to California to pursue their musical endeavor, Fracture has a distinct sound all their own. Having played with acts such as SevenDust, 36 Crazyfists, Act of Defiance, Memphis May Fire and The Defiled, Fracture has very quickly become a fan-favorite on the famous Los Angeles street. Fracture excitedly celebrated the release of their newest record, The Search for Solace on August 28th at the world-famous Whisky a Go Go. Celebrating Skumlove's birthday alongside their release, Fracture helped captivate the night with their heavy rhythm and intense sound! With lighting that effortlessly complimented every track the band performed, Fracture was a sight to see. You could genuinely feel the energy and power in the execution of every melody.
Waylon Jennings, John Caison, Iorden Mitev, and Brandon Jorge Alayon are here to take the metal world by storm. Front man and guitarist Waylon Jennings has a one-of-a-kind amazing voice that you have to hear to believe, coupled with experienced playing! John Caison dominated his side of the stage with his skilled lead guitar, often engaging with the crowd! Percussionist Iorden Mitev led the beat with his intense performance, a true art! Of course, we cannot forget the amazing Brandon Jorge Alayon on bass- showing off his wicked moves and years of dedication to the craft!
Fracture is a band you will never regret seeing.
Members:
Waylon Jennings- Lead Vocals/Guitar
John Caison- Lead Guitar/Vocals
Iorden Mitev- Drums
Brandon Jorge Alayon- Bass
Set list:
XI.VII.XCIV
Self
Undermine
Fear
Complicate
Misled
United
Fracture Photo Gallery
Connect with Fracture:
https://www.fracture818.com/
https://www.facebook.com/Fracture818/
https://twitter.com/fracture818
https://www.instagram.com/fracture818/
https://www.youtube.com/user/fracture818