Lynch Mob | The Brotherhood
by John Kindred
– Publisher —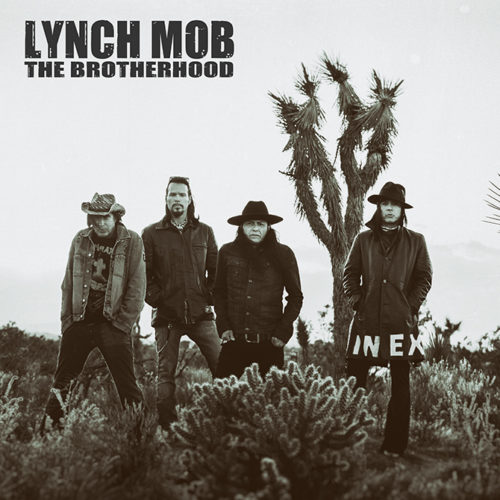 George Lynch and Oni Logan return, once again, with their latest Lynch Mob studio album titled The Brotherhood, released on Rat Pak Records. The current Lynch Mob lineup includes bassist Sean McNabb (Quiet Riot, Dokken, House of Lords) and drummer Jimmy D'Anda (Bullet Boys). The album title was derived from the current lineup spending a lot of time together on the road and in the studio, creating a strong bond between musicians. Lynch refers to his bandmates as a "second family." While Logan says the time spent together led him to, "consider ourselves a pack of wolves."
The Brotherhood is Lynch Mob's eighth studio album and fifth overall, not counting EPs, pairing the Lynch/Logan songwriting partnership. The duo has been quite successful in delivering gritty and Bluesy Hard Rock for more than a quarter of a century. Logan's voice has always been a perfect complement to the fretboards dynamics of Lynch.
The new album features 11 new songs and an additional bonus track, "Until I Get My Gold." Produced by Chris "The Wizard" Collier (Lynch Mob, Flotsam And Jetsam, Prong, KXM), Logan describes the album as "… more of an adventurous sound in part and maybe a darker, colder sound to it."
The Brotherhood can be described as atmospheric, dark and brooding … and on the flip-side melodic, explorative and energizing. Oftentimes, the simplicity of Lynch's riffs leads to some complex musical arrangements. His rhythmic patterns often seem to twist, slither and swirl, weaving a mystical collage of music, creating the band's unique dynamic sound.
Reading some critical online comments on Lynch's playing, some fans are dissatisfied with his direction as a player and have their own expectations on how Lynch should perform. Die-hard fans may be scratching their heads with the unwarranted viewpoints. What some may call regression is really a confusion in the understanding of the evolution of a musician. Many shredders birthed in the '80s have shifted away from pure speed and flashy playing, settling down into an emotional style that emphasizes making the notes count. Lynch is no different. His quest for tone, use of exotic scales and his understanding of phrasing has progressed and matured over time. Moreover, when the music calls for it, yeah, he can still shred with the best of them.
Lynch Mob has, at one time or another, featured a myriad of vocalists. Oni Logan, though, has always been the voice of the band. The 2017 Logan still has the same 'ole soul as his '90s self. Always quite good at penning a lyric, his tendency to shy away from stereotypical themes defines the band. His pipes are also in great form, offering fans his Bluesy delivery and melodic harmony vocal passages throughout the CD. He nails it vocally on the ballad, "Miles Away" and Zep-inspired "The Forgotten Maiden's Pearl." His vocals on the chorus for "Until the Sun Goes Down," as well the songs "Black Mountain" and the Hendrix-y '70s tune "Dog Town Mystics" are brilliant.
Lynch, along with McNabb and D'Anda, lay down some seriously heavy grooves throughout The Brotherhood. The opener "Main Offender" is heavy with an upbeat tempo, and "I'll Take Miami" and "Last Call Lady" are little lighter but stepped in melodic overtones. The second half of the CD sees the trio getting after it on songs like "Black Heart Days," "Black Mountain" and "Dog Town Mystics." "Until I Get My Gold" is more a heavy-distorted, traditional Blues song, complete with harmonica, plodding single beat kick drum, 1,2,3,4 and repeat. The song slowly builds to a bit of a crescendo before fading out …
Lynch puts his stamp on each song with his signature solos and riffs, which is always icing on the cake. Fans won't be disappointed with this new Lynch Mob album.
Older, wiser … sure it's a cliché. However, the truth can't be denied. Lynch Mob forges ahead, creating new music without regards to trends and searching for that elusive song, which will define who the band is today and for all time.
Lynch Mob – "Main Offender"

Lynch Mob / Making of "The Brotherhood"

Genre: Hard Rock, Metal
Band:
Oni Logan (vocals)
George Lynch, (guitar)
Sean McNabb (bass)
Jimmy D'Anda (drums)
Track Listing:
01. Main Offender
02. Mr. Jekyll and Hyde
03. I'll Take Miami
04. Last Call Lady
05. Where We Started
06. The Forgotten Maiden's Pearl
07. Until the Sky Comes Down
08. Black Heart Days
09. Black Mountain
10. Dog Town Mystics
11. Miles Away
12. Until I Get My Gold (bonus track)
Label: Rat Pak Records
Web: http://www.georgelynch.com/
Hardrock Haven rating:
(9.5 / 10)