by Joe Mis
— Sr. Columnist —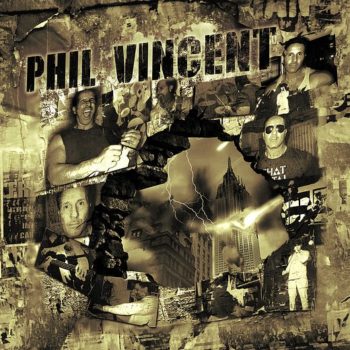 It is difficult for a talented group of musicians to find inspiration for a handful of good albums, but in some cases lightning strikes – and then strikes again and again… The latter is definitely the case for the irrepressible Phil Vincent, who has just released his 20th solo album aptly entitled XX.
The term "solo" album also has many different connotations, but in Phil's case "solo" means just that – he wrote, sang, played all instruments save for a few guitar solos, and produced/mixed/arranged his latest effort. Somehow Phil manages to crank out good, hard-edged Melodic Rock without going stale or running out of steam. XX is his next evolutionary step, and while his songwriting has always remained steady XX highlights his continuing growth as both a performer and an engineer/producer. Somehow he has made these 20 solo albums while working in numerous other projects – Tragik, Circular Logik, D'Ercole, Cranston, and Legion…
From the first notes of the opener "Live Again" it becomes apparent that Phil has upped his game as an engineer. His sound seems heavier, grittier, and edgier than on his previous releases. As a child of 80s Rock, he has brought a bit of that swagger and roughness into his more modern music. He's also stepped up his vocals a bit, adding more layers and harmonies resulting in a fuller sound and some really memorable choruses. Overall, this is vintage Phil Vincent!
Phil continues to make modern melodic rock influenced by the great of the late 80s and early 90s – particularly Winger and Dokken. He's added lots of keys and synths ("Who Are You?" is pretty much all electronic) but the majority of tracks are built around vocals and guitars – check out "No Hard Feelings" and "All For Nothin'" to hear his rhythm guitars at their best. As a complete musician, he also plays bass and drums, doing an admirable job across the board. Phil has brought in a number of guests to add guitar solos, and he mixes them in seamlessly. Arguably his best performance is on the heavy rocker "(This Is) Your Let Down" – everything clicks from guitars to vocals to drums to bass. "Ride" is also a strong track featuring heavy riffs, intense drums, and fluid layers of vocals, while "Slipping Away" is probably one of the heaviest tracks that Phil has done as a solo artist.
Whether pounding out intense Metal, softer acoustic style power ballads, Pop Metal, or flowing mid tempo rock, Vincent never loses his sense of melody or gets so wrapped up in his own performance that he loses touch with the music. One might think that after so many albums Phil would lose some inspiration or get stuck in a musical rut, but remarkably XX is quite probably his strongest and most diverse release to date.
Phil Vincent's XX is highly recommended for fans of Modern Melodic Metal!
Genre: Melodic Metal
Band:
Phil Vincent – all instruments and vocals
Guest guitarists: Paul Sabu, David Zychek, Vince O'Regan, Pete Cox, William Roux
Track Listing:
1. Live Again
2. Headlines
3. No Hard Feelings
4. All for Nothin'
5. Who Are You?
6. (This Is) Your Let Down
7. Sole Survivor
8. Ride
9. Hey You
10. Slipping Away
11. How Many Times?
Label: Phil Vincent Music (PVM)
Website: www.philvincent.com
Hardrock Haven rating:
(8.5 / 10)