Rainbow | Live in Birmingham 2016
by John Kindred
– Publisher —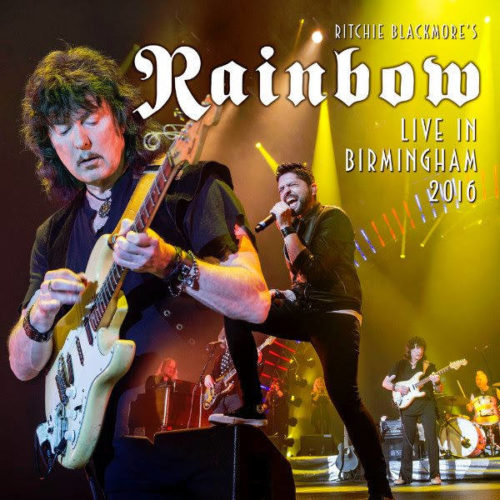 Many have clamored for Ritchie Blackmore to return his fire and brimstone days when he wielded his six-string Fender Strat fronting his band Rainbow. And in 2016, the unimaginable happened. Blackmore once again resurrected Rainbow. As always, a new lineup of musicians was selected to take on the legacy which has featured, at one time or another, the late Ronnie James Dio, Jimmy Bain and Cozy Powell, Joe Lynn Turner, Graham Bonnet, Roger Glover, Don Airey, Bob Daisley, just to name a few.
The new lineup comprised of vocalist Ronnie Romero (Lords Of Black), bassist Bob Nouveau, drummer David Keith (Blackmore's Night), keyboardist Jens Johanssen (Stratovarius,ex-Malmsteen) and backing vocalists Candice Night (Blackmore's Night) and Lady Lynn.
The concert was recorded June 25, 2016, at the Genting Arena at the NEC, Birmingham, England. While the performance is 'live' the actual recording is from the soundboard. Which means less atmosphere as the crowd noise is excluded from the musical performance. While in between songs the crowd can be heard, assumably from Romero's vocal mic and other microphones on the stage.
While this was a Rainbow reunion, of sorts, the music performed was primarily culled from Blackmore's Deep Purple ventures. The 2 CD release features a setlist that includes Rainbow classic songs such as "Stargazer," "Man on the Silver Mountain," "Since You've Been Gone" and "Long Live Rock 'n' Roll." As well as Deep Purple tracks "Mistreated," "Highway Star" and "Smoke on the Water," and the inclusion of "Burn" and "Soldier of Fortune."
Romero task of handling vocal duties for songs sung by Rock's elite is a monumental task, to say the least. Gillian, Dio, Turner, Bonnet … all have unique and diverse vocal styles. Romero does an admirable job covering both Deep Purple and Rainbow tunes. The overall mix seems to have the guitar just a little too far back in the mix, making a lot of those classic Blackmore riffs a touch hard to hear. The solos certainly should have been slightly louder to make them stand out more.
The anticipated return of Blackmore's Rainbow arrived with less than the "Wow!" factor that could have been if this reunion had happened years earlier with former original frontman Ronnie James Dio. Timing is everything. The fact that the majority of the songs performed were Deep Purple tracks is a slight detractor. With that being said, Blackmore's is a legend … Rainbow fans will still want to add this to their Blackmore collection.
Band:
Ritchie Blackmore (guitar)
Ronnie Romero (vocals)
David Keith (drums)
Bob Nouveau (bass)
Jens Johansson (keyboards)
Candice Night (backing vocals)
Lady Lynn (backing vocals)
Track Listing:
Disc 1
01. Over The Rainbow / Highway Star
02. Spotlight Kid
03. Mistreated
04. Since You Been Gone
05. Man On The Silver Mountain
06. Soldier Of Fortune
07. Medley: Difficult To Cure (Beethoven's Ninth) / Drum Solo / Bass Solo / Band Jam /
Keyboard Solo (inc Toccata & Fugue in Dm) / Difficult To Cure (Beethoven's Ninth)
08. Catch The Rainbow
Disc 2
01. Perfect Strangers
02. Long Live Rock 'N' Roll
03. Child In Time
04. Stargazer
05. Medley: Black Night / Woman From Tokyo / Black Night
06. Burn
07. Smoke On The Water
Label: Eagle Records, Universal Music Group
Web: https://shamansharvest.com/ – www.facebook.com/shamansharvest
Hardrock Haven rating:
(8 / 10)