Shaman's Harvest | Red Hands Black Deeds
by John Kindred
– Publisher —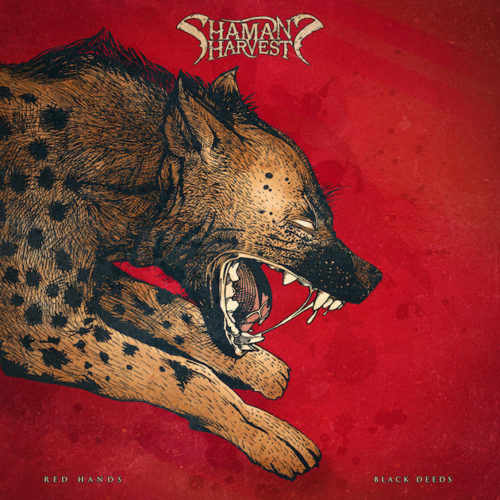 Shaman's Harvest returns with the group's sixth studio album, Red Hand Black Deeds, and second with Mascot Records.
Red Hand Black Deeds features 14 songs, with underlying social and political themes, which is a direct response to the band writing the music during the 2016 U.S. presidential election. Keith Armstrong, who produced the album, had the band use vintage gear, such as analog pedals and vintage amps to achieve a warm old school sound. The band strived to deliver music that has an organic feel, merging the group's ties to the Midwest with its influences from the culture of Los Angeles.
Red Hand Black Deeds can best be described as atmospheric and moody. From the opening prelude with its Native American vibe, which slides into quickly paced "Broken One," the album is wrapped in layers of dynamic instrumentation that pulses with the lifeblood of the band. Infused with an organic vibe that lulls listeners into a tranquil sense of euphoria the group leads fans along its mystical musical explorations.
The album is certainly diverse, offering listeners arrangements that move from driving rhythms to vocally focused songs, like "A Longer View," that lets Nathan Hunt carry the emotional torch as his voice leads the band and brings fans along for the ride. Musically the instrumentation is balanced and focused, all of which fall within the audio spectrum with perfect placement. Rhythm guitars, bass, lead tracks are each clearly separated in the mix and easily heard without being overly dominant or taking away from the other instruments.
Heavily influenced by traditional Blues, listen to "Off The Tracks" and "Long Way Home," Shaman's Harvest is adept at mixing a variety of genres into the context of its own musical style. Genre bending Rock to Hard Rock, Blues, Alternative, Shaman's Harvest finds that as a group of musicians a unique definitive sound has been created, thus separating the band from its peers.
Red Hand Black Deeds is an album that requires several spins before, at least for new listeners, you get it. At first, it seems less than cohesive, eventually though, after a few spins, the music and vibe of the band makes sense. Again, it is a unique album and sound. Parts of the music on Red Hand Black Deeds are heavy, parts are soft, within the confines of the music the vocals links it all together.
Genre: Post-grunge, Hard Rock, Alternative
Band:
Nathan Hunt – lead vocals
Josh Hamler – rhythm guitar
Matt Fisher – bass
Derrick Shipp – lead guitar
Adam Zemanek – drums
Track List:
1. Red Hands Black Deeds (Prelude)
2. Broken Ones
3. The Come Up
4. A Longer View
5. Soul Crusher
6. Off The Tracks
7. Long Way Home
8. The Devil In Our Wake
9. Blood Trophies
10. So Long
11. Tusk And Bone
12. Scavengers
Label: Mascot Records
Web: https://shamansharvest.com/ – www.facebook.com/shamansharvest
Hardrock Haven rating:
(7.5 / 10)