by Franco Cerchiari
– Sr. Columnist —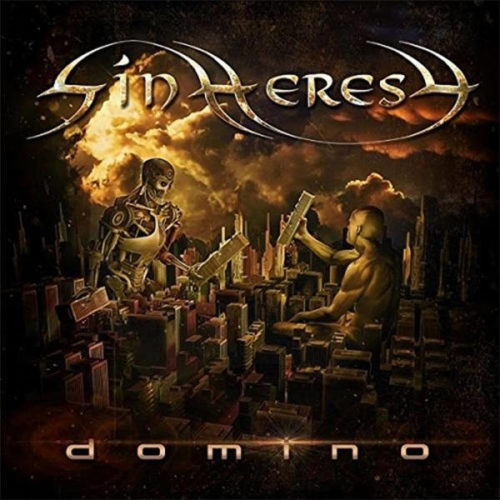 It's a shame really that such a hierarchy exists, but it does. At one end of the spectrum are the true heavyweights within the genre of Female-fronted Symphonic/Melodic Metal bands – Lacuna Coil, Leaves' Eyes, After Forever, Epica, Xandria, Nightwish, Sirenia, and The Sins Of Thy Beloved. At the other end of the range are those amazing bands within the same genre who release just as good of music but struggle to be heard and acknowledged – Ivalys, Eidon, Wereworld, Pergana, Evil's Desire, Whispering Woods, Bendida, Suddenlash, and the band we are about to talk about here, Italy's SinHeresY and their second full-length album, Domino, released on the Scarlet Records label. Blame it on radio, financial constraints, tour availability, label support and a gamete of other reasons. Past and upcoming supporting tours with Lordi, Tarja, Lacuna Coil, Dark Moor, Almah, and Seventh Wonder will undoubtedly help in getting this incredible band a whole new fan base for sure, and if this band continues to release the same excellent music that was heard here on future albums, within time they could very well find themselves as headlining acts, for everything that fans of Symphonic/Melodic Metal want can be found all over Domino.
It is all here – Symphonic Metal, Melodic Metal, Modern Metal, Heavy Metal, and Progressive Metal. Stefano Sain has a deep, modern vibe to his singing (think Aaron Lewis of Staind) and Cecilla Petrini's voice is clear, angelic and almost operatic. A strange mix to be sure, but on so many levels it works so the modern perfectly merges with the symphonic. Simply fantastic keyboards are everywhere, skull crushing riffing guitars rock hard, layers of a female/male fronted vocal team tells the stories, and a pushing, pulsating rhythm section offer a bottom end.
No two songs throughout Domino sound, or feel the same, with each offering something different to the listener, as dissimilar songs possess a different vibe and design. One song comes across as almost Modern/Industrial Metal (the excellent title track) offering (think System of a Down,) to the Symphonic Metal that is the backdrop of "Star Dome," while another is a mix of the clean, easy vocals of the gorgeous Cecilla Petrini and the deep, growling vocals of Stefano Sain ("My Only Faith"). Another song is pure Heavy Metal with loud, killer guitars with huge soaring vocals, ("Under Your Skin," and "Unspoken Word") and "Without A Reason" is a strong mid tempo ballad with coated vocals accompanied by a beautiful piano. The CD highlight "Believe" is an unadulterated, harmonic, lofty synthesizer/piano heavy Melodic Metal wonder while a Stained/Trapt/Smile Empty Soul vibe is all over "The Island of Salt and Grass." Also not to be missed is the jaw dropping keyboard and bass guitar work heard on the almost Progressive Metal of "Ocean of Deception," and the gentle acoustic and electric guitars with sobering vocals complete "Another Life."
The sound and mixing of the music are great, and the emotion behind the songwriting was tangible. The musicianship was exemplarily (especially the keyboards – ESPECIALLY the keyboards) and the way the vocals soared made so many of these songs shoot heavenward. In a time or two the vocals were hard to understand as the native Italian accents could be heard, but nothing too bad really, but the way the music was mixed and allowed for the choruses to fly upward more than made up for this.
While listening to Domino the music becomes alive, that stirs something within, and quickly a wish comes that the pendulum would swing the other way for SinHeresY and catapult them into the realm of the heavyweights of Metal.
Genre: Symphonic Metal, Melodic Metal, Modern Metal
Band Members:
Cecillia Petrini – vocals
Stafano Sain – vocals
Lorenzo Pasutto – guitars
Davide Sportiello – bass
Track Listing:
1. Domino
2. Star Dome
3. Without A Reason
4. My Only Faith
5. Unspoken Words
6. Under Your Skin
7. The Island Of Salt and Grass
8, Ocean of Deception
9. Believe
10. Another Life
Label: Scarlet Records
Website: www.sinheresy.com
Hardrock Haven rating:
(8.5 / 10)