by Joe Mis
– Sr. Columnist —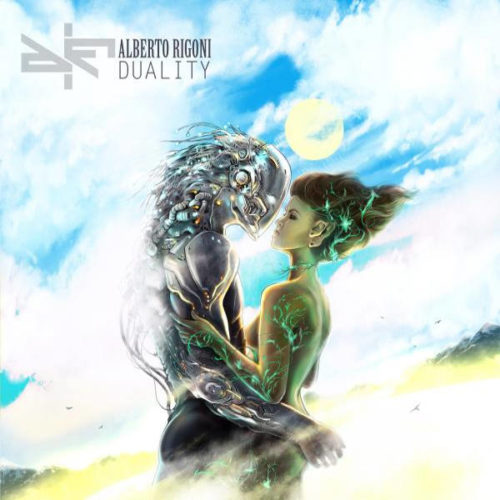 Italian bass master, composer, and producer Alberto Rigoni has just released his sixth solo studio album entitled Duality, returning to his more Progressive-Funk-Fusion roots. This seven track instrumental release should be on the radar of anyone who sees the bass guitar as a complete musical instrument rather than just a musical time keeping device. There is no doubt that Rigoni can do it all – his solo pieces range in genre from Funk to Jazz to Progressive Metal to old school Hard Rock. However, Duality is much more focused musically than his previous release Bassorama.
Rigoni is quite busy. Besides his solo work, he is also part of the Vivaldi Metal Project, BADASS, The Italians, and supports numerous other performers. As has become the norm, Alberto manages to garner support and contributions from a number of well respected performers – guitarists Mattias IA Eklundh (Freak Kitchen) and Frank Caruso (String 24, Thunder Rising), keyboard players Mistheria (Vivaldi Metal Project), Ryo Okumoto (Spock's Beard, Phil Collins) and Jonah Weingarten (Pyramaze). Drummer Doug Harris completes the lineup.
"Song for My Soul" is a soft, modern jazz – rock piece with strong keyboard contributions from veteran musician Mistheria. "Duality" lets Rigoni's bass stand tall and proud as both a rhythm and solo instrument. The big beefy bass notes give the tune a distinctive funk rock sound, Caruso's explosive guitar solos bring the metal edge, and Doug Harris uses his drums to somehow keep the others in line and under control. "Message in Morse Code" is pure bass. Rigoni lays down a mono tone rhythm line but his lead bass work is all over the place (in a good way) – expressive and emotional. Everything softens again on "Kyoto's Gardens." Joined by Spock's Beard keyboard player Ryo Okumoto, Rigoni sets an ethereal and atmospheric mood throughout, while changing tempo and intensity numerous times until the song fades out on haunting keyboard riffs.
"Mad 333" starts with heavy bass, seems to turn to bouncy pop but is quickly twisted into an amazing Progressive guitar piece thanks to Freak Kitchen's Matthias IA Eklundh. Jonah Weingarten of Pyramaze brings the song to a frenetic conclusion with some sparking keyboards. Harris and Rigoni work well together on the more experimental and very heavy "Obsessions." Rigoni pushes the bass to its musical limits while Harris adds his percussive punctuation at just the right parts. Alberto closes the release with a pure bass instrumental, "Afterneath." This is a mellow, atmospheric track that gracefully glides the listener back to reality.
Rigoni also does a nice job with the mixing and engineering of Duality. Obviously, his bass takes center stage (since it IS a bass-centric album), but he does not hog the spotlight. His fellow musicians all get to step forward and prove their worth. Despite the number of genres Alberto touches on, somehow the music holds together, and the release feels like a cohesive and complete journey rather than a bunch of songs randomly stuck together. In many ways Duality is not only a musical evolutionary step for Alberto, it also shows his growth as a producer.
For fans of bass guitar, Fusion, or Alberto Rigoni himself, Duality is highly recommended!
Genre: Progressive Rock, Fusion
Band:
Alberto Rigoni (bass)
Doug Harris (drums)
Guest musicians: Mistheria (keys on "Song For My Soul"; Matthias IA Eklundh (guitar solo on "Mad 333"); Frank Caruso (guitar solo on "Duality"); Jonah Weingarten (keyboard solo on "Mad 333"); Ryo Okumoto (keys on "Kyoto's Garden")
Track Listing:
1. Song For My Soul
2. Duality
3. Message in Morse Code
4. Kyoto's Gardens
5. Mad 333
6. Obsessions
7. Afterneath
Label: Alberto Rigoni Music
Website: www.albertorigoni.net
Hardrock Haven rating:
(8.5 / 10)