American Mafia | Made in New York
by Derric Miller
— Managing Editor—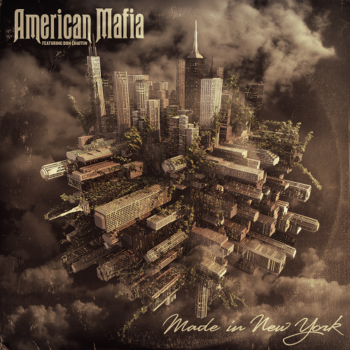 Back in 2009, an unassuming band by the name of Holy Water released an album on Perris Records that was unheralded but such a comfortable and familiar brand of Hard Rock it did make an impact to those rock aficionados paying any attention. In fact, because of the effortless vocals of singer David Knight, Holy Water had a direct line to Bad Company's Holy Water release, because Knight sings in a similar vibe to Brian Howe, and the music was really an updated version of Classic Rock.
As happens far more often than need be, the ghosts that haunt the living sometimes help turn them into ghosts themselves, and David Knight took his own life before the band really had a chance to break out. In 2014, the band recruited a bevy of singers like Mike DiMeo, John West, Ed Terry and Don Chaffin—singers with the proven ability to sling some soul along with the rock—and released The Collected Sessions, a funeral hymn and thank you to Knight which then led to the birth of a new band, American Mafia.
Founders Freddy Villano and Tom Jude obviously felt the songwriting chemistry was still strong, and rebuilt the band with the aforementioned Don Chaffin taking lead vocals on all tracks, and now the band has a brand new EP out called Made in New York, a departure from the more polished songs they created as Holy Water and now a machine that has more power, machismo, and an edge like older Whitesnake and Badlands wielded.
Hell, they went from Holy Water to a mafia; did you really think they were making the sign of the cross on your forehead now?
The haunting and gloomy "Superstar" starts things off, a foreboding and atmospheric composition, a crescendo just waiting to burst. Don Chaffin (Voices of Extreme, Red Lamb) is a hell of a singer, and really the perfect voice for these compositions. The musicianship was never really something to doubt, as Jude can play the languid riff and tear into a ripping lead or solo, while the rhythm section of Villano (bass) and the familiar Bobby Marks (drums) groove and steer the grind along with both deftness and animal attraction.
"Gistified," touches on that aforementioned bluesy Hard Rock definition, both funky and heavy, and the breakdown before the chorus Chaffin really slams you with intensifying vocals. As you'll understand early on with American Mafia, it's all about the song. There's no masturbatory musical passages, they don't show off, they just play the song the way it's meant to be played. Damn refreshing …
"Ride on Through" brings you back to like an updated late '70s rocker. It's vintage, but it's also polished, if that's possible. Well it is, just listen.
When American Mafia slows it down a bit and emotes, you have to know it's going to kill, based on what you've heard Chaffin do as a vocalist thus far. In fact, "Lead the Way," maybe due to the current state of affairs, reminds you a bit of something Chris Cornell could both croon and wail on. "Lead the Way" just embodies the feeling of being bereft … bereft of peace, of love, of hope. If the guys write an entire album with songs like this on it, we'll all be better off.
Made in New York is a teaser, but a damn fine one. If you've been a fan of Holy Water as a band and as a project before, it's a pleasure hearing some cohesion, even it's an EP and not full-length. American Mafia has a place in today's musical landscape and they definitely have something relevent to say, so keep talking guys. Amen.
Genre: Hard Rock
Band
Don Chaffin – Vocals
Tom Jude – Guitar
Freddy Villano – Bass
Bobby Marks – Drums
Tracklisting:
1. Superstar
2. Gistified
3. Ride on Through
4. Lead the Way
5. When London Sleeps
Label: Lion's Pride Music