ColdSpell | A New World Arise
by Derric Miller
— Managing Editor—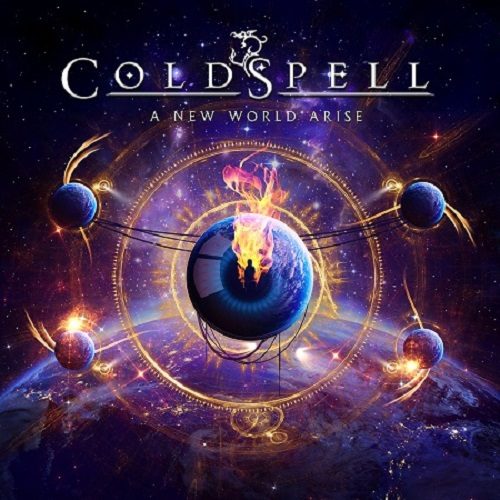 Straight outta Compton, no, make that Sweden, ColdSpell is back with A New World Arise, a sonic form of the "ice bucket challenge" to all the bands who are just going through the motions and releasing boring, rote, that "everything-sounds-the-same" sort of music fans and the industry have been numb to for far too long.
Basically, ColdSpell is saying in no small terms, "Wake up—this is what Hard Rock sounds like!"
A New World Arise is their fourth release, following up on 2013's Frozen Paradise. Although their catalog is much smaller, comparing the quality and songwriting stealth of their work to a band like Pretty Maids isn't a stretch. In fact, it's more a reason to whine; how much better would the benumbed musical landscape be with 10+ more ColdSpell studio albums to turn to?
Guitarist Michael Larsson is the main composer, and you can tell he's a fan of big riffs, melodic leads, and like all great songwriters, it's the SONG that matters most, not its separate pieces. "Forever" is a testament to that idea, with racing riffs, a massive chorus and as anyone who has ever heard ColdSpell, lead singer Niclas Svedentorp has a warm, effortless delivery that is all melody and strength. The freakin' solo is amazing as well. This almost veers into Power Metal with its racing tempo and pounding ferocity.
"Call of the Wild" is the kind of song you want to listen to before you wrap your gnarled knuckles with barbed-wire and take out that bully you've always hated your whole life. There's so much testosterone in this song, you'll have a beard on your face after you listen to it even if you just shaved hours before. The churning riffs, the call to glory on the chorus, "I was lost now I'm free, like a wolf deep inside me of me, we all long for the call of the wild … yeah!" will have you sweating whiskey even if you don't drink anything harder than flavored water. A New World Arise is a success merely because "Call of the Wild" exists … and yet, there's more!
"Signs" is the first song you hear another facet to the band's abilities, with acoustic guitar at the onset, and a composition that is more of a mid-tempo rocker, albeit it gets fuller during the chorus. In these moments, Svedentorp gets to shine, as his vocals are highlighted when the music breathes around him.
A song you may not have expected is "Love Me Like You Do." It's bluesy Hard Rock, like Thunder, older Whitesnake, or Badlands. As a stand-alone track, it's killer. Musically, the band rips things up and you can hear they are loving taking this turn, but this is not Svedentorp's natural groove. It's good, but not up there with some of the other tracks.
"Wait Til Tomorrow" goes back to what you'd expect from ColdSpell, but now that you've heard it, that sort of bluesy edge seeps back into Svedentorp's vocals again. This sounds akin to a Winger anthem, just those overpowering vocal melodies with intricate yet easily digestible songwriting. Again, Larsson brings the heat and melts everything with his solo.
"A New World Arise" closes things out, the album's namesake. It's the album's longest and most poignant song. "From darkness and despair, shine a light for you and me … keep fighting until the end!" The theme is that everything is falling to shit, and we need to figure it out before it's too late. It's a generational call to arms that has been falling on deaf ears for generations, but it's still nice to hear.
ColdSpell isn't only an underrated band. They quite honestly just create better music than 99 percent of what is being made today in any part of the world in the Hard Rock/Melodic Metal category. A New World Arise is just more proof that talent and effort count more than anything else in this art form, and as a fan of music, why would you settle for anything else?
Genre: Melodic Hard Rock, Metal
Band
Niclas Svedentorp – Vocals
Michael Larsson – Guitars
Chris Goldsmith – Bass
Per Johansson – Drums
Additional musicians – Matti Eklund – Keyboards
Tracklisting:
1. Forevermore
2. Call of the wild
3. It hurts
4. Miles away
5. Signs
6. Love me like you do
7. This is me
8. Get to the top
9. Wait until tomorrow
10. Losing my mind
11. Just one night
12. A new world arise
Label: Escape Music
Web:
http://www.coldspell.se/
https://www.facebook.com/pages/ColdSpell/164708699316
Hardrock Haven rating:
(9.3 / 10)