Tony Mills | Streets of Chance
by Derric Miller
–Managing Editor–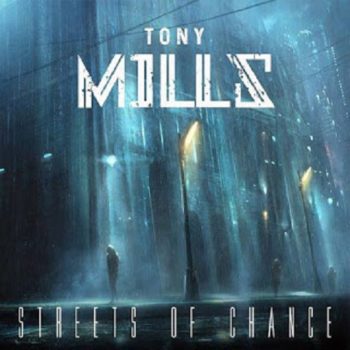 Last time out, the vocalist who was introduced to the world in the late '80s as the wildly talented singer of Shy, Tony Mills, was a bit downtrodden. Not only that, he was (musically) in a dark, brooding pool of an unblinking abyss, and gave the world one of the best albums of the last decade, Over My Dead Body. There was pageantry, and poetry, and the truly human exestential war of raging against the dying of the light … and now, Mills is in a much happier place. That's a great thing for him as a man, for his friends and family, yet it takes away a bit of the edge from what he does best—singing through and against the blight with his triumphantly melodic vocals.
Streets of Chance is AOR, for the most part. It hearkens back to his projects like China Blue, which is no surprise since keyboardist extraordinaire Eric Ragno is in the ranks on this project. "The Art of Letting Go" is the lead in, and it lets you know Mills is in a more straightforward Rock state of mind. Penned by Pete Newdeck and Robby Boebel, it's a fluid song about breaking away from the past and living in the now. Upbeat and uplifting, there are no dead bodies to get over.
"Battleground" is a mid-tempo composition, with a chorus that is worth a few hundred million dollars. With Ragno, Newdeck and Paul Sabu on the writing credits, you get this mammoth treasure of a chorus. Although it's been stated before and will again, there are few singers who can keep up with Mills from a pure talent standpoint, someone who has only gotten better with time. There's like five others from the '80s, maybe …
"Scars" is one of the more nimble songs, and the effects on Mills' vocals are scaled back, not over-produced, at least during the verses, making the song more honest and vulnerable. The recurring theme on this entire release is "letting go of the past," and "Scars" doubles down on that narrative.
By this point, you want to feel some anger, some verve, and you finally hit "Storm Warning." While "Battleground" may be the best song, "Storm Warning" is the most welcomed. It's the fastest song, the guitars finally have some edge, and the brief breakdown before the blazing guitar solo stands out from a pure musicality standpoint on the release.
It all comes to pass on "When We Were Young," a song that could have carried the album earlier on Streets of Chance. With too many slower, similar songs in a row, "When We Were Young" is like sipping on tequila when you expected lemonade. It's that good. The song crescendos, the lyrics once again touch on the past (obviously) with lines like, "Have we let go, or are we lost in life?"
With the talent surrounding this release, you know they had little chance of being anything other than extremely good, and Streets of Chance is that. Mills could sing "Puff the Magic Dragon" and fans would scream, and the bottomless well he keeps pulling from vocally just gets deeper with each releases. After Over My Dead Body, though, maybe there wasn't any real artistic need or reason to keep going that direction, so Mills lightened things up.
It's rare when an album meets the highest of expectations and yet is somehow a slight let down, yet that's where Streets of Chance leads to.
Genre: Melodic Hard Rock
Band
Lead vocals:
Tony Mills
Lead Guitars:
Joel Hoekstra (Whitesnake)
Tommy Denander (Radioactive, Alice Cooper, Paul Stanley)
Robby Boebel (Frontline, Evidence One, State of Rock)
Neil Frazer (Rage of Angels, Ten)
Rhythm Guitars:
Tommy Denander
Robby Boebel
Pete Fry (FarCry)
Bass Guitar:
Toine Vanderlinden (Martyr, Rebelstar Rock)
Linda Mills (Dolls of Disaster)
Keyboards:
Eric Ragno (The Babys, Joe Lynne Turner, China Blue)
Tommy Denander and Robby Boebel
Drums and production, mixing:
Pete Newdeck
Tracklisting:
Scars
When the Lights Go Down
Battleground
Dream On
Legacy
Weighing Me Down
The Art of Letting Go
Battleground
When We Were Young
Storm Warning
Seventh Wonder
Label: Battlegod Productions
Web: http://www.facebook.com/tony.mills.official
Hardrock Haven rating:
(7.9 / 10)