Andy James & Angel Vivaldi
by Arta Gailuma
– Photojournalist —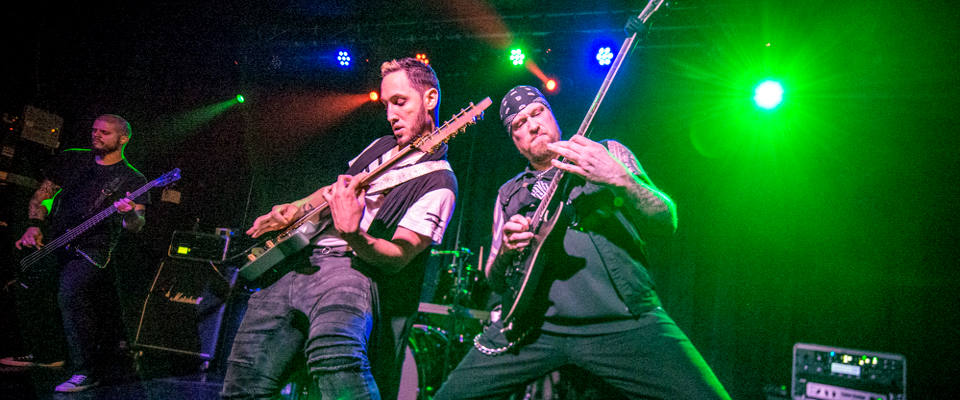 September 23, 2017 at O2 Academy in Birmingham, West Midlands, U.K. —
Angel Vivaldi and Andy James – both guitar virtuosos – have teamed up here for a co-headline tour "The Wave Of Synergy" each having their own sets, only sharing the stage for one song- Wave Of Synergy. The duos support act was from The Fine Constant.
The whole concert being instrumental one might think it would be easy to lose interest or it would lack emotion. Not the case here this lot do know how to make a guitar sing. A small but attentive crowd was proof that not always a sold out show is needed to feel the appreciation for the music and skill. The passion that is behind the guitar playing was phenomenal, to be able to create instrumental pieces that have a feeling of having a vocal melody without losing the intensity of a Metal track is quite a skill.
Go grab a CD and listen to it again and again, the music has so many layers to it that it's easy to pick up something new with every listen.
LIVE! | Andy James & Angel Vivaldi Photo Gallery
Connect with the artists:
www.angelvivaldiofficial.com
www.facebook.com/angelvivaldi/
www.andyjamesguitaracademy.com
www.facebook.com/AndyJamesOfficial/
www.facebook.com/TheFineConstant/
www.thefineconstant/storenvy.com