Clockwork Revolution | Clockwork Revolution
by Derric Miller
— Managing Editor—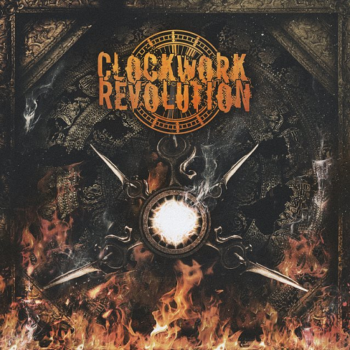 It seems like all of the "new" metal bands today aren't really all that new. Sure, new name, but as far as that whole "fresh out of the package" smell, it's just not happening often. Whether that's a good thing or bad thing doesn't matter, but when you hear Clockwork Revolution—featuring former members of Crimson Glory, Yngwie Malmsteen, Kamelot, G3, etc.—you know these are no newbies. The experience, the talent, the viability is all there, otherwise … there'd be no Clockwork Revolution.
Considering the members run the gamut in past experiences in bands from Alias to W.A.S.P. to Seven Witches as well, what kind of sound do you get when you throw all these dudes into the mix together? It's not confusing, it's just straight ahead, uncomplicated and uncompromising no-frills Metal.
The self-titled debut opens with "Give Me the Reins," and you'll immediately recognize the vocals of Wade Black, a guy who never properly gets his props as a vocalist. He can be David Wayne dirty and if you've heard him in Crimson Glory, he can do pretty much anything. In Clockwork Revolution, he's not asked to really stretch his considerable range. This is why Clockwork Revolution is also described as "Modern Metal," because most Modern Metal singers have no range to speak of. That's not Black's problem, though, he's got octaves to work with when called upon to do so. Anyone who has heard Patrick Johansson before knows the intricate pummeling that is coming your way, and he never lets you down. The drummer's bashing and power and the musicianship is a highlight of everything on this release.
"Heritage" is probably the coolest track on the debut. It finds a groove from the get-go with Tilborg's bass in tandem with Johansson, sucks you in and its fangs never let loose. Guitarist Dewayne Hart, probably the least known of the gents, has this flawless ability to jump from chunky riffs to flowing and deft passages, and his solo here just rips. Lyrically, with lines like, "The pride of a nation, pushed out and left face down. Long live their heritage; you can't put out their fire," is a nod to America's dark Native American heritage, a story sometimes best told through the authenticity of Metal.
While their more mid-tempo tracks stick in your head, tracks like "Monsanto" that you end up cranking to 11. These are the kind of songs that Black manhandles the best—he's really a street fighter of a vocalist and when he's unleashed, especially with pacing, he's at his best.
By the time you get to one of the later songs, you'll want something a bit different, and "Last in Line" is placed perfectly in the tracklisting. This song is more airy, gives the music a chance to breathe, and with tempo changes and intricate musicality, this type of music is what they should focus on going forward.
But … there's too much vocal vibrato. If you've heard any Michael Kiske solo or projects (Place Vendome, Kiske/Somerville, Unisonic, etc.) since Helloween, his vibrato sometimes ruins the vocals. He's still awesome, one of the best Metal singers ever, but there's no need for vibrato in Heavy Metal vocals unless you are Bruce Dickinson. He does it right—almost no one else does. For some reason, Black really seems to have glommed on to this vocal technique, and he's the guy who crushed one of most complicated and varied lead vocals in one song on "Edge of Forever" by Crimson Glory, where the vibrato is tepid and nuanced and doesn't stand out. To be clear, Black is a tremendous singer and you may have to be a vocal nerd to even notice the overt use of vibrato, but if you do notice it, it makes you wonder how much better songs like "Last in Line" and others would be if he just sang straight through the notes.
Clockwork Revolution is the kind of Metal that should be made today. With bands like Accept waving this sort of pared-down Metal style flag and updating everything great about '80s Heavy Metal while bringing it into today, Clockwork Revolution just fits that mold. The talent is obvious, and they sound like a band that's been together for years albeit this is a debut. Let the revolution take over … like clockwork. Oh, see what they did there …
Genre: Metal
Band:
Patrick Johansson-drums
Wade Black-vocals
Dirk Van Tilborg-bass
Dewayne Hart-guitar
Tracklisting:
1 Give Me the Reins
2 Now I Know
3 Heritage
4 Fade Away
5 Monsanto
6 Carnivore
7 Sweet Leaf
8 Endless
9 Last in Line
10 Test My Pride
Label: Sonic Night Music
Web:
http://www.clockrev.com
https://www.facebook.com/clockrev
Hardrock Haven rating:
(7.9 / 10)