by Derric Miller
— Managing Editor—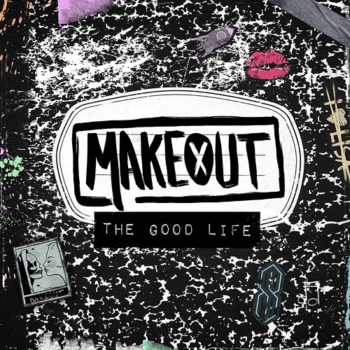 There isn't really enough Pop Punk in the world right now. There just isn't. What happened to Lit making you ask why you drunkenly parked the car on the front yard, or Junior singing about the Burger King and the Dairy Queen, or Blink 182 running naked with porn stars, or Frickin' A's poetry of catching your ding-a-ling in your zipper? Besides Green Day and Bowling for Soup holding the torch forever, Rock needs more, and needs new. And thankfully, Rock just got Makeout's The Good Life.
Hailing from Massachussets, the quartet is a gang of young dudes with a serious sense of what makes a hit song. There's a lot of party anthems going on, some snark, a wee bit of "woe of is me," and for people over 40, you get to learn that Sephora is makeup or something. Everyone wins!
"Crazy" was their first video, a song that seems like you may have heard before with that Pop Punk formula. In fact, it does nod to the aforementioned Lit. It's bouncy, and the guys do have a sense of humor, when you hear phone call message of, "I can't go back to working at McDonald's Becky! I can't afford any more of your Sephora addiction." This was a smart way to introduce Makeout's new release.
If you have never dated anyone named Lisa, you are going to feel bereft because "Lisa" is the perfect, "Hey, eat a back of dicks" song for someone who dumped your ass yet you want back. "I love the way your friends say I'm a stalker, if only they had known that I had half their passwords too … I just wanna make you see you're the only one for me. I hate you Lisa!" If you like singing along, this is your jam. Still, had they gone with "Leysa" or "Leeisa" or "Leezha" the hate would have gone even further … cuz spelling.
"You Can't Blame Me" is an oddly dark track, which makes it stand apart. The ghostly acoustic passages, the yearning vocals, the breakdowns, the choral-style backing vocals in part and stellar drum fills from Scott Eckel … this is their most complicated compositon on The Good Life, and it's better after each listen.
If you are looking for a "best" track, it's going to have to be "Secrets." While the loud bombast and frenetic energy of songs like "Childish" and "Crazy" are fun, no band should ever be a one-trick-pony. Makeout isn't. "Secrets" is a pared down to the bone acoustic song at the onset, and singer Sam Boxold bares his vocal prowess with just his voice and guitar. You can't hide behind production on compositions like this, but Boxold doesn't have to. While young, he has a lot of confidence as a singer, and it shows on this track. "Secrets" is also hilarious, how he spits the name "Kevin," asks a cheater to choke on a hot dog from 7-Eleven, and rife with some over the top swearing. It's a hit song, that can't hit radio as is.
The Good Life is a good start for Makeout. All of the elements are there—the effusive energy, the muscianship, just a cool vibe and most importantly, songs you'll play over and over. While their audience is obviously teenagers, the tendency to go slightly electrically emo/whiney plays well now—"Seriously I'm done! No wait, no wait, come back, come back …" — but may grate on grown ups. But that's the point of the song "Childish," so let Makeout's The Good Life write the soundtrack of the freedom from adulthood for now; there's always time to get cynical, forlorn and fat later.
Genre: Pop Punk, Hard Rock
Band
Sam Boxold [vocals, guitar]
Tyler Young [guitar]
Alex Lofton [bass]
Scott Eckel [drums]
Tracklisting:
1. "Childish"
2. "Crazy"
3. "Lisa"
4. "Ride it Out"
5. "Open Minded"
6. "You Can't Blame Me"
7. "Clockwork"
8. "Till We're Gone"
9. "Salt Lake City"
10. "Secrets"
11. "Where's My Charger"
12. "Blast Off"
Label: Rise Records
Web:
www.makeoutofficial.com
https://www.facebook.com/MAKEOUTOFFICIAL/
Hardrock Haven rating:
(7.8 / 10)