Red Carpet JOHN CARPENTER and ROB ZOMBIE Charity Event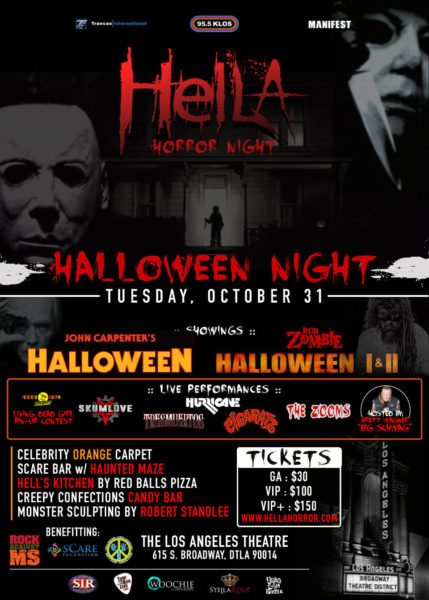 RELIVE THE TERROR of the ICONIC HALLOWEEN MOVIE OCTOBER 31ST
In Benefit of the ROCK AGAINST MS FOUNDATION, the sCare FOUNDATION and FUR & FEATHER ANIMAL SANCTUARY
Watch JOHN CARPENTER'S 1978 Legendary Cult Classic HALLOWEEN and
ROB ZOMBIE'S HALLOWEEN 1 & 2 – Played Back To Back At the
HAUNTED HISTORIC LOS ANGELES THEATRE in DOWNTOWN L.A.
HALLOWEEN MOVIE ALUMNI with other FRANCHISE ICONS, COMIC-CON FAVORITES, COMEDIANS, and ROCKSTARS SWEEP THE CELEBRITY ORANGE CARPET for CHARITY
Welcome to: HelLA HORROR NIGHT
Dare to enter and survive three floors of gore at the BIGGEST HALLOWEEN party in Downtown Los Angeles – Tuesday, October 31st!
This HALLOWEEN Night, legendary Comic-con favorites from movie and TV, comedians and Rock Stars are coming out to play at this Spooktacular charity event – Here is a small taste of the Orange Carpet: Scout Taylor-Compton / Rob Zombie's Halloween & Halloween II (Laurie Strode), Icon Sybil Danning /RZ Halloween, Caroline Williams / RZ Halloween II, Texas Chainsaw Massacre 2, Emmanuelle Vaugier / Saw II, Saw IV, Kelsey Scott / Fear the Walking Dead, Kimmy Gatewood / GLOW, Walter Phelan /House of 1000 Corpses (Dr. Satan), Alan Howarth/Composer: Halloween 2,3,4,5,6, Rebekka Johnson / GLOW, Lisandra Tena / Fear the Walking Dead, Erik Preston / Halloween 4: The Return of Michael Myers – SO Many More to be named with several surprises!
Relive the terror and watch special screenings of John Carpenter's 1978 legendary cult classic Halloween and Rob Zombie's Halloween 1 & 2 back to back – Courtesy of Compass International Films and Dimension Films with very special thanks to Malek Akkad for making this a true to life Halloween extravaganza!
This Night of Fright includes:
· CELEBRITY ORANGE CARPET
· HALLOWEEN MOVIES – back to back John Carpenter's HALLOWEEN & Rob Zombie's H1/ H2
· DJ's & SCARE BAR (cash bar) guaranteed to give you a jolt!
o DJ Naythan-2-It
· LIVING DEAD PIN-UP GIRL CONTEST – Hosted By The Reverend Martini
· THE MORGUE – Full Stage – Rotating bands from Rockabilly/Psychobilly/Industrial & Melodic
o The Zooms – Surfer Rock
o Tres Muertos – Psychobilly
o Cigaratz – Psychobilly
o Hurricane – Rock
o Skum Love – Industrial
o DJ Greasy George
· CREEPY CONFECTIONS CANDY BAR – Specialty doughnuts/ candy for the Trick or Treater
· HELLS KITCHEN – Red Balls Pizza Rocking out vegan and non-vegan gigantic slices and pies!
· HORROR ARTIST EXHIBITION BOOTH
WHEN: Tuesday, October 31st
WHERE: The Haunted Los Angeles Theatre
615 S. Broadway
Los Angeles, CA – 6th& Broadway
DOORS: 5 pm
TICKETS: www.HelLAHorror.com
$30 – $150
Special Limited $15 Tickets – Use Promo Code HALLOWEEN955
MOVIES: Starts 6:15 PM – Rob Zombie HALLOWEEN, RZ H2 – John Carpenter's HALLOWEEN finale!
BANDS: Start 7:00 pm – Lineup order TBA
For more information or to buy tickets: click www.HelLAHorror.com or www.HalloweenMovies.com