by Alexandra Mrozowska
– Sr. Columnist —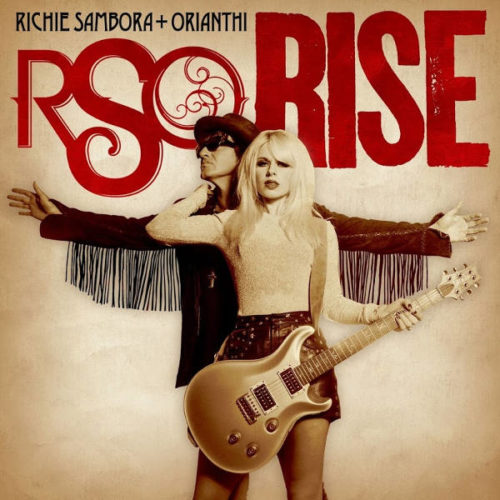 If there's one common complaint every Richie Sambora shares since time immemorial, it's about the periods of time between the release of his subsequent solo works. Although Sambora spent a substantial part of his career as a member of Bon Jovi – writing, recording and touring – he could have hardly been described as prolific when it comes to his solo career. It's already been more than a quarter of the century since his first output, the critically acclaimed Stranger In This Town, saw the light of day, with only two albums (Undiscovered Soul, 1998, and Aftermath Of The Lowdown, 2012) to follow. Having made one's audience wait so long sets the bar quite high and by the time the final button is hit – the expectations are higher than ever.
It took as long as three years to hear from Sambora again after his 2013 departure from Bon Jovi, the period spent on touring and working on new recordings with his current partner Orianthi. Three solo albums and lucrative touring experience under her belt, the blonde-haired Aussie guitarist has been widely praised for her instrumental as well as composing skills. The collaboration between the two surely sparked some extra attention because of that, the final result of their studio work eagerly anticipated by the fans of both.
Released under the moniker of RSO – the 2016 touring name for the duo – the Rise EP contains a total number of five songs. And, as a matter of fact, none of them resembles what might have been expected from both Richie Sambora and Orianthi. It's neither a shredder album of compelling instrumental duels between the two skillful players, neither anything close to Sambora's bluesy roots. And whereas Rise gravitates a bit more towards Orianthi's solo work aesthetically, it sounds a lot more eclectic than her own output.
The EP's title track will be arguably voted the best out of five, especially for those who hoped for Sambora to revisit his Blues Rock roots. This robust self-empowerment anthem with feisty vocals shared by the duo is all juicy, groovy R&B and funk – much in the vein of Aerosmith. But the further Rise gets, the more eyebrows will be raised. Music-wise, "Masterpiece" is a Pop song based on a simple loop, with an uneasy resemblance to the late '90s/early-'00s sound. It's certainly a disappointing piece, especially for those who don't take Sambora's previous flings with similar aesthetics into account – think 2001's "Take Me On" (On The Line soundtrack), 2008's "Willing To Try" (Randy Jackson's Music Club, Volume One) or 2012's "Come Back As Me". The third song on the EP is "Truth," a piano-based piece which seems relatively uninspired and low-key – even in spite of nice vocal harmonies and heartfelt lyrics.
And speaking of heartfelt expression – "Take Me" is more of a confession than it is a song, the only piece on the album that features no vocals from Orianthi. The slow-ish, jazzy instrumental background is surprisingly sparse. Laced with an occasional Spanish guitar embellishment, it gives much-needed space to the Sambora's overtly dramatized vocals. The track's perhaps the closest Rise gets to the rest of his solo work – but the mood is changed drastically with the last song out of five. "Good Times" is a mixture of modern Country and Pop, with the laid-back Reggae twang and Skynyrd-ish riff – and also, the surprising inclusion of a Rap part. Perhaps it can make a good vacation soundtrack if you ever needed one – but not much more than that.
Thinking outside the box, you can certainly find some reasons why Richie Sambora and Orianthi went as far as they did stylistically. Recording a shredder album would be boring and flashy move to take for both of them – and no artist really revisits their old albums for inspiration, no matter what their fans hope for. Struggling to avoid all that – and apparently feeling free from stylistic shackles of their previous ventures – the guitar duo came up with a handful of surprisingly radio-friendly, well-performed Pop Rock tracks, their quality surely enhanced by production of a certain Bob Rock. However, neither of songs on the EP could be described as really remarkable, the stylistic differences between them too big and the guitar sound in them scant to none. Rise by RSO is decent Rock- and Country-influenced Pop that marks a new direction for its makers even if it hardly reflects their collective potential. It's up to you if you follow them – and, to paraphrase Sambora, take RSO for who they are now and not who you thought they're going to be. But remember, you may as well stick to your Wanted gambler hat and your worn-out copy of Stranger In This Town instead. The choice is yours.
(Editor's Note: The iTunes version of the album contains a bonus track – "Good Times" (Reggae Mix)).
Genre: Pop Rock, Rock
Band:
Richie Sambora
Orianthi Panagaris
Tracklist:
1. Rise
2. Masterpiece
3. Truth
4. Take Me
5. Good Times
Label: BMG
Website: https://www.facebook.com/RSOOfficial/
Hardrock Haven rating:
(5 / 10)