Sabrina Fallah | Kiss Is A Killer
by Joe Mis
– Sr. Columnist —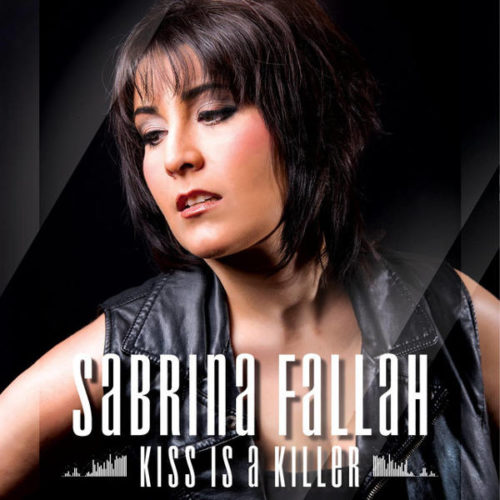 Sabrina Fallah is a singer/songwriter/guitarist hailing from Ottawa, Ontario, Canada. Fallah is Influenced by some of the great rockers of the last 30 years (she lists Green Day, Billy Idol, and Bon Jovi among others, but the listener will pick up traces of Joan Jett and Avril Lavigne), and her singing and playing are delivered with passion and feeling. A hard-working musician, Fallah has released her second EP – a five-track showcase entitled Kiss Is A Killer.
Fallah has a decent voice – expressive and emotional. Her range is somewhat limited, but she uses it effectively to deliver what can be best described as Indie Rock. Her songwriting skills are also solid and tend towards the same standard Indie subject matter – relationships (broken or otherwise). Fallah worked on Kiss Is A Killer with veteran Nashville producer Kent Wells (Dolly Parton, Jimmie Van Zant, Travis Tritt) and managed to put out a well mixed and balanced release – with the 2 pure acoustic numbers sounding particularly clear and warm.
"Kiss Is A Killer" is an up-tempo rocker with some Joan Jett/Runaways overtones and features a neat electric guitar solo. "Stuck Up" is a tidy Pop-rock tune with hints of Avril Lavigne's swagger, angst, and attitude. Fallah's songwriting is at its best on this one. "Didn't Last" changes the tone from pop to slick modern rock thanks to a nice smoky groove and a soaring guitar break. Both acoustic tracks ("Paradise Comes With a Price" and "Hurt") capture Fallah's vocal delivery at it most passionate. Her lyrics are biting and bitter, and her emotional delivery makes it is obvious that these two tracks touch her deeply and personally. The acoustic tracks are truly the standout songs in this collection as the simple mix brings the storyteller to the fore.
If you are into the Indie sound, you should give Sabrina Fallah's Kiss Is A Killer a listen. While there is nothing groundbreaking here, Fallah delivers the quintessential Indie experience from start to finish. Her spirited performance and passionate delivery are captured well and displayed for all to hear. The five tracks that were chosen highlight Fallah's musical versatility and promise much for the future. With a little more seasoning and growth, Sabrina Fallah can become a force in the Indie rock scene.
Genre: Indie Rock, Pop
Band:
Sabrina Fallah (vocals, guitars)
Dave Cohen (keyboards)
Miles McPherson (drums, percussion)
Jerry McPherson (electric guitars)
Joeie Canaday (bass)
Kent Wells (acoustic guitars)
Track Listing:
1. Kiss Is A Killer
2. Stuck Up
3. Didn't Last
4. Paradise Comes With A Price
5. Hurt
Label: Independent
Website: sabrinafallah.com
Hardrock Haven rating:
(7.5 / 10)