by Arta Gailuma
– Photojournalist —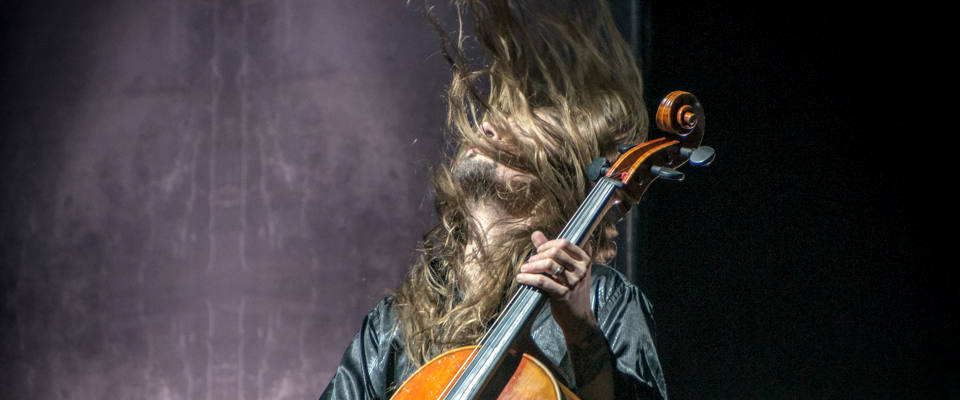 November 1, 2017 at Arena Riga, Riga, Latvia —
In this cold November evening, Arena Riga was taken over by the Symphonic Metal sounds of Finnish cello rockers Apocalyptica who took us back to the bands beginnings of playing covers of Metallica.
It was May 10th 1996, when their debut Plays Metallica By Four Cellos came out and now Apocalyptica is on tour to celebrate twenty years of its existence with a remastered version of that album with 3 bonus tracks added.
The band is greeted on the stage with a big applause and open the show with "Enter Sandman". On the first part of the concert, the four cellists play album "Apocalyptica Plays Metallica By Four Cellos" exactly as it was recorded. It is great to see Antero or Mr. Cool how he is being called by fans playing again with the band.
After the break an elaborate drum set appeared on stage and musicians, now including Mikko, the drummer, are greeted with ovations. Straight away it is clear the second part of the concert will be visually a lot more interesting than the first one. Perttu confirms that: "This is the rock'n'roll part and I'm not gonna behave anymore and you don't have to either." A crowd of fans straight away gather in front of the stage clapping hands and head banging.
The 50 minute long second part leaves crowd hungry for more. A moment later Perttu hops back on the stage followed by others for the encore and with the first notes of "Nothing Else Matters" hundreds of little lights appear in the arena. And before the stage dims down for the last song of the night "One," Eicca thanks everyone for coming over, offering them such a good time and adds; "Take care of each other, love each other and take care of yourselves."
I have seen these Finnish cello metallers live quite a few times now and every single one has been a wonderful experience. Yet again they managed to deliver a solid musically powerful and visually beautiful set.
LIVE! | Apocalyptica Concert Photo Gallery
Band:
Eicca Toppinen- cello
Perttu Kivilaakso- cello
Paavo Lötjönen- cello
Antero Manninen- cello
Mikko Sirén- drums
Setlist (all Metallica covers):
Part 1 acoustic —
Enter Sandman
Master Of Puppets
Harvester Of Sorrow
The Unforgiven
Sad But True
Creeping Death
Wherever I May Roam
Welcome Home (Sanitarium)
Part 2 with drums —
Fade To Black
For Whom The Bell Tolls
Fight Fire With Fire
Until It Sleeps
Orion
Escape
Battery
Seek & Destroy
Encore
Nothing Else Matters
One
Official Websites:
http://www.apocalyptica.com/
https://www.facebook.com/Apocalyptica/