Ruhrpott Metal Meeting To Feature Testament, Doro, Death Angel, Overkill & More
Before getting all festive and putting the presents under the Christmas tree; before the kitchen starts smelling like gingerbread and mulled wine; before having the whole family over for catching up there is still time for some headbanging.
For the third year Turbinenhalle in Oberhausen, Germany will gather metalheads to see an impressive line-up of the Ruhrpott Metal Meeting.
There was a plan for Arch Enemy to headline this year, but due to change of their tour plans, they had to cancel the date.
Among the likes of Overkill, Insomnium, Wolfheart, Savage Messiah and Deserted Fear Friday's headliners will be Brazilian brothers Max & Igor Cavalera who are on RETURN TO ROOTS tour celebrating the 20th anniversary of their album ROOTS.
Saturday will host queen of Metal Doro, Annihilator, Orden Organ, Gloryhammer, Death Angel, and headliners American thrash metallers Testament.
The second stage will be reserved for regional artists like Onkel Tom, Despair, Phantom Corporation, Universe, Erazor, and Wizard.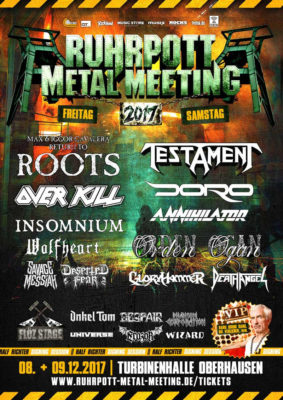 Tickets available at http://www.ruhrpott-metal-meeting.de/tickets.html
Festival sites:
http://ruhrpott-metal-meeting.de/
https://www.facebook.com/RuhrpottMetalMeeting/