Sorcerer | The Crowning of the Fire King
by Derric Miller
— Managing Editor—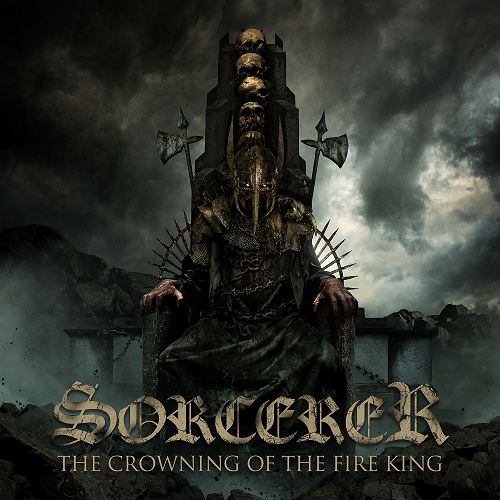 Formed in 1988 with a bunch of demos under their belt, Sorcerer has concocted its second full-length album, and its second on Metal Blade Records, aptly called The Crowning of the Fire King. You know the players in the band, as its comprised of members who have played in Therion, Lion's Share, Tiamat, Rob Rock, Six Feet Under, etc., which only lets you know there's metric tons of talent in the band. That doesn't touch on the cohesiveness, the songwriting, the lyrics and without a doubt, easily one of the most technically talented vocalists to ever sing Doom, Anders Engberg. (Don't even mention dudes like Messiah Marcolin—it reads technically talented, as in a vocal technician. That, Messiah ain't … he's just awesome.)
The Crowning of the Fire King is one of the 10 best Metal albums made in 2017. Period.
"Sirens" is a trudging, plodding dirge, about, well … sirens. When Anders sings with menace and melody, "Voices call you, fulfilling heart's desires. Don't you listen—cuz they're liars!" that just makes you want to burn all of the churches down. Unlike many doom bands, there's a palpable melody behind the dirge, and the guitar solo brings that to the forefront before hiding back behind the inexorable rhythm section, making you feel lost at sea and as dead as the dudes trying not to heed the siren's song.
If for some insane you are not yet a huge fan of Anders Engberg, you will be after listening to any of this album. While he sings where you expect Doom songs to slumber, in a mid-range vocal, Engberg covered Judas Priest's "Touch of Evil" with Lion's Share and hit the "You're possessing me" freakout note Halford shrieks in the song. Engberg has THAT massive of a range. In "Abandoned by the Gods" you'll hear his measured, throaty, powerful delivery, which begins to flirt with his range. This would be a great introduction to Sorcerer if you haven't heard them; listen to this song, and then relish in everything else they have created.
"The Devil's Incubus" is a nearly nine-minute composition. Like Doom is wont to do, it begins and crescendos to a group chanting chorus. In some passages, it's just guitar and Engberg's voice, haunting and eerie. It's not often you get elongated guitar solos in Doom, but you do here, and instead of fuzzy or deadened notes, it's all crystal clear, like if Malmsteen slowed it down enough to breathe when he solos. He never will, but Hallgren and Niemann do on this track.
The title track is over eight minutes as well, and this was written to create a greater wall of sound than most of the other songs. Again, you will take note of the stellar guitar leads and solos, and out of all of the vocals on the release, this is the one where Engberg roars with pure majesty. Their compostions just flow so effortlessly; everything you hear from Sorcerer just makes perfect aural sense.
Although nothing is close to unbearable on this masterpiece, it does end with "Unbearable Sorrow," a song title that has probably landed on a dozen or so other Doom releases. At nearly 10 minutes, the riffs are honed to a sharper degree than you've heard thus far, and they play with some vocal elements and effects unlike the rest of the release. "You are haunting me; I still see your face. Please take this pain away … this unbearable sorrow." The song picks up pacing a bit at the end, and Engberg throws an edge into his vocals. The musicality these guys flaunt is mesmerizing.
It's good. It's damn good. Every song. Every note. Every vocal. Sorcerer's spell has been cast, dooming you crash into the rocks and hear one of 2017's best releases as you sink to your fate, smiling into the watery black.
Genre: Royal Epic Doom Metal
Band:
Anders Engberg: Vocals
Kristian Niemann: Guitars
Peter Hallgren: Guitars
Johnny Hagel: Bass
Richard Evensand: Drums
Tracklisting:
01. Sirens
02. Ship Of Doom
03. Abandoned By The Gods
04. The Devils Incubus
05. Nattvaka
06. Crimson Cross
07. The Crowning Of The Fire King
08. Unbearable Sorrow
Label: Metal Blade
Web:
www.sorcererdoom.com
www.facebook.com/sorcererdoom
Hardrock Haven rating:
(8.8 / 10)