Sparzanza | Announcing the End
by Derric Miller
— Managing Editor—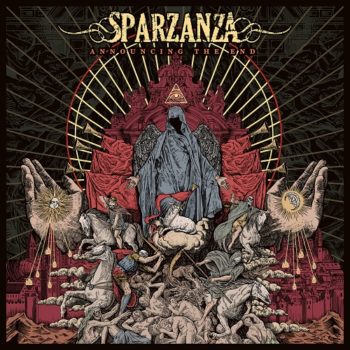 What the hell is going on in Sweden? Without a doubt, two of the best bands in the world not enough people are talking about are De Van and Hellsingland Underground. It's nonsensical at best how these two bands aren't on everyone's playlist. Then there's ColdSpell, a band that is finally getting some of the recognition it deserves. But now Sparzanza? How is this their ninth studio album and they aren't all over whatever charts measure these kinds of things anymore?
Formed in 1996, they released their first full length Angels of Vengeance in 2000. Seventeen years later, they club you over the head with their new effort Announcing the End, and if there's still things like irony in the universe, hopefully this is announcing their beginning to metal/rock fans everywhere.
The title track opens things up, and it's ominous, and crescendos to a chorus like something Nickelback could write, albeit heavier. "The land that we walk will be swallowed up by sea, with seven waves we'll cease to be," is the pre-chorus, and it will raise your hackles, especially when singer Frederik Weileby slays the last "be" with a guttural yell. (You know who else it sounds like? Fuelhead .. .from Sweden! Damn …)
"Damnation" sounds as strong as any Stone Sour song you'd hear on the radio. Sparzanza rides that line between too heavy and just melodic enough; there's melody in everything they do, but there's always razored barb wire. Again, the lyrics are apocalyptic, the end of the world is nigh and at least you have a song to crank in "Damnation" to go out in style with.
They released a video for "Vindication," and it's one of the heaviest songs on Announcing the End. At times, it's like if Volbeat and Five Finger Death Punch wrote each other's songs. There's a lot of guttural yelling, the chorus is a throaty menace, and the riffs come at you nonstop. When Weileby sings clean, you can hear a little Hetfield in his delivery, but it's honest and organic. Not their best song on the album, but Modern Rock radio should pay attention to it.
"Breathe in the Fire" is as close to mid-tempo as Sparzanza will ever get, and it's just a "hit song," whatever that means today. There's simply no reason whatsoever you couldn't hear this song next to even Foo Fighters, on the radio, or even better … live on stage. (Hear that Grohl, here's your opening act!)
If you do breathe fire, it should be your "One Last Breath," which is the next song. So science wins again. Starting slower, the song begins racing with standout drumming from Anders Aberg. This is what a modern day arena anthem sounds like, and the guitarists get to stretch their wings a little more with some brief but melodic leads and solos.
It all comes to an "end" on "Truth is a Lie." They get philosophic when Weileby sings, "Fear is a fire and truth is a lie," and out of no where … a piano. Just when you figured they'd bring the heat, they go the opposite direction, with an atmospheric, eerie and haunting composition, full of longing and emptiness. Perfect.
Sweden isn't, but could be the world's braggart when it comes to great rock/metal bands. America has over 320 million people–Sweden has almost 10 million. And yet … these bands keep popping up. No matter how many bands Sweden continues to flaunt, Sparzanza needs to be at least one of them you are listening to. And if you like Announcing the End, there's eight more albums to pick up after this one … you're welcome.
Genre: Metal, Modern Rock, Stoner
Band:
Fredrik Weileby – vocals
Calle Johannesson – guitar
Magnus Eronen – guitar
Anders Åberg – drums
Johan Carlsson – bass
Tracklisting:
01. Announcing The End
02. Damnation
03. Whatever Come May Be
04. Vindication
05. The Trigger
06. Breathe In The Fire
07. One Last Breath
08. To The One
09. The Dark Appeal
10. We Are Forever
11. Truth Is A Lie
Label: Despotz Records
Web:
www.sparzanza.com
Hardrock Haven rating:
(8.3 / 10)