Evergrey | The Dark Discovery
by Franco Cerchiari
– Sr. Columnist —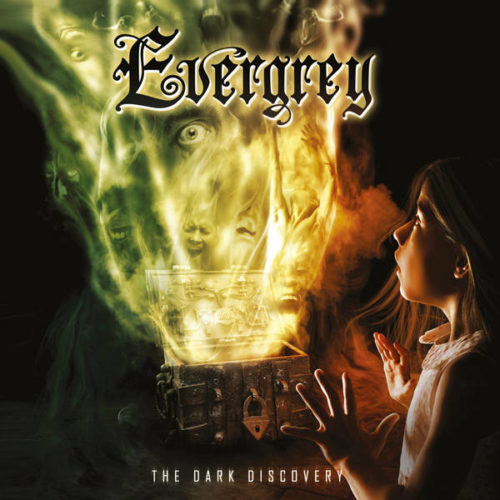 The Progressive Metal band Evergrey is a band that truly seems to have got better with time. It seems their music defies description with rudiments of Progressive, Symphonic, Gothic, Melodic and Hard Rock digging deep into each track. Each album this unbelievable band releases is better than the one before it, and in their wake, Evergrey gathers a new fan base, and time has shown them to be one of the finest bands of today. For the unknowing, fans of Nightingale, Pagan's Mind, Vanden Plas, or DGM, Evergrey is a band that you absolutely must latch on to. Their masterful blend of grand, epic keyboards, hard guitars and thundering drums make their music melodic and truly epic in delivery. Under the surface of muscular vocals is a palate of music that is ominous, dark, mysterious, strangely emitting a brooding evil from each musical bar. The air around each song is thick, but when listening to their music it becomes easy to get lost, and just allow oneself to become part of the storyline. Their music is all about imagery, and over the years, while the music of The Dark Discovery deals with a variety of thoughts and passions, Evergrey has never been one to shy away from singing about those subjects other bands stay away from releasing beyond good concept albums dealing with issues like self-reformation (2006's Recreation Day), fear and alien discovery (2001's In Search of Truth), and sensitive matters like child abuse, cults, and religion (2004's The Inner Circle).
On this, Evergrey's debut, recorded in 1996, but not released until 1998, the ominous and dark world of Evergrey was first felt. The music is appealing, drawing the listener into the world of this Swedish outfit. Once the music starts, it is impossible to escape from, for it encapsulates the world around the listener, drawing them close and through music, emotions become real. This is not music that sits idly by to be just played in the background. Here is music that demands to be paid attention to, if not the meaning behind the lyrics is lost, and this is just too good of music to not be respected and admired. Throughout The Dark Discovery, Evergrey touches on such themes as sorrow, death, grief, hope, and the mysteries of life. These themes are presented in such a way that it is best to forget about the world around you and allow yourself to be overtaken by the music of The Dark Discovery. If that is done, then this music becomes something personal, and truly appreciated.
Completely remastered with all the technologies available, listen to the opening track, the frighteningly heavy "Darkened Dawn," with its cathedral-esque vocals, crushing drums, and guitar chords that will weigh you down. From there pay attention to the lyrics of "As Light Is Our Darkness," opening with the line; "…in a garden of sorrow…," this song is pulverizing, heartfelt, and touching as emotions spill over. The sounds of thunder and wind open "Closed Eyes," "Beyond Salvation" is a song that is impossible to not want to play loud, and a foreboding, hypnotic cello opens the haunting, poignant, "Shadowed," and dual guitars are heard on "When The River Calls." Piano refrains to die for is heard on the love story that is "For Every Tear That Falls," and sensational awe-inspiring drums, with strings that make for a dark overcast day, make "A Hope Is To Fear," utterly perfect.
This is Evergrey at their inception. It makes you think, and when that is done, this is music to be more than just admired; it is to be played often. Keyboards, strings, devastating guitar chords, hammering drums and vocals that can touch the sky are what their music is all about. The songwriting is earnest, and the delivery makes the most use of every single sentiment possible. The feelings heard throughout The Dark Delivery are tangible, and as real as if one was in a movie house and this music was transferred onto a silver screen and one could see the sights and sounds that the songwriters were trying to convey life and in person. The music of The Dark Discovery is solemn, intense as hell, and sobering. Hearing music like this makes one's hatred for radio even more concentrated, for this is music to be heard on a wide scale, and offered to a wider audience. But radio won't, for they won't even try. But for those seeking music that is communicative, moody, and enthralling, mesmerizing and thought-provoking, listen to this – Evergrey's debut, The Dark Discovery.
Genre: Progressive Metal
Band:
Tom S. Englund – vocals, guitar
Dan Bronell – guitar
Daniel Nojd– bass
Will Chandra – keyboards
Patrick Carlsson – drums, percussion
Track Listing:
1. Blackened Dawn
2. December 26
3. Dark Discovery
4. As Light Is Our Darkness
5. Beyond Salvation
6. Closed Eyes
7. Trust and Betrayal
8. Shadowed
9. When The River Calls
10. For Every Tear That Falls
11. A Hope Is To Fear
Label: AFM Records, GNW Records
Website: www.evergrey.net
Hardrock Haven rating:
(8.5 / 10)