Grammy Nominated BETH HART & JOE BONAMASSA to release new album 'Black Coffee'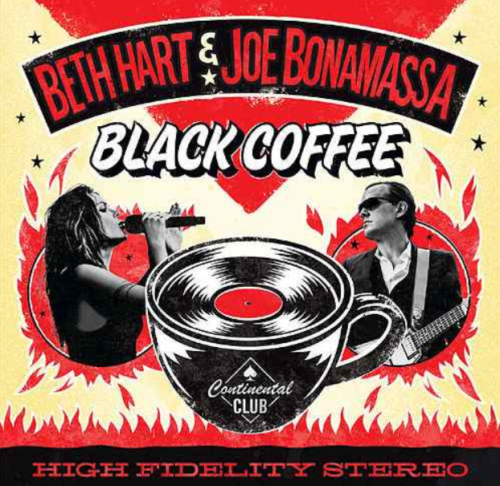 One such song was Give It Everything You Got, taken from 1971's Edgar Winter's White Trash album. With its hard rock meets Stax infused sound, the band delivers a formidable performance. "I don't think that's a song a lot of people know; it's an old soul classic, but it's not really one you might expect," says Shirley
"One of the things Jeff Beck had said to me once that I thought was so wonderful," explains Hart, was "as soon as you get comfortable, and if you stay there, you're just gonna start dying as an artist. And I feel that one of the gifts that I've got with working with Joe is that I'm always uncomfortable- in a good way. "
Shirley adds about the band, "those guys just played live and it was incredible to be in the studio when that happens."
"For me I'm able to explore the kind of music I have always admired from afar," reveals Bonamassa. "But you don't want to hear me singing Ella Fitzgerald…" he explained as Beth joins in. "I would never do Ella Fitzgerald without being with Joe, the things I get to do with you are things I grew up always wanting to do, but never believed I could."
The gospel flavoured R&B, Saved, originally performed by LaVern Baker, has been covered by Elvis Presley, Brenda Lee, Billy Fury, Elkie Brooks and The Band, amongst others. It is a full throttle, tongue-in-cheek moment, written from the perspective of someone who had lived a fast, loose life but is then "saved" and is now standing on a corner preaching to the passers-by. They take an altogether different mood on Soul on Fire, paying homage to Baker's first ever solo release. Sitting On Top of The World is a classic, and it has been recorded by some of the world's most iconic artists. Lullaby of the Leaves, was originally recorded by Ella Fitzgerald, from 1964's Hello Dolly.
The sultry punch of Lucinda Williams' Joy has a totally irresistible groove. "We have tracks like that and I love the energy," Shirley adds. Addicted is taken from the 2007 trip-hop leaning album by the Austrian trio, Waldeck, which Shirley came across whilst on holiday and "shazamed" it.
Beth Hart & Joe Bonamassa – Black Coffee (Official Music Video)

Damn Your Eyes is taken from the Etta James 1988 comeback record, Seven Year Itch. Kansas Joe McCoy's jazz-blues Why Don't You Do It Right? made its first impact on Lil Green's 1941 version, before Peggy Lee covered it a year later.
They harness prime Steve Marriot on his take of Ike & Tina Turner's Black Coffee. The inspiration came from his live version on the BBC's Old Grey Whistle Test in 1973.
"It's really predicated on the vocals," Bonamassa explains. "We can't cut these tunes without Beth singing and once she starts singing, it's the glue that inspires us to get the extra 10% out of the playing. If we just cut them and sang later, the magic wouldn't be there."
"That's something the two of us stopped doing many years ago," agrees Hart. "There was all this layering, and then it's time for you to sing. It's like you're not even making music any more. There's nothing like being able to sit there live and see Joe, seeing the drums, seeing the bass, being able to see Kevin. I can feel the vibrations, it changes the whole thing."
"Kevin really gets that," she continues. "It works the best. In the old days, that's how they did it; bad ass singers and bad ass musicians would have a couple of hours to get a whole record done."
One of the key aspects of the sessions is to push everyone as much as possible. "They are always out of their comfort zone in the studio; this session especially wasn't comfortable," Shirley reveals. "This isn't a summer in the grass session, just a couple of chords; this is people digging in. Everyone left feeling totally challenged, and at the end of the day, completely enthusiastic."
Track List
1 Give It Everything You Got
2 Damn Your Eyes
3 Black Coffee
4 Lullaby Of The Leaves
5 Why Don't You Do Right
6 Saved
7 Sitting On Top Of The World
8 Joy
9 Soul On Fire
10 Addicted
11 Baby I Love You (bonus track)
Available formats
2LP+MP3 +bonus track
Ltd 2LP+MP3 Red+ bonus track (limited to 5000 copies)
CD-Jewel case
Ltd CD FORMAT: CD – Version info: CD in jewel case in box, including 2 Vinyl Record Rubber Cup Mats and an Exclusive Postcard and bonus track
Online:
https://www.facebook.com/JoeBonamassa
https://www.facebook.com/officialbethhart
https://www.instagram.com/joebonamassa/
https://www.instagram.com/officialbethhart/
http://www.hartandbonamassa.com/