In Concert: Butcher Babies
by John Kindred
– Publisher —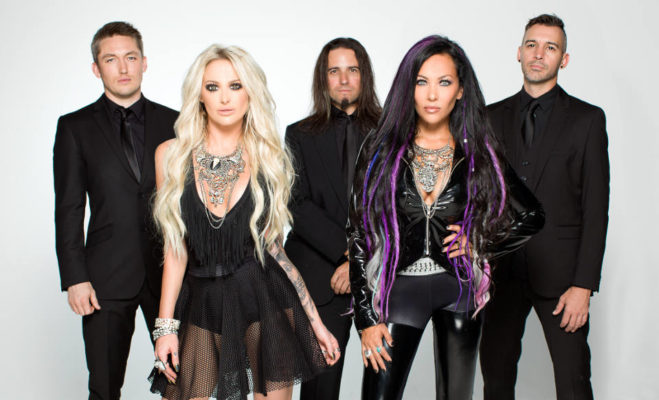 December 2, 2017 at The Truman in Kansas City, Mo. —
The Butcher Babies recently released its third album titled Lilith October 27, 2017, on Century Media Records. Heidi Shepherd and Carla Harvey continue their Metal domination leading the quartet of musicians whose brand of music is brutal, heavy and somewhat thematic.
Most everyone probably remembers when the band burst onto the scene, as a dually female fronted Metal band. The Hardcore act originally featured Shepherd and Harvey on stage, inspired by their hero, the late Wendy O. Williams of the Plasmatics from a visual perspective. Originally, both of the women took to the stage barely dressed, with crisscrossed black electrical tape the only thing covering their exposed breasts, leaving little to the imagination.
What some would call a gimmick to get and keep the interest of the male-dominated music genre would be wrong. Three albums into its career and the women both dress more conservatively, still sexy, but their approach to the music is still raw, edgy and merciless as ever.
Butcher Babies is currently on tour as one of two support acts on Hollywood Undead's North American Tour. Tonight the band took the stage at Kansas City's newest music venue The Truman.
An enthusiastic crowd of Metal-heads greeted them. This was an all age's crowd and the demographics of the audience ran the gambit from young kids, teenagers to twenty/thirty-somethings, and few of us older Metal fans thrown in for good measure.
Again, the focal point of the band is Shepherd and Harvey, with the stage designed for both to be up front and head banging for all to see. They utilize two small platforms at the front of the stage to step up on, for better visibility, for them and for the audience.
The group's obvious influence from horror movies, Metal and Punk, and theatrics of its heroes was on display as Shepherd and Harvey directed the crowd through the band's intense set of songs. Harvey encouraged the crowd to form up a mosh pit over crowd surfing. During the last song of the group's set, she came off stage and down on the floor to direct the pit herself. While Shepperd made her way over to the area for disabled rockers, hugged, and talked to a wheelchair-bound Metal fan.
The music behind the vocals garners its heaviness from Henry Flury 8-string guitar, Jason Klein's 5-string bass, and new recruit drummer Chase Brickenden.
Band:
Heidi Shepherd – vocals
Carla Harvey – vocals
Henry Flury – guitars
Jason Klein – bass
Chase Brickenden – drums
Official Websites:
https://butcherbabiesofficial.com/
https://www.facebook.com/butcherbabies/