Alicia Vigil of Vigil of War
by Anabel DFlux
– Sr. Photojournalist —
Senior journalist Anabel DFlux had a blast talking with bad-ass rocker maven Alicia Vigil, a well-known face in the city of angels. Known for her exquisite modeling, acting in Black Veil Bride's Legion of the Black, past work with She Demons (who had a great run with The Misfits), and so much more- Alicia is the wonder woman. For as young as she is, this determined and passionate lass has accomplished a lot. It was a pleasure for Hardrock Haven to chat with Alicia about her newest musical endeavor, Vigil of War.
HardRockHaven: Hey Alicia! Thank you so much for chatting with me today, how are you?
Alicia Vigil: Hey girl! Doing really well, just gearing up for the Holidays and very excited for what's to come in the new year!
HRH: Tell me about your band. How did this project get started?
AV: So this project started as a result of my last band ending. I was pretty devastated, since my former band, She Demons, became my life and I needed to continue doing what I love the most, so that's when I decided to create VOW. I've always been a leader in my bands, however, this is actually the first project I'm singing in, so it feels pretty good to step into this new venture! It feels right.
HRH: Let's just jump right into it! Tell me about your debut EP Bite the Bullet. How was the album conceptualized? What was the writing process like? Recording process?
AV: The album and writing process was all conceptualized from moments in my life I have or was going through at the time. Being screwed over, being overwhelmed in a vicious city like L.A. and overcoming these obstacles to become stronger, or even just wanting to escape and experience new things. I'm really proud of these songs & they are all very personal to me. The recording process was amazing! We got to work with our talented, badass friend and producer, Kevin "Thrasher" Gruft (Escape The Fate) and he really gave us everything we wanted and more. He is hands down the most patient producer I've ever worked with! I'm super particular about every little detail in our songs, so he had no problem doing or even redoing all the little things that really made the EP what it is, and I'm so grateful for that! It was Shane, Thrasher & I who recorded everything on the record and then we had our phenomenal drummer buddy, Ryan Seaman (IDK How But They Found Me, Falling In Reverse, etc.) do all the drums on the EP. He absolutely KILLED it and really brought the songs over the top from where they were!
HRH: Where do you usually gather songwriting inspiration? What is your usual songwriting process?
AV: Inspiration comes from everywhere and I try to write my songs so they are broad enough in a sense that the listener can relate their personal stories and life to them as well. My songwriting process varies, but generally, I'll try to start with a basic music structure and write vocal melodies around that and then add more guitar licks and all the little things that make the song sound complete. Shane also is a great writer and has been sending over some new ideas that we will work on for some new VOW songs!
HRH: Do you have a favorite song off of the EP?
AV: So tough! It's like choosing between children. I would have to say it's either between Bite The Bullet & Stitch Me Up.
HRH: How do you describe your music to people?
AV: I try to let people listen and figure their own mind up about what er our sound is, because it's hard to genre-ize anything really, but we have been referring to it as a modern female Billy Idol. I use him as an example because he's got that punk attitude, catchy almost-pop hooks and metal guitars that round out to what defines his sound and we have a similar handful of things going on in ours as well!
HRH: Let's chat music videos! Your music video that shares its title with the EP is chock full of rock and roll goodness. What did you enjoy the most about the filming process?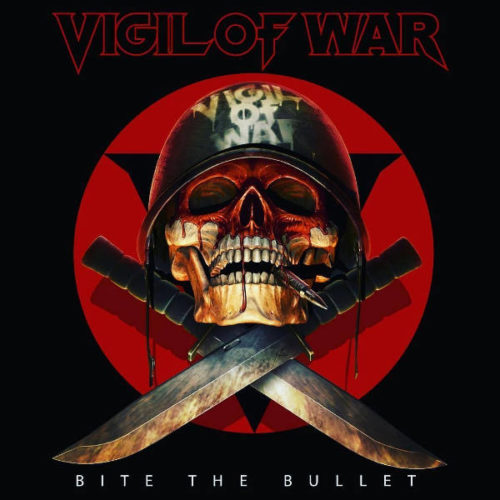 AV: Shooting music videos is one of the many favorite parts of being in a band! It's so much fun. Just getting to interact with the crew, extras that were a part of it and getting to work with one of my best friends Richard Villa III again. (Not only did we use his gallery, but he also built my badass mic stand!) We are already making plans for the next one really soon.
HRH: Describe what a Vigil of War show is like!
AV: Full of energy! We like to give a SHOW. We take pride in practicing and of course sounding our best, but we also like to give people an actual show and go full out in our performance! I play bass and sing for most of the set, but I also usually put it down for the last song or two to run around and be a front person, because I want to give our audience the best possible show that we can deliver!
HRH: What's your outlook on the record industry today?
AV: Tough! I personally still buy albums, but most people do not. It's only now an age where rock is no longer mainstream, so it's kind of a weird time to be doing what we're doing, but that doesn't stop us at all! We love what we do and we want to give the people who still love the music something too, because it's getting harder to find that nowadays.
HRH: Do you think that online presence is important for musicians in this modern age?
AV: Yeah, definitely! I would rather have it be like the old days where we didn't have to rely on social media, but it definitely is a useful tool in branching your music out worldwide to people who may never have heard you before and to keep supporters interested in what's going on both artistically and personally!
HRH: What are the biggest obstacles for bands?
AV: Making money! Haha. Everything about our job cost money: recording, studio time to practice, gear, merch, and even some venues are pay to play, but it's a job that makes little to nothing back since people don't hardly buy music anymore so it's a tough business to be in, but we do it for the love and passion for it.
HRH: How would you define the word "success"?
AV: Being happy doing what you're doing.
HRH: What are your fondest musical memories?
AV: Way too many to probably recount, but touring with The Misfits with my last band, She Demons, was one of the most fun times of my life. I cannot wait until VOW can hit the road! Hopefully it won't be too long!
HRH: Why did you decide to play in the rock genre? What is it about this style of music that enthralls you?
AV: Although I am all over the board with my music taste, there is absolutely nothing more powerful and moving to me personally than rock n roll! All of my favorite bands, songs, memories, stages in life, etc revolve around rock and there's nothing else I could see myself doing!
HRH: Any future plans that fans should stay tuned for?
AV: Our very first headlining show on the Sunset Strip coming in early 2018! ;) Very excited about it!! Also stay tuned for a video coming soon!
HRH: Thank you so much!
AV: Thank you so much!
Connect with Vigil of War here:
https://www.vigilofwar.com/
https://instagram.com/vigilofwar
https://www.facebook.com/vigilofwar
https://www.youtube.com/channel/UCYry5XYZfdKmPZCiPDbMp_w
https://twitter.com/vigilofwarband