Jeff Scott Soto | Retribution
by Franco Cerchiari
– Sr. Columnist —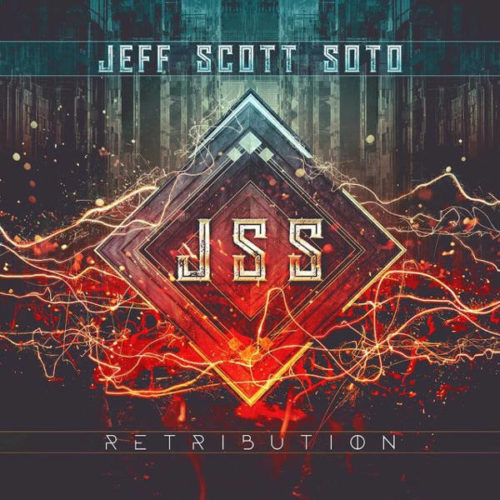 With a career now spanning an incredible 30 years, here on this his seventh solo outing, released on the Frontiers Records label, Soto continues the brand of music he does so well – hard driving, truthful, heavy, and melodic. Fans of Pink Cream 69, Jaded Heart, Hardline, Joe Lynn Turner, and the recent (outstanding!!) Sons of Apollo release, will want to add this one to their collections.
Ballads, mid-tempo Melodic Hard Rock, and loud, hard-driving numbers all makeup what is one fantastic anthology of music heard throughout Retribution. The guitar work is excellent, subtle keyboards snake their way in the background, the drums are hit hard and in the middle of it, all are the vocals of Jeff Scott Soto. Front and center, impossible to miss, and expressive as hell. And it is that which makes Soto such a fantastic vocalist. He possesses a natural ability to bring out the emotions that each individual song does have – and the emotions he wants the song to have, whether it be a personal message to a sorely missed family member, a tender love song, or a powerful, almost spiteful hard rocker. He is able to dig deep into the core of the song and with his voice share with the listener a story. While the world is filled with incredible vocalists, few are able to connect with a song the way Soto can.
What works here, in addition to of course the vocals, is his band. The drums are pulverizing, and are played with no apologies. The choruses are epic, the pairing of Soto and his longtime guitarist Howie Simon is spot on, and the two play off each other extremely well. On so many of the songs heard here, both Simon and Soto push each other, and using the talents each of them do have, complete the songs. They two make up an amazing team, and it is a hope that those two never go their separate ways, for the magic the two bring to a CD/Jeff Scott Soto concert is immeasurable (for proof listen to Soto's beyond good Live At FireFest).
Turn up the volume up loud, slip this CD into your player, sit back and prepare yourself to be taken away as you listen to the opening track, the driving, guitar, and organ-heavy Hard Rock title track. That heaviness continues with track 2, "Inside/Outside", and also take time to listen to the Melodic Rock of "Reign Again," the guitar riffs of "Last Time," and "Rage of the Year," and the bluesy, spiteful feel of "Bullet For My Baby."
"Song For Joey," a stunning, tender ballad Jeff wrote for his brother Joey who passed away earlier this year will bring tears to your eyes as you feel of a brother's love for a family member taken way to soon. On a "Song For Joey," Jeff sings of how music was his and his brother's common ground, and how now he is forced to walk alone. Perfectly written, flawlessly played with true sincerity, "Song For Joey," will touch the hearts of many. The heaviness soon becomes the order of the day again with the following song "Breakout," and the melody soars on "Dedicate To You." Retribution closes with "Autumn," a gentle song complete with acoustic guitars, light-handed percussion and the poignant vocals Jeff Scott Soto is so good at bringing to his songs, makes "Autumn" a must hear.
Certainly, a release that completely useless American radio will stupidly ignore, but the hell with radio for they will never change and own up to the fact that they are letting artists like Jeff Scott Soto, and his fans down. What you can do is make Retribution part of your listening world, and get lost in the Hard Rock, the ballads, and sentiments that are all over this incredible release.
Genre: Hard Rock, Melodic Hard Rock
Band Members:
Jeff Scott Soto – keyboards, lead vocals
Howie Simon – guitars, bass, background vocals
Edu Cominato – drums
August Zadra – guitar on "Reign Again"
Stephen Sturm – guitar on "Reign Again"
Carlos Costa – bass guitar on "Reign Again"
Paul Mendonca – guitar, keyboards, bass guitar on "Song For Joey"
Track Listing:
1. Retribution
2. Inside/Outside
3. Rage of the Year
4. Reign Again
5. Feels Like Forever
6. Last Time
7. Bullet For My Baby
8. Song For Joey'
9. Breakout
10. Dedicate To You
11. Autumn
Label: Frontiers Records
Website: www.jeffscottsoto.com
Hardrock Haven rating:
(9 / 10)