by John Kindred
– Publisher —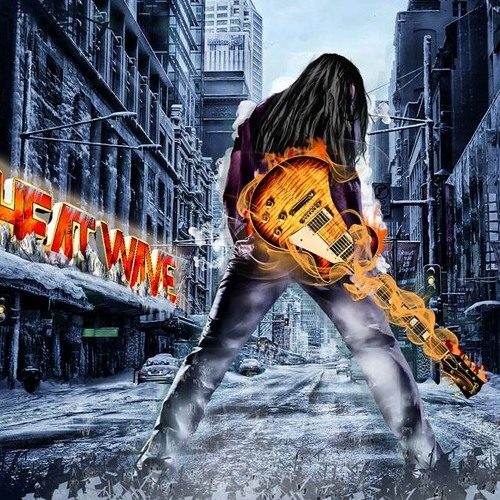 Guitarist Lou DiBello has hammered out a career as a musician, which includes working as a music teacher, live performing musician and as a recording artist. His latest studio album Heat Wave, his 4th overall, features seven new Hard Rock and Metal songs along with a cover of Michael Schenker's (MSG) classic "Into the Arena."
Heat Wave sees DiBello collaborating with vocalist Carsten 'Lizard' Schultz, drummer Bobby Whiles, keyboardist Tim Rixstine, and features Ross "The Boss" Friedman (ex-Manowar), Mike LePond (Symphony X). A veteran of Central Illinois music scene since the late '80s, DiBello is an honor's graduate of the Musicians Institute in Hollywood, California.
The music on Heat Waves creatively flows within the realms of the Hard Rock and Metal genres. The instrumental songs lean on the melodic phrasing of DiBello's guitar, while Carsten 'Lizard' Schultz provides the muscle, which magnifies the metallic edge on the rest of the music.
Heat Wave opens with the introductory self-titled instrumental track. The album features three original instrumental songs, which also include "Full Throttle" and "Drop Deadly." In addition, the cover of MSG's "Into the Arena" – a song symbolic of the virtuoso guitar talent of the great Michael Schenker – closes out the CD.
Ross "The Boss" Friedman shows up on the song "Blood On The Cross" and his guitar provides a nice contrast of tonality in combination with DiBello's own guitar sound. The music seems more 'metal' when Schultz is behind the microphone, while the instrumentals are more closely grounded in the Hard Rock genre; throughout the CD, there are strong hints at Classic Hard Rock of the '70s and traditional '80s Metal. Also, fans will find a bit of comfort hearing Schulz' vocals as they fit in with the music perfectly.
Now fans may be leaning toward being critical of any cover of a Michael Schenker recorded song. But DiBello doesn't detour from the original arrangement and nails the performance flawlessly.
While DiBello isn't by any means new to the music scene, he is a relative newcomer to the national stage. This album provides a nice introductory look into the musical world of DiBello who showcases musical skill and songwriting ability on par with his peers. In his own words DiBello has stated, "I love playing guitar! I am blessed to continue to pursue my passion and I am looking forward to further successes in this ongoing journey." This passion definitely is present on Heat Wave.
Lou DiBello Music Video – "Full Throttle" —
Genre: Hard Rock, Heavy Metal, Instrumental
Band:
Lou DiBello – Lead and rhythm guitars, bass guitar
Carsten Schulz – Vocals
Bobby Whiles – Drums
Mike LePond – Bass guitar (Blood On The Cross, Drop Deadly, Into The Arena)
Ross "The Boss" Friedman – Lead guitar (Blood On The Cross)
Tim Rixstine – Keyboards, synthesizer
Track listing:
1. Heat Wave
2. Let Me Hear You Scream – Rock & Roll!
3. Blood On The Cross
4. The Meeting
5. Full Throttle
6. Drop Deadly
7. When All Is Lost
8. Into The Arena
Label: Independent
Web: http://www.loudibello.com/
Hardrock Haven rating:
(7.8 / 10)