Midnite City | Midnite City
by Alexandra Mrozowska
— Sr. Columnist —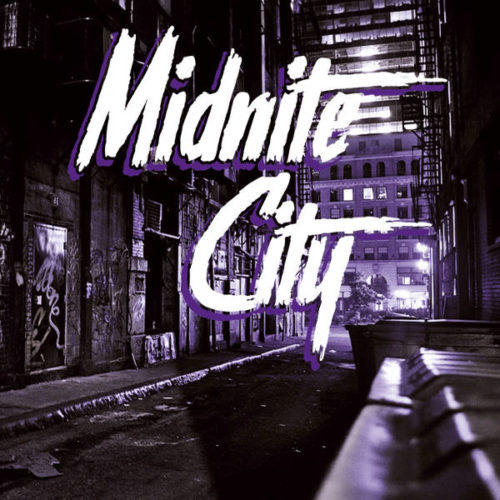 You should never judge a book by its cover, they say, and judging the artist's current ventures from the perspective of his past output may be equally misleading. However, sometimes you take a look at an artist's resume and somehow you can't help guessing what to expect from his newest project. This is exactly the case with the man behind Midnite City – the current Tigertailz frontman Rob Wylde, whose previous experience is related to names such as Vega and Steevi Jaimz. Having joined forces with Pete Newdeck (Newman, Eden's Curse, Blood Red Saints), Wylde completed the line-up with less familiar names of Miles Meakin, Shawn Charvette and Josh 'Tabbie' Williams to record an album which, for the lack of a better comparison, sounds exactly as a cross between the best albums recorded by his previous bands.
Apart from this uneasy feeling of predictability, and perhaps also little variety to the album's content, there's hardly a fault to Midnite City. Hailed to be a "timeless" mixture of Hair Metal and Melodic Rock it is so indeed, the opening track "We All Belong" ticking all the right boxes as far as this kind of classification is concerned. The whole song structure is based around a simple, but powerful verse guitar riff against the keyboard-driven background. Having added several bridges and hooks to that, as well as the obligatorily flashy guitar solo, Midnite City basically re-appropriate the same scheme Bon Jovi had with their "You Give Love A Bad Name" over thirty years ago. Hardly original, but still enjoyable.
Further, into the album, the band is unsurprisingly consequent in their stylistic choices. It's simply '80s all over their (and our) time machine as tracks such as "Summer Of Our Lives," "I Just Can't Take It" or "One Step Away" approach, their tinkly keyboards, shredding guitar solos and big, infectious choruses reminiscent of acts such as Danger Danger, Blue Tears or Dalton. There's also a couple of more modern sounding songs on the album, including "Last Beat Of My Heart" which could've been a lost Reckless Love single. "Everything You Meant To Me" may remind you that early '90s phase when your favorite band dropped their electric gear in favor of the unplugged craze, while there is something undoubtedly Leppard-esque about "Nothing's Like Losing You."
Some say that an artist needs to experiment in order to grow, and as far as this aspect is concerned, the new release by Rob Wylde and his gang may be considered somewhat of a disappointment. It's every inch a predictable album, but this fact is not due to the lack of musical ideas. Rather than that, it's a deliberate and consequent choice to dive back into the world of hairspray hysteria, wistful power balladry, and the omnipresent keyboards – and do it with style. If you've ever been – or still are, more or less explicitly – into '80s Hair Metal, be sure not to miss it and let the wave of nostalgia hit you right away.
Genre: Melodic Hard Rock, Hair Metal
Band:
Rob Wylde – Lead Vocals & Guitar
Pete Newdeck – Drums & Backing Vocals
Miles Meakin – Lead Guitar & Backing Vocals
Shawn Charvette – Keyboards & Backing Vocals
Josh 'Tabbie' Williams – Bass & Backing Vocals
Tracklist:
1. We Belong
2. Ghost Of My Old Friends
3. Summer Of Our Lives
4. Nothing's Like Losing You
5. Last Beat Of My Heart
6. Everything You Meant To Me
7. Can't Wait For The Nights
8. One Step Away
9. I Just Can't Take It
10. Things She Said
11. Think About You
Label: AOR Heaven
Website: https://www.facebook.com/pg/midnitecityuk/
Hardrock Haven rating:
(8.5 / 10)