Millenium | Hourglass: The Complete Sessions
by Alexandra Mrozowska
— Sr. Columnist —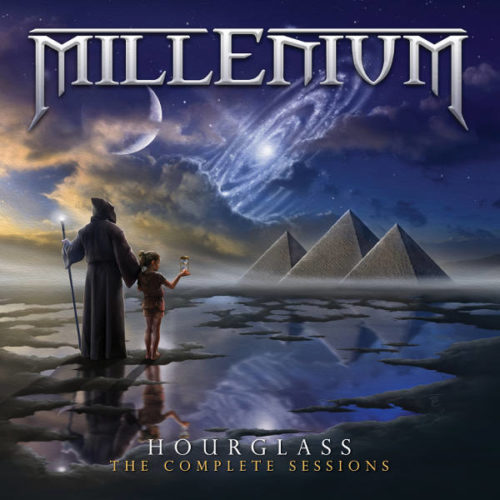 What comes around, goes around… Be it a nostalgia rush or the cyclical nature of the music industry – recent years have seen a resurgence of Melodic Hard Rock in all its varieties. If a band considered 'classic' to the genre hasn't reunited yet, you can be sure some of its musicians will join forces under a brand new moniker. Also, there are a plethora of brand new acts following the footsteps of their '80s and early '90s heroes in terms of sound and style. However, back in the 1990s, it wasn't all that rosy. If it hadn't been for the relentless work of small labels such as Now & Then Records, Melodic Rock and its sub-genres might have ended up as a forgotten product of a bygone past. And then there was Frontiers Records, and the tables started to turn.
Among other Now & Then/Frontiers acts now regarded as classics, there was Millenium founded by the American guitarist Ralph Santolla (Eyewitness, Deicide, Iced Earth, Obituary etc.) Out of four albums recorded by the group, three featured Todd Plant (Eyewitness, Cryptic Vision) on vocals. 2000 release Hourglass, on the other hand, was recorded and released with no one else but certain Jørn Lande on board and featured guest appearances by keyboard players Dag Stokke (TNT) and Don Airey (Rainbow, Ozzy Osbourne, Deep Purple etc.). Seventeen years later, this album gets reissued by Divebomb Records under the title Hourglass: The Complete Sessions, complete with bonus cover tracks recorded at the time.
There's nothing better than to intrigue the listener from the onset, and that's what Millenium apparently aimed at with "Power To Love," The eclectic structure of the track incorporates anything from Melodic Hard Rock to tints of Neoclassical and Progressive in an unexpected, intriguing manner. It might be an overstatement to dub "Power To Love" a Melodic Rock answer to Queen's "Bohemian Rhapsody," but the same kind of genre-crossing approach is certainly present in both tracks.
Another highlight of the album is the mid-tempo title track, which abandons the infectious Rock anthem formula in favor of more complex sound embroidered with a slightly Zeppelin-esque chord progression and Coverdale-esque vocal performance. The spirit of early Whitesnake is revived again in "I Will Follow," a slow-ish, bluesy, sensual piece with an intimate aura to it as well as rich guitar work. An expressive yet bitter ballad "No More Miracles" shows Santolla at his best again, his elaborate solo followed by beautiful keyboard passages.
Obviously, there wouldn't be a Melodic Rock album with a handful of tracks that tick all the right boxes when it comes to this particular genre of music. "Wheels Are Turning," "Superstar" and "Rocket Ride" are all fine guitar-driven pieces of Pomp Rock with a heavier edge whereas "I Still Believe" or "Masquerade" slow down a little bit.
In "Rain," echoes of more modern sound can be detected before a beautifully melodic chorus unveils, the mid-tempo thus blending with the rest of the album seamlessly. The opening verse of "Anybody" has the ephemeral, delicate aura to it only to morph into a really heavy and muscular track further on. Its ominous outro riff has surprisingly Sabbath-esque flavor to it, making it a somewhat sinister final touch to the album.
As for the aforementioned additional tracks, there's hardly a surprise behind the choice of Hard Rock/Arena Rock classics Millenium covered during the recording sessions for Hourglass. Their take on "On And On" is a bit heavier and more straightforward than its 1981 original recorded by Michael Schenker Group, albeit Lande's (un)surprisingly good in imitating Gary Barden's original vocal lines. "I Surrender" comes next, an infallible (or blatant) copy of the original Rainbow song with the exception of guitar work in its latter part. "Jane", originally done by Jefferson Airplane, recreates the aura of the early '80s Arena Rock perfectly. "Love Is Like Oxygen" shows how much potential was there among The Sweet's often underrated works and how much of it was lost in it's edited, better known single version. Millenium certainly does it justice here, Santolla, in particular, putting his stamp all over the track.
Hourglass is by far the best Millenium album and it's high time it hit the shelves again, especially considering the fact that rare gems like this one are eagerly sought after by record collectors these days. Certainly not the only album available when it comes to testifying to Jørn Lande's vocal abilities, but a showcase of his talent anyway, it also has Ralph Santolla and Shane French both delivering tremendous guitar work. Well-crafted melodies and picturesque lyrics reveal solid songwriting partnership between the two, reflected in each and every song on the album. And although everyone who's into Melodic Hard Rock should be already familiar with Millenium's complete works – for those who aren't yet, Hourglass makes not only a good start but also a must.
Genre: Melodic Hard Rock
Band:
Jorn Lande – Vocals
Ralph Santolla – Guitars
Shane French – Guitars
Manfred Binder – Bass
Oliver Hanson – Drums
Additionals Musicians:
Don Airey – Keyboards
Dag Stokke – Keyboards, Piano
Howard Helm – Keyboards
Tracy LaBarbera – Keyboards
Track List
1. Power To Love
2. Wheels Are Turning
3. Hourglass
4. No More Miracles
5. Superstar
6. Rocket Ride
7. I Will Follow
8. I Still Believe
9. Masquerade
10. Chasing Time
11. Rain
12. Anybody
13. On And On
14. I Surrender
15. Jane
16. Love Is Like Oxygen
Label: Divebomb Records
Website: http://www.divebombrecords.com/site/bands/millenium/
Hardrock Haven rating:
(9 / 10)