Mystic Prophecy | Monuments Uncovered
by Franco Cerchiari
– Sr. Columnist —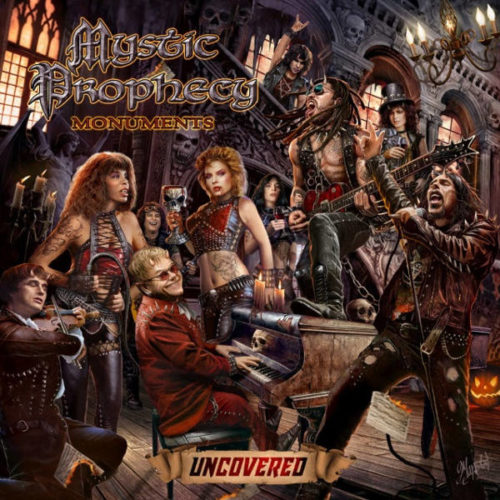 Covers albums have always been a hit or miss affair. Some bands have released covers albums with great success, (Shaw/Blades Influence, Axxis Rediscovered, and either of Northern Kings releases) and others, well not so much (Duran Duran Thank You). Here, the Power Metal band Mystic Prophecy takes a shot at covering its favorite classic songs on their its offering, Monuments Uncovered, released on the Massacre Records label. Upon reading the list of artists who would be given Mystic Prophecy's loud, growling Power Metal take, did make for a chuckle, especially when reading that of all people Disco Queen Donna Summer, Electronic/Ambient guitarist Michael Oldfield, Rock superstar Elton John, 80's Pop Princess Kim Wilde, Punk Goddess Patti Smith, and Folk Rock legends Creedence Clearwater Revival would all be given a Heavy Metal spin.
You may feel a certain bit of trepidation when the "play" button is pressed, and before the first song came within earshot the thought came that "no chance in hell, could any band give these artist's songs a Power Metal spin, and for that spin to work." But, well, son of a bitch, if Mystic Prophecy didn't pull it off. Who would have thought that hearing "Hot Stuff" released in 1978 when Disco was all the rage, could be transformed into a song that the boys of Mystic Prophecy took control of, and kicked its ass.
The same can also be said for Kim Wilde's 1986 "You Keep Me Hanging On," but holy hell, hearing what was once a synthesizer laden, electronic drum almost jazzy affair reverted into a killer song that Mystic Prophecy made all their own with riffs that will crush your skull and growling vocals made for a reach of the volume knob.
Vocalist Roberto Dimitri Liapakis has been quoted of having said of this release: "This album is like a love letter to the music that accompanied so many of us, myself included, in the '70s, '80s, and '90s — and believe me, you have not heard the songs like this before! I'm also really excited to show you a new and different side of MYSTIC PROPHECY!" And it's tough, if not damn impossible to disagree with that statement. While a read of some individual's perceptions have been less than kind what they foolishly think this yet to be released album does sound like, let it be said that those who have yet to hear this should not be so quick to judge. For yeah, this is a different side of Mystic Prophecy who decided to do something new, and for that, they are to be commended. It's not an easy thing to pull off a covers album, but on here, overall the boys of Mystic Prophecy have done an admirable job.
Throughout Monuments Uncovered in songs where the keyboards once reigned, those keyboards were kicked clear out of the studio and out into the parking lot. Elton John's (who is truly a fantastic pianist in his own right) 1983 top 10 hit "I'm Still Standing" and Punk Goddess Patti Smith's "Because the Night" where in both cases the piano was a pivotal part of those songs, on this album, what was heard was headbanging, devil horns displaying, rough, gritty, course, guitar-heavy numbers with not a single keyboard note to be heard.
Listen to Mystic Prophecy giving homage to Lenny Kravitz's "Are You Gonna Go My Way," the Mystic Prophecy twist of the classic T-Rex hit "Get It On," was excellent, the acoustic guitar heard on the remake of Monster Magnet's 1998 hit "Space Lord" was pretty damn good, the reconstructing of Billy Squire's "The Stroke" made for an interesting listen and the track "Tokyo" a classic hit from the band of the same name was an easy pick for this CD's highlight.
Fans of At Vance, Axxis, Metalium, and Persuader will, of course, love Mystic Prophecy, but for those who are true fans of this band will listen to this with an open mind (as should everyone,) and see that sometimes a different spin and take on the old classics isn't such a bad thing.
One final note: Take time to look at the album art showing all the artists being featured on Monuments Uncovered with devil horns protruding from their skulls, most wearing all black, and even Elton John sitting behind a piano giving a rather sinister, uneasy smile. Artist Dušan Markovic created the album's cover artwork, and his work here is to definitely be admired.
Genre: Power Metal, Heavy Metal
Band Members:
Roberto Dimitro Liapakis – vocals
Evan K – guitars
Hanno Kerstan – drums
Joey Roxx – bass
Track Listing
1.You Keep Me Hangin' On (Kim Wilde cover)
2. Hot Stuff (Donna Summer cover)
3. Shadow On The Wall (Mike Oldfield cover)
4. Are You Gonna Go My Way (Lenny Kravitz cover)
5. I'm Still Standing (Elton John cover)
6. Because The Night (Patti Smith cover)
7. Space Lord (Monster Magnet cover)
8. Get It On (T.Rex cover)
9. Toyko (Tokyo cover)
10. Proud Mary (Creedence Clearwater Revival cover)
11. The Stroke (Billy Squire cover)
Label: Massacre Records
Website: www.mysticprophecy.net
Hardrock Haven rating:
(8.5 / 10)