Ruhrpott Metal Meeting: Day 1
by Arta Gailuma
– Photojournalist —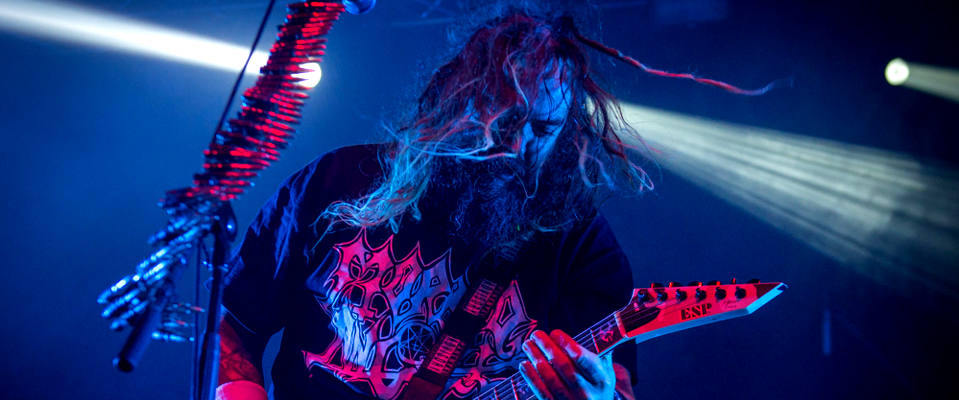 December 08, 2017 at Turbinenhalle in Oberhausen, Germany —
For the third year, Ruhrpott Metal Meeting was a gathering of black dressed music fans in German Oberhausen for good headbang just before Christmas.
Two days, two stages on Saturday with a strong line-up, a Metal market with CD's, vinyl's and all sorts of band memorabilia; an indoor beer garden, band signing sessions … basically, Ruhrpott has everything a proper festival can offer.
The line up on Ruhrpott stage on Friday brought in a full room of people. Being a fan of Melodic Death Metal, I was especially excited to see Insomnium and Wolfheart and they definitely didn't disappoint me or the rest of the fans. Even though the crowd was supportive for all bands, the moment New Jersey Thrash metallers Overkill appeared on stage it went simply mental-screaming, jumping, clapping hands and moshing. That madness continued with Max & Igor Cavalera bringing their album Roots in full length to the stage.
Ruhrport Metal Meeting: Day 1 Concert Photo Gallery
Ruhrpott Stage
23:00-00:20 Max & Igor Cavalera Return To Roots
21:40-22:30 Overkill
20:30-21:20 Insomnium
19:30-20:10 Deserted Fear
18:300-19:10 Wolfheart
17:40-18:10 Savage Messiah
Bands:
www.maxandiggorreturntoroots.com
www.thewreckingcrew.com
www.insomnium.net
www.desertedfear.de
www.wolfheartofficial.com
www.savagemessiahofficial.com
Festival sites:
www.ruhrpott-metal-meeting.de/
www.facebook.com/RuhrpottMetalMeeting/