Ruhrpott Metal Meeting: Day 2
by Arta Gailuma
– Photojournalist —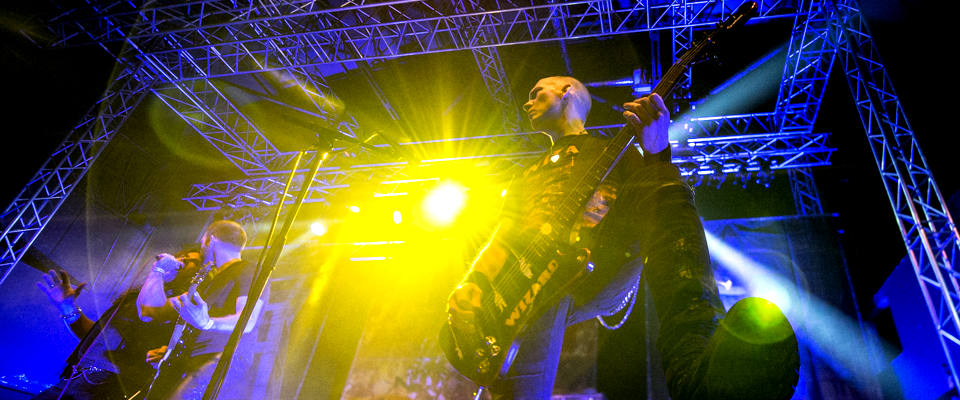 December 9, 2017 at Turbinenhalle in Oberhausen, Germany —
The main stage of Ruhrpott on Saturday was hosting artists who do not need any introduction, whether it's Gloryhammer and Orden Organ with their epic melodies or Thrash metallers Death Angel.
The soundchecks for Doro took a while and her arrival on stage was slightly delayed. Her performance was a proof she carries the name Queen of Rock for a reason, screaming, jumping and singing along, Doro had the crowd eating out of the palm of from her hand.
By the time Testament took the stage the crowd was roaring at full power. Have overcome, in their existence, some obstacles like numerous lineup changes and serious illnesses they have gained full admiration from their fans and are a proper Metal powerhouse and simply amazing to see live.
The second stage (Flöz Stage) was there for local German bands including resurrected Technical Thrash band Despair which their start on a new path has been marked with a remastered version of the band's very first album released in 1988, History Of Hate.
Ruhrpott Metal Meeting: Day 2 Concert Photo Gallery
Ruhrpott Stage
23:00-00:30 Testament
21:15-22:30 Doro
19:50-20:50 Annihilator
18:35-19:25 Orden Organ
17:25-18:10 Gloryhammer
16:20-17:05 Death Angel Flöz Stage
20:30-21:30 Onkel Tom Angelripper
19:15-20:05 Despair
18:05-18:50 Phantom Corporation
17:00-17:45 Erazor
15:55-16:40 Universe
14:50-15:35 Wizard
Bands:
www.testamentlegions.com
www.doromusic.de
www.annihilatormetal.com
www.ordenorgan.de
www.gloryhammer.com
www.deathangel.us
www.onkeltomband.de
www.facebook.com/pc2016official
www.facebook.com/erazormetal
www.universe-rock.de
www.legion-of-doom.de
Festival sites:
www.ruhrpott-metal-meeting.de/
www.facebook.com/RuhrpottMetalMeeting/