The U.S. Americans | Greatest Hits
by Derric Miller
— Managing Editor —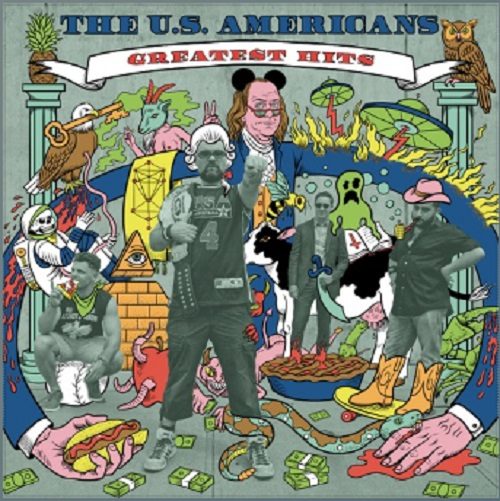 Hailing from New York City, the most American city one can think of–yes Washington D.C. is a thing but no one has ever said "if I can make it there, I'll make it anywhere" about the nation's capital–The U.S. Americans new release greets you with a title full of bravado and tongue-in-cheek humor, which in essence encapsulates their sound. Greatest Hits is that title, and these are The U.S. Americans …
If you want to know the kind of painful sense of humor these dudes flaunt, the album's opening track "Playtime" begins with words from the flawed 2007 Miss South Carolina trying to answer a pageant question about Americans having issues locating the country on a map and her word salad answer needs moonshine as dressing to make it palatable. She blathers, "I personally believe that U.S. Americans are unable to do so because some people in our nation don't have maps …" and thankfully, the music takes you away before the seizures start. As you'll catch on right away, rarely are their songs straight-ahead, and they are also bass heavy. Lead singer Jeff Weiss is a storyteller as much as he is a vocalist, and guitarist Roy Abraham can churn out some chunky riffs and chord progressions while also popping off some intricate and acidic solos. That's all there in the opener.
"Money in America." Hi, timeliness! If you are a political person or not, you probably realize there is actually money in America. Weiss is laying out the truth with lines like, "Queens get the money, Kings get your nut!" This is a dirty anthem, sort of an old-school Punk vibe with a ton of barbed-wire energy flowing throughout.
None of the music thus far really sounds like a "pop song," which is fine, but it's a change of pace by the time "Innocent Fools" rolls up. This song has a more cohesive structure, and some dance-able and bouncy riffs and leads from Abraham. It's also flat up happy, which isn't the general tenor of the band. This song is more airy, has probably the best sing-along chorus (except for one other) and a highlight of Greatest Hits.
The band released a video for "King Someday," and it's a beaut. Hearing their music is one thing, but if you haven't seen Jeff Weiss, he looks exactly like someone who is a storytelling songwriting street-poet with angst, and sense of humor should look. Shot in NY's lower east side, it has all the visuals the song communicates aurally, and again, when they give the track a chance to breathe and hone in on the message, that's when they shine. The song is an ode to the city, both melancholy and hopeful. And it's also damn good.
If you heard "FCK THE KGB" as the first song from The U.S. Americans, you'd be surprised at the rest of the album. This is pure Punk mode–hell, in the "King Someday" video Weiss is rockin' a Dead Kennedys shirt if that tells you anything. This is blazing, with frantic drumming, spitting lyrics, and like most great punk songs, it's less than two minutes long. This should be everyone's favorite live track, and if it isn't, check their goddam pulses.
The U.S. Americans are the kind of band that won't spoon food you its music, because it can be complex and moody, or straight-ahead and hammering. They morph from track to track on vocal style, song structure, atmosphere, and nuance. Greatest Hits may be slightly cocky for an up and coming band, but if Miss Teen South Carolina circa 2007 ever comes up for air to finally answer her decade-old question, The U.S. Presidents have already written that soundtrack.
Genre: Rock/Punk/Acid/Psychedelic
Band:
Jeff Weiss – Vocals/Guitar/Percussion
Emerson Williams – Drums
Daniel Deychakiwsky – Bass/Guitars
Roy Abraham – Guitars
Tracklisting:
1. Playtime
2. Money in America
3. Dance Song 17
4. Innocent Fools
5. Manolo
6. Movies
7. Fade Out
8. Storytime
9. King Someday
10. Lazy Susan
11. FCK THE KGB
12. Dentist Street
Label: Independent
Website:
https://www.theusamericans.com/
https://www.facebook.com/theU.S.Americans/
https://soundcloud.com/theusamericans
Hardrock Haven rating:
(8.1 / 10)