Asking Alexandria | Asking Alexandria
by Derric Miller
— Managing Editor—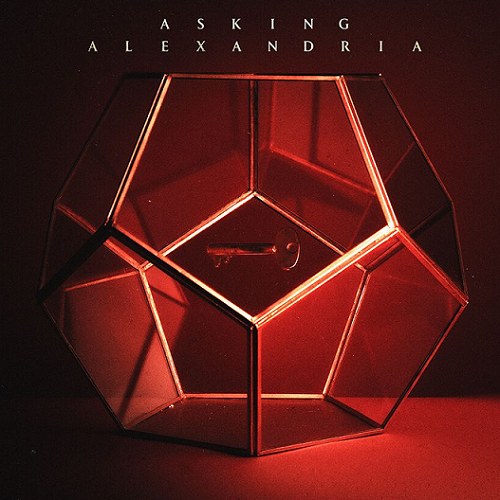 Asking Alexandria is one of the most glaring amalgams of music out there. Early in their career, they were called Metalcore. But listen to the song "Under Denver" from their new, selt-titled and fifth studio album and … no. It's catchy, atmospheric Modern Rock, and damn good. They've been called Post-Hardcore, and yet they wrote and recorded "Rise Up," which just isn't, but again, it's a killer track. They also have an unabashed love for '80s music like Motley Crue and Skid Row, so maybe instead of qualifying their sound, how about you just enjoy it, eh?
Original singer Danny Worsnop is back in the band after a brief departure, when Asking Alexandria had Denis Stoff at the mic. It's a story, but at this point, it doesn't really matter. Worsnop is a talented vocalist who shines on the melodic but can slay you with harshness when need be, and be brings them back home on the new release.
The noisy, jumpy "Alone in a Room" opens the album, with some fairly strong vocal effects and two-part harmonies. It's hard not to hear some Chester Bennington in Worsnop's delivery, especially in his higher range, more emotive passages. "All I needed was the last thing I wanted … to be alone in a room, alone in a room …" That's some depressing shit, and sonically, the lyrics match the music.
"Into the Fire" is Asking Alexandria saying, "We are back!" in no small way. It's the kind of song that will have 10,000 bodies moving simultaneously in an arena setting. As a Modern Rock singer, Worsnop is heads above most of what you have out there when singing clean; the 'Core stuff, it's as monochromatic as anything out there, meaning, he can do it.
"Hopelessly Hopeful" resonates; it just sounds like a hit song after one listen. "When the Lights Come On" sort of bridges the gap between their melodic and heavier side as it veers toward Avenged Sevenfold in parts. "Vultures" is actually an acoustic song with a lot of over-production, sort of stealing some of the rawness that is just begging to be released. That being said, it's probably the best song on the release.
When you hear a song like, "Eve," which tries to marry their Slipknot-ish side with some Sixx:A.M. tendencies, it's clumsy. Bullet for My Valentine does a better job of staying true to the song in this arena. Making a track everything for everyone almost makes it nothing for no one.
"Empire" is just flat out weird. You either likes the meshing of Hip Hop and Alternative Rock/Metal or you don't. This isn't Anthrax's brilliant "I'm the Man" or Weezer's embarassing "Can't Stop Partying." It's somewhere between "interesting" and "no, why?" If it's an unadulterated attempt at a hit, let "Vultures" pull that plow.
Asking Alexandria is intriguing every step of the way. They capture that youth element (meaning they are as marketable as you can get), you know they've got enough talent to keep doing this for a long time and as musicians can seamlessly morph with the times, but their truest melodies have a timelessness to them. There's a lot to like … and then there's other stuff. In the end, the sooner they figure out the shortest distance between two points is a straight line, the better they'll become.
Genre: Rock/Metal
Band:
Ben Bruce – lead guitar, vocals
Danny Worsnop – lead vocals
James Cassells – drums
Cameron Liddell – rhythm and lead guitar
Sam Bettley – bass guitar
Tracklisting:
01. Alone In a Room
02. Into The Fire
03. Hopelessly Hopeful
04. Where Did It Go?
05. Rise Up
06. When The Lights Come On
07. Under Denver
08. Vultures
09. Eve
10. I Am One
11. Empire
12. Room 138
Label: Sumerian Records
Hardrock Haven rating:
(7.4 / 10)