by Cameron Edney
Guest Staff Writer –
February 26, 2012 at Olympic Park in Sydney, Australia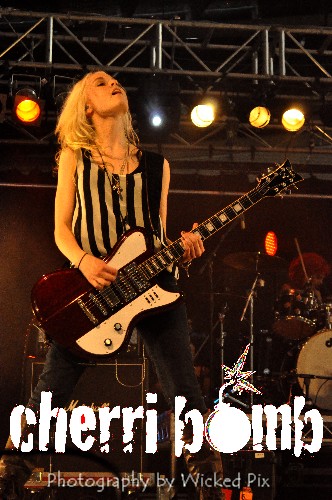 Soundwave Festival presents metal bands that make the rounds to three regions of Australia. It features a number of international and Australian music acts, from various genres including rock, metal and punk.
Bands appearing at this years event included: System of a Down, Slipknot, Limp Bizkit, Marilyn Manson, A Day To Remember, Bush, Machine Head, Lamb of God, Mastodon, Trivium, Alter Bridge, Devin Townsend Project, Dillinger Escape Plan, Black Label Society, Steel Panther, Meshuggah, Paradise Lost, Shadows Fall, Hatebreed, Biohazard, In This Moment, Kittie, Cherri Bomb…
Locations for the event:
Brisbane, 25 February 2012, RNA Showgrounds
Sydney, 26 February 2012, Olympic Park
Melbourne, 2 March 2012, Melbourne Showgrounds
Adelaide, 3 March 2012, Bonython Park
Perth, 5 March 2012, Claremont Showgrounds
Soundwave Festival 2012 Photo Gallery
Photos appear courtesy of Wicked Pix
by Chris A.
Staff Writer
Energy, Great Vocals and Stage Vibe Make These Bands Worth Shelling Out the Bucks To See Live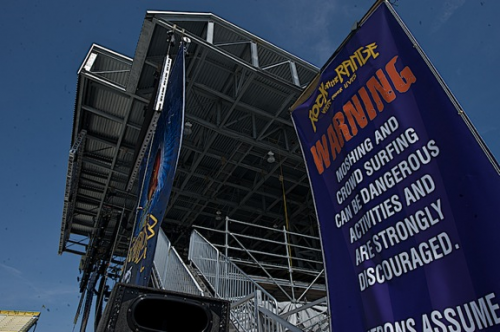 Now with its fifth year behind it, "Rock On The Range" has become a real-deal rock and roll concert institution. Held each year in Columbus, Ohio, at Crew Stadium, fans, bands and media agree it's one of the best run high- value for money rock festivals in North America. The success of the Rock on the Range franchise has inspired a Canadian variant and similar festivals including the 2011 "Carolina Rebellion."
The 2011 Rock on the Range featured 40 bands and added a free Friday night party for ticket holders. With three stages and that many bands it impossible to see every act. Headliners for the event included Avenged Sevenfold, A Perfect Circle, Disturbed, Korn, Stained and many more.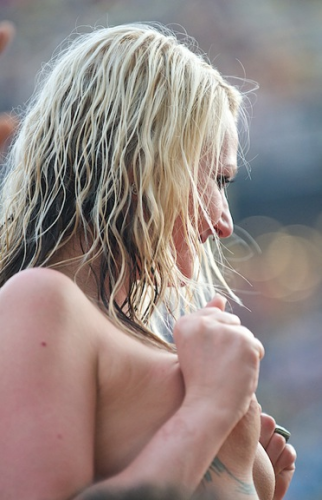 As the summer schedule heats up, here are a few suggestions for bands to consider going to see based on their performance at Rock On The Range:
Korn: Okay, the bands been through several members and has been around the block, but this train just keeps on rolling. From the moment they walked onto the main stage at ROTR it was pandemonium on the stadium main floor. Jonathan Davis is a presence behind the microphone, with his often constrained, hypnotic vocals adding credibility to the insanity of Korn's musical world. A genuine must-see band that never fails to deliver live!
Black Label Society: Zakk and the boys in BLS are back and putting more "brutal"into the old-school "brewtality" the band originally built its reputation on. After several tumultuous years and two ho-hum albums, Wylde's ejection from Ozzy Osbourne's band was perhaps what the iconic metal shredder needed to help him find his way back to reality. The now-healthy Zakk Wylde took the stage donning a full indian war bonnet Ala-Ted Nugent and for the next 30 minutes treated the crowd to inspired wailing.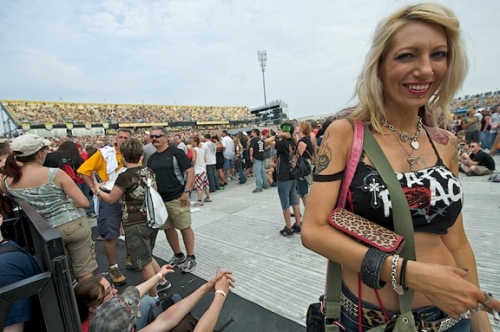 Pop Evil: Wow! An absolutely explosive band with a frontman who has it all. I like bands that are "frenetic" and that's one way to describe the energy expelled by the rockers in Pop Evil. With great guitar tone and a vocalist who instantly seems to connect with the fans, Pop Evil is one of those bands that deserves serious consideration. There's no standing still when this band is on stage.
Trust Company: While these guys hail from Alabama, they're not "good ole boys" by any means. Mixing tight guitar grooves with big soaring vocals in a melodic metal mix of head-banging inducing tunes, this band has great potential. Radio friendly with tunes that should appeal to a broad range of rock fan. The band is absolutely crazy onstage with youthful enthusiasm and high-powered rock-star appeal.
Asking Alexandria: This is a kick ass metal band. I'd never heard of them before ROTR but I'm gonna be keeping an eye on them. With steam-roller precision this British quintet of guitars match perfectly with the incredibly diverse capabilities of the vocalist. If you like it brutal these guys deliver.
Day 1 (Saturday, May 21)

Monster Energy Stage:

Avenged Sevenfold
Korn
Staind
Alter Bridge
Hinder
Sick Puppies
Rev Theory
Finger 11

FYE Stage:

Danzig
Escape the Fate
My Darkest Days
Crossfade
Asking Alexandria
Trust Company

Jagermeister Stage:

P.O.D.
Black Veil Brides
2Cents
Egypt Central
Hourcast
Downplay

Day 2 (Sunday, May 22)

Monster Energy Stage:

A Perfect Circle
Disturbed
Puddle of Mudd
Bullet for My Valentine
Black Label Society
All That Remains
Saving Abel
10 Years

FYE Stage:

Hollywood Undead
A Day to Remember
Trapt
Cavo
Pop Evil
Greek Fire

Jagermeister Stage:

The Damned Things
Red Jumpsuit Apparatus
Evans Blue
Art of Dying
Red Fang
7th Cycle
2011 Rock on the Range Photo Gallery
Photos appear courtesy of Chris A.
by Shawna McHenry Luehring & John Kindred
Staff Writer
Saturday, May 14th at Liberty Memorial in Kansas City, MO.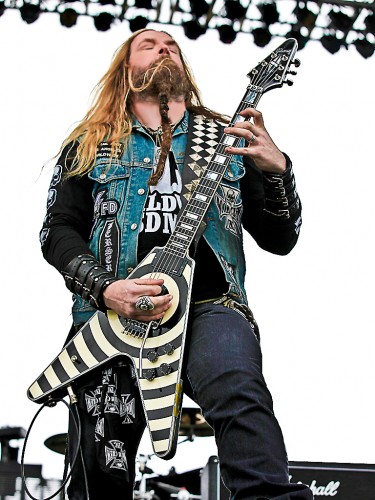 Kansas City's Rockfest kicked of its annual metal salute with Zakk Wylde performing the "National Anthem" with an armed forces color guard to more than 50,000 crazed fans. This year's event was welcomed by a cold front instead of an onslaught of rain. After last year's "Mudfest" debacle, local city leaders were fired up and demanded ending the use of Penn Valley Park as the stomping grounds for Rockfest.
Thankfully for fans, AEG, the concert promoter, paid to repair the damage caused by the 2010 event. Their efforts included putting down sod on the 14 acres of damage caused by the rain and the festival goers, who trampled down grass, which created a muddy mess and troublesome trash clean up. AEG and 98.9 the Rock have put in place safeguards to keep the event as clean and safe as possible, including additional trash cans, better placement of port-o-potties, additional security and added fencing.
As always, Rockfest is hyped as the Nation's Largest Single-Day Music Festival and a concert event with reasonably priced food and beverages. Although this year's crowd was not a sellout, there were plenty of fans on hand for the festivities.
This year's lineup featured two band stages. Monster Energy sponsored the main stage, which featured headliners Disturbed, Stone Sour, Papa Roach, Alter Bridge, Sevendust, Hinder and Halestorm. The second stage was sponsored by Jose Cuervo and featured Black Label Society, All That Remains, 10 Years, Redline Chemistry, Crossfade, Art of Dying, New Medicine and Evalyn Awake.
The crowd seemed to relish in its patriotic side this year as Americans flags were visible throughout the crowd. Mardi gras beads where tossed out to those willing to show their "wares" to onlookers. Besides the music, Rock radio personality, "Moose," officiated a wedding ceremony of about 20 couples or more. Turning back to the stages, the crowd was entertained by pornstar Ron Jeremy aka "The Hedgehog," and Moonlight Bunny Ranch owner Dennis Hof, and his lovely sidekick, Bunny Love, made an appearance.
With the exception of 15 minutes of warm, bright sunshine for Papa Roach's performance of "Burn" (pretty ironic), fans spent the cold, gray and windy day enjoying the metal mayhem.

Monster Energy Drink Main Stage:
Halestorm 1:30pm
Hinder 2:40pm
Sevendust 3:55pm
Alter Bridge 5:10pm
Papa Roach 6:30pm
Stone Sour 8:00pm
Disturbed 9:40pm

Jose Cuervo Drink Main Stage:
Evalyn Awake 12:00pm
New Medicine 1:00pm
Art of Dying 2:10pm
Crossfade 3:25pm
Redline Chemistry 4:40pm
10 Years 6:00pm
All That Remains 7:30
Black Label Society 9:00pm
KC Rockfest Music Festival 2011 Photo Gallery
Photos appear courtesy of Shawna McHenry Luehring
CAROLINA REBELLION
Saturday, May 7th Metrolina Expo in Charlotte, NC.
AEG Live and Right Arm Entertainment latest production, Carolina Rebellion music festival, is proud to be sponsored by Jägermeister, Monster Energy drink and FYE. This is the same team that produces the highly successful Rock On The Range in Columbus, OH. The one day music festival features many of today's hard hitting rock artists appearing on three stages (two main stages) at the Metrolina Expo in Charlotte, NC.
The festival featured two main stages for the biggest acts in rock today, both sponsored by Monster Energy. The bands participating in Carolina Rebellion festival included: Avenged Sevenfold, Godsmack, Three Days Grace, Stone Sour, Seether, Bullet For My Valentine, Theory of a Deadman, Alter Bridge, Hinder, Skillet, Saving Abel, Halestorm, Black Stone Cherry, My Darkest Days, Cavo, Rev Theory, Pop Evil, Art Of Dying and more.
"It seems the Carolinas are in need of a rock festival to call their own and we are honored to unleash the Rebellion to the great rock fans of this area," says Gary Spivack, co-executive producer of the event for Right Arm Entertainment. "With our partners at AEG we locked into an amazing outdoor venue just minutes from downtown Charlotte. We are so proud of this lineup. From Godsmack to Avenged Sevenfold to Three Days Grace to Stone Sour….it's nonstop…one great band after another."
Cavo – 12:20pm
Halestorm – 1:50pm
Skillet – 3:30pm
Bullet For My Valentine – 5:20pm
Seether – 7:10pm
Three Days Grace – 8:45pm
Avenged Sevenfold – 10:45pm
My Darkest Days – 11:50am
Saving Abel – 1:20pm
Hinder – 2:50pm
Alter Bridge – 4:40pm
Theory of a Deadman – 6:30pm
Stone Sour – 7:50pm
Godsmack – 9:40pm
Drop D – 11:30am
Art of Dying – 12:50pm
Pop Evil – 2:20pm
Black Stone Cherry – 4:10pm
Rev Theory – 6:00pm
Carolina Rebellion Photo Gallery
Photos appear courtesy of Steve Trager
by Cameron Edney
Guest Staff Writer
Last year rock vocalist and Alter Bridge front man Myles Kennedy teamed up with legendary guitarist Slash for one hell of a kick ass Sold-Out Australian tour that had to be seen to be believed. Not only did SLASH find himself with the perfect front man to perform an array of classic Guns n Roses tracks, but Kennedy's astonishing efforts with Velvet Revolver and Slash's Snakepit tracks had to be heard to really be appreciated!
After leaving Australia Kennedy went back into writing and recording mode with his band Alter Bridge. No stranger to Australia, Alter Bridge last hit our shores with Disturbed to support their second album 'Blackbird'. 2010 saw Alter Bridge release one of the finest hard rock albums of the year simply titled 'III'. Somewhat of a concept album, 'III' captures the imagination of the listener and tracks like 'Isolation', 'Days Gone By' and 'All Hope Is Gone' will leave you wanting more.
Next month Myles Kennedy will once again be returning to Australia to perform at the Soundwave festivals alongside SLASH for another round of kick ass rock n' fuckin roll performances, we thought it was only fitting to catch up with him to discuss the latest and greatest Alter Bridge album to date, Myles recent Australian tour with SLASH and the upcoming Soundwave festivals.
Kick back as we 'Slip to the Void' with one of rock's finest vocalists Myles Kennedy.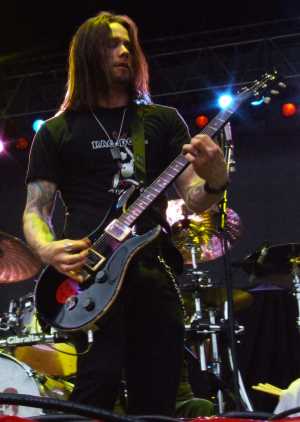 HRH: Hey Myles, it's a pleasure to be speaking with you this afternoon, how's everything going?
Myles Kennedy: Great man!
HRH: Congratulations on the latest Alter Bridge album 'III', it's fantastic. Looking back over the whole recording and writing process is there anything you would have done differently?
Myles Kennedy: Not stressed out about it as much [laughs]. It was a pretty quick process for us relative to other records that we've done together. There was certain spontaneity to it, in the end it turned out to our advantage, it was a good process.
HRH: The album has remained in heavy rotation in my home for a couple of months now, and from start to finish the album kept me entertained. As some people may be aware the new album is somewhat of a concept album tell us where the idea came from and what the concepts related to.
Myles Kennedy: Well, once I realized musically where we were going on this record I wanted to make sure that the lyrics could grow with that. That it definitely fit with the music that was darker and heavier. When it came time to deal with the subject matter for it, there were some things I was thinking of from my life and some things I was dealing with; it was really easy to throw that on the canvas. It's an album about losing innocence and realizing that a lot of things that you held on to be as truth weren't necessarily what you thought they were, that's kind of the story through a lot of the songs, not all of them but a good majority of them!
HRH: I would imagine when you're piecing together a concept album, the writing and recording process is different as opposed to doing a standard 10 – 13 track album. Do you find it more difficult to do an album like this or do you look forward to the challenge?
Myles Kennedy: In some ways it was easier, I think where it was a little harder was when we were sequencing the record. There were certain songs musically where we thought it would go nicely in the middle of the record, but then the story line would change a little bit and we'd have to move a song towards the back of the record. There were little things like that but overall as far as writing it goes, it was pretty painless. It came together pretty quickly because we just didn't have a choice.
HRH: Now this is album number three and Record Company number three for Alter Bridge, are we looking at a case of three times lucky?
Myles Kennedy: [Laughs] I hope so Cameron, I really hope so. So far, so good, we've been extremely impressed with the folks from Roadrunner. It was just a matter of us trying to find the right home for the kind of band that we are. We're a different kind of band in a sense, we're not all about writing songs that get on the radio, and a lot of major companies are really built for that. We're all about touring and building up a fan base that way and Roadrunner really seem to get that; so far it's worked out really well for us!
HRH: You will be back in Australia in February for the Soundwave Festival's with Slash, you must be thrilled to be heading back here so quick after the recent sold-out shows!
Myles Kennedy: Oh absolutely, I'm very excited about that. I've heard a lot of great things about that festival; I'm really excited to say the least?
HRH: Are there any plans in the works for you to return later in the year with Alter Bridge?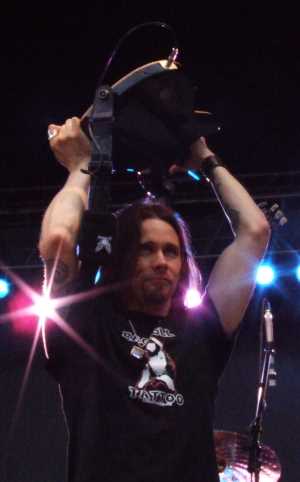 Myles Kennedy: Yeah, we've been talking about it; we definitely need to get down there. I was made aware of just how many supporters we have when I was down with Slash a few months ago. We were playing some venues and so many people showed up wearing their Alter Bridge shirts and bringing their cd's to get signed. We definitely have some folks down there that would show up to the shows, so hopefully we will make it happen!
HRH: Myles, you're no stranger to Australia having toured here last year with Slash and winning over many Aussies a couple of years earlier with Alter Bridge. What fond memories do you have from your previous Australian visits?
Myles Kennedy: I was really impressed with how beautiful everything was and how cool the people were, it's like heaven on earth. I'm a big fan of vegetable juice and I could find really good fresh vegetable juice in a lot of places for some reason [laughs].
HRH: From all the interviews I've done when this question has come up, I've never ever had anyone compare their memories of Australia with vegetable juice [laughs]
Myles Kennedy: [Laughs] yeah, I'm a bit of an odd bird [laughs].
HRH: The line-up for the Soundwave festival is amazing, featuring Slayer, Iron Maiden, Rob Zombie to name a few. Will you be putting much time aside to check out the other artists that are billed whilst here?
Myles Kennedy: Absolutely, for me that's the best part about the festivals; getting to see other artists, cause at the end of the day I'm a huge music fan! I consider myself a lucky guy who gets to sing and play in bands; it's going to be a lot of fun.
HRH: Over the years you have certainly played your fair share of festival bills. Are you a fan of doing the large festival shows or would you rather play smaller, more intimate shows. Both certainly have their advantages….
Myles Kennedy: Yeah, they're totally different. Like I said, when you're playing festivals you get to see other bands and get the opportunity to win over some new fans as well. The nice thing about the smaller venues is that it's just so much easier to connect because of the size of the room and I think there is definitely a trade off there, I like doing both, it's all good with me!
HRH: Myles whilst we're on the subject of touring, does it ever get easier to leave the comforts of home to hit the road for weeks sometimes months at a time?
Myles Kennedy: I'm at the point now where my home is the road, especially this year; I've been gone so much! On the third of January I went to Florida to begin working on the Alter Bridge record and as soon as that was finished I immediately started touring with Slash. I've pretty much been gone ever since. My wife has been really supportive; my dog hasn't been so supportive, he's a little mad with me [laughs]. I'm lucky to get to go out and play every night, it's cool.
HRH: Mate, there is no doubt that you are an amazing vocalist with one hell of a range! As we know singers get the raw end of the deal on the road, having to party less, have earlier nights, rest the voice etc. Before a show do you do anything specific to warm up and prepare or would you prefer to hit the stage running, full of adrenaline!
Myles Kennedy: I'm really into warm ups I usually warm up for an hour to ninety minutes before a show. It's a big routine that I do, I've tried to not do that before shows and I've ended up having a bad show, so I'm religious about it now, I never miss it. I don't drink on the road, it's all about staying healthy so I can go out and deliver every night.
HRH: Going back to when Alter Bridge first formed can you recall the hardest time you guys had as an opening act?
Myles Kennedy: Oh that's a good question; I guess sometimes we would play festivals in the beginning when people didn't know who we were and we had to try and win people over. Sometimes you go out there and you have people sitting there staring at ya, generally you would win a few folks over. We'd come out happy in the end but it's just those first few gigs that can get under your skin and psyche you out. Nothing is coming to mind other than that but I'm sure there's something that I'm forgetting!
HRH: You've had the pleasure of sharing the stage with some amazing artists over the years, whilst on the road who's given you the best touring advice and what was it?
Myles Kennedy: To be honest I'm drawing a blank dude!
HRH: I've asked this question many times over the years and a lot of artists mention other bands have told them to ask for socks and underwear on the riders… is that something you guys were aware of or have done over time?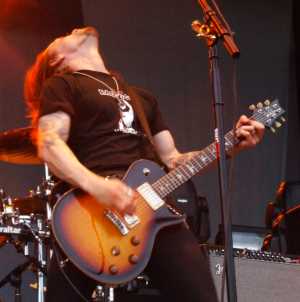 Myles Kennedy: You know what; we just started doing that on this tour. Our bass player Brian put socks and underwear on the rider and I don't know, I always thought of that was a rock star thing to do; now it totally makes sense. When you have clean socks and underwear it makes the travelling experience much better, not to mention that you get to collect underwear from all over the world [laughs].
HRH: [Laughs] Mate we've hit the part of the interview where our readers get to find out more about the real you… What was the first concert you attended and how much of an impact did that have on you musically?
Myles Kennedy: The very first show I ever attended was Sammy Hager 'I Can't Drive 55' tour, that was back in 85 and it had a profound effect. He's such a great performer and I was so captivated by the energy of the show and the crowd, it really lit a fire under my ass and got me to work really hard and practice. It's amazing that I get to do the same thing now for a living…
HRH: In recent years we've seen you do some amazing work with Alter Bridge as well as Slash. What else would you like to achieve musically? Can we see an all acoustic solo album in the future or anything like that?
Myles Kennedy: There is a solo record that I put together last year and it's pretty much done, it's just a matter of finding a window to release it, a lot of it is acoustic based, it's not just a straight up acoustic record but the goal was to make something that I could go out and tour with just me and an acoustic guitar. I really want to get that done in the next couple of years, I think that would be a lot of fun!
HRH: I couldn't agree more… can you recall the first song you ever wrote and what it was about?
Myles Kennedy: I do remember, the very first song that I wrote [laughs] actually co-wrote. I was in this band when I was a kid called Rat Scallion and I wrote the music to it but the bass player wrote the lyrics, and this is really vulgar but the song was called 'The House That Jack Built' and apparently from what the bass player said the lyrics were about masturbation, so that was the first song I co-wrote [laughs].
HRH: Myles, your vocal ability is nothing short of sensational and I'm curious… who have you been surprised to learn is a fan of your work!
Myles Kennedy: Oh I don't know, I was real surprised when Slash called. I was blown away that he asked me to be a part of his record. I was surprised when Mark and the guys called years ago; I had no idea they even knew who I was. I'm always surprised when I find out people are familiar with something I've done, I'm just so flattered. I live in Spokane Washington, I don't live in Los Angeles or New York so anytime I find out someone discovered something I've done I'm totally flattered.
HRH: What about rumours, what's the craziest rumour you've heard about yourself and or the band?
Myles Kennedy: There was a funny thing that somebody told me the other day actually. On Wikipedia for a while, somebody has posted that I lived in Spokane, Washington with my husband which my wife wasn't too thrilled to hear [laughs].
HRH: [Laughs] Myles in recent time there has been a lot of talk that Velvet Revolver are looking for a new vocalist, having seen you nail both Velvet Revolver and Guns n Roses songs during the recent Australian shows with Slash, is there any chance we could possibly seeing you front Velvet Revolver for the next album or maybe even a Guns n Roses mark II with Slash, Duff and Steven?
Myles Kennedy: Years ago they asked me if I'd be interested in auditioning, but it was the wrong time for me, this was about eight years ago. I think right now, between fronting Alter Bridge and going out on tour with Slash, I'm keeping so crazy busy I just don't see how that would fit in, but I'm totally flattered that they even considered me at one point.
HRH: There have been so many highlights in your career from working with Slash, to the success you've shared fronting Alter Bridge and of course working with Jimmy Page and John Paul Jones. What would you consider to be your top five greatest achievements to date?
Myles Kennedy: Getting to spend some time and play a little with Jimmy Page, John Paul Jones and Jason Bonham, for me that was beyond a dream come true. Getting to tour with Slash and play on his record was amazing. There's a song we did called 'Blackbird' that's definitely a big moment for me. I did a record about ten years ago with The Mayfield Four called 'Second Skin' which I'm extremely passionate and proud of, a lot of blood sweat and tears went into that. Number five… this summer when I played [the] Download [Festival] with Slash in the U.K. That was a real special gig, one hundred thousand people were there, it was a fantastic afternoon.
HRH: Just before we wrap it up the new Alter Bridge Cd is out now, you guys are currently in Europe, what other immediate plans are in place for the band, are you working on a new Dvd at all, new video clips from the album?
Myles Kennedy: I hope we do, we worked with this director that's been very influential with us so I think were gonna wrap up this first part of the tour in early January and we pick up again in April and my hunch is by the end of next year we might try and do something but don't quote me on that. Our immediate plan is to keep touring as long as we can!
HRH: Myles it's been a pleasure to chat with you today, all the best of luck with the new album, I can't wait to see you again next month for the Soundwave Festival shows! Do you have any last words for our readers?
Myles Kennedy: We really look forward to getting down there; we love Australia, so hopefully you'll come to the shows!