by Derric Miller
- Managing Editor –
Reverence guitarist Bryan Holland checked in with Hardrock Haven to discuss his new band and their debut release When Darkness Calls; how the band got together; his experience running an indy label Razar Ice Records; how the band uses social media to get the word out; his time in Tokyo Blade; and a whole lot more.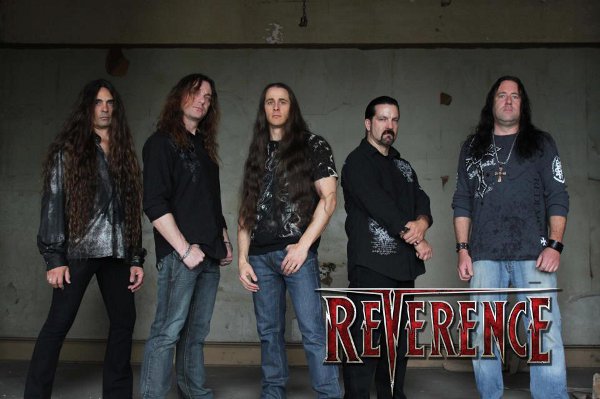 If you haven't heard When Darkness Calls yet, you are doing yourself a disservice. It's one of the best Power Metal albums of the year and features some of the best guitar and vocals you've heard in a long, long time. Tune in now to get to know Holland and Reverence, and pick up When Darkness Calls immediately.

by John Kindred
Staff Writer –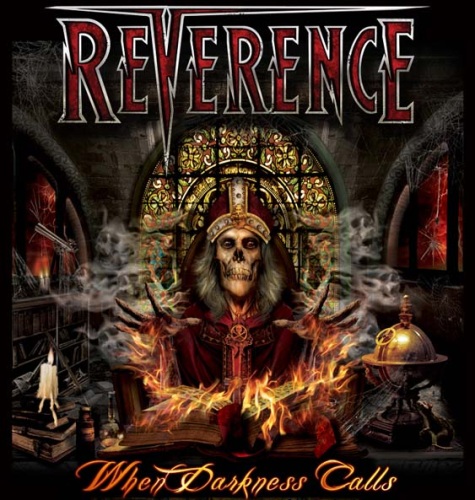 Reverence, metal's latest band to emerge from the Motor City, Detroit that is, have released their debut album When Darkness Calls on Razor Ice Records. The group was founded in 2010 by Toyko Blade guitarist Bryan Holland and vocalist Todd Michael Hall, who also is the current front-man for Jack Starr's Burning Star. Along for the ride with Holland and Hall are fellow band-mates guitarist Pete Rossi, drummer Steve Wacholz and bassist Frank Kruckel.
Branding the band name as Reverence which by definition means "the respect or devotion that others show somebody or something," would lead one to believe that their intention was to pay their respect to the "metal" genre by delivering their own unique brand of it. With each band member having played a part in some well-respected groups during their careers; Savatage, Toyko Blade, Crimson Glory, etc., one would expect this theory to hold true.
When Darkness Calls features 11 songs and while the band describes themselves as a Power Metal outfit the music is closer to traditional heavy metal and thrash metal. Really, Reverence falls more into the New Wave of Traditional Metal genre. Holland and Hall songwriting partnership and collaboration has certainly produced some blistering metal anthems. Hall who is known for his 4 octave vocal range is operating at full throttle. For those that have heard his voice on Harlot and Burning Starr CDs, Hall's really pushes the upper levels of his vocal range. Co-conspirators Holland and Rossi light up their fret-boards and when you throw in the rhythmic pulse provided by Wacholz and the rumbling bass of Kruckel you have white hot metal meltdown.
So with the screaming guitars and double bass fury the band rips through When Darkness Calls with calculated reckless abandonment. "After The Leaves Have Fallen" is the only song on the CD that could be considered a ballad, still it has plenty of metallic overtones. The remaining 10 songs are ferocious heavy, metal anthems. Holland and Rossi lay down some very heavy rhythmic grooves providing Hall the perfect soundboard to overlay his wicked vocals over. Their guitar solos demonstrate fluid, flashy, and speedy riffs and phrasing emphasizing their command of their instruments. The overall production gives all the instruments the space needed to heard and all blend together seamlessly.
From the opening title track to the final note struck on "Vengeance Is Mine" this is a 49-minute journey worthy of praise. Holland, Hall, Rossi, Wacholz and Kruckel reverence for metal has clearly delivered a sonic achievement that pays homage to the genres of; heavy, thrash and power, and delivers in all phases of execution.
Genre: Heavy Metal, Thrash Metal, Power Metal
Band:
Todd Michael Hall (v)
Bryan Holland (g)
Steve 'Doc Killdrums' Wacholz (d)
Pete Rossi (g)
Frank Kruckel (b)
Track Listing:
1. When Darkness Calls
2. Bleed For Me
3. Phantom Road
4. Devil in Disguise
5. Too Late
6. Gatekeeper
7. The Price You Pay
8. Monster
9. Revolution Rising
10. After The Leaves Have Fallen
11. Vengeance Is Mine
Label: Razar Ice Records
Web: http://reverencemetal.com/2011/index.html / https://www.facebook.com/Reverencemetal

Hardrock Haven rating: 9/10