Canadian traditional metal heroes CAULDRON kicked off their North American tour  Friday, April 12th – at Saint Vitus in Brooklyn, New York in support of their latest album, TOMORROW'S LOST. Read more
Canadian heavy metal trio CAULDRON are among the latest bands to be confirmed for this year's edition of METALLICA's "Orion Music + More" festival. Read more
Canadian heavy metal trio CAULDRON have confirmed a short string of shows in their homeland with DIAMOND HEAD. Read more
Live footage of Canadian heavy metal trio CAULDRON, who are just coming to the end of a current European tour, has been posted online by Dutch alternative multimedia platform 3voor12/VPRO. Read more
Canadian heavy metal trio CAULDRON are due to kick off a European tour tomorrow – Wednesday, November 28th – in London, UK. Read more
by Derric Miller
Staff Writer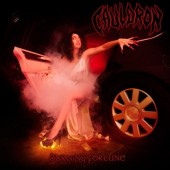 The Canadian trio Cauldron's sophomore studio effort, Burning Fortune, is a step up from their debut Chained to the Nite, and not only because of proper spelling techniques. Burning Fortune features nine tracks that have no overt weaknesses, they are stronger songwriters this time around and lead singer/bassist Jason Decay further found himself as a vocalist, understand exactly what he does well and hones in on that every song. While overall more melodic, Burning Fortune is clearly just the result of a band owning who they are and what they do; you know, the way rock stars used to …
Beginning with one of the heaviest compositions, "All or Nothing," Cauldron slams into you with their melodic blend of NWOBHM and traditional Heavy Metal. As heavy as anything they've ever recorded, the dearth of backing vocals is another trademark of the band. It's Decay, belting it out, while the others ram the music into your skull, although at the end there are some alternating vocals to Decay's lines.
You truly get a feel for the overall album on the next track, "Miss You to Death." The song is addictive, catchy, melodic, and it's about a sense of longing, with lines like "It kills me to think you're not coming home." With Arena Rock breakdowns and adept backing vocals added to the mix this time, "Miss You to Death" is proof Cauldron is improving across the board.
Again, it would seem the band is going through acidic relationships on "Tears Have Come." Cauldron has penned another song about wanting someone who doesn't want you. It's nearing KISS in its anthemic qualities. This song would be a hit in the mid '80s without a doubt, and if people still like good music, it will be today. Ian Chains tears into a notable guitar solo, rife with passion. It's just one of the many highlights on Burning Fortune.
Last time around, Cauldron covered '80s Glam Metal band Black 'N' Blue with "Chains Around Heaven." They went the more obscure route this time, covering a Halloween track. No, not the German iconic Power Metal band Helloween, but the Detroit Horror Metal band Halloween. If you thought the previous songs bordered on stalker-quality, well, this song is based on the movie "Star 80," the murder of Playmate Dorothy Stratten. Cauldron found the absolute perfect cover for Burning Fortune; these guys know great music, and since Halloween never got their due, go check out Halloween releases Victims of the Night and Don't Metal With Evil so you know why Cauldron digs the band so much.
Why wouldn't Cauldron write a song about a small South Dakota town called "Rapid City?" Don't worry, they did, and it's the heaviest and most chaotic track on the release. In fact, the second part of the composition is called "Unchained Assault," an instrumental, and it allows the band to flaunt their musical Metal chops.
"Taken By Desire" brings closure to Burning Fortune, more NWOBHM than much of what you heard to this point. Slightly more subdued than the eight tracks before it, it's probably the one time when you'll think "They could have done better." Not that it's bad, but it falters just a little in comparison.
There are few bands as honest and unflinching as Cauldron. In the recent Decibel story on Cauldron, Decay pointed out they don't play and record this kind of music for money. They know it's not popular … and they could really give a rat's ass. In the "for sale" sheer mimicry of today's Hard Rock and Heavy Metal world, where corporations push bands to the top of the charts and listeners are too ignorant to understand that homogeneity should breed contempt, not applause, Cauldron is one of the few uncompromising bands left.
Band:
Jason Decay – bass, vocals
Ian Chains – guitar
Chris Steve – drums
Track listing:
01. All Or Nothing
02. Miss You To Death
03. Frozen In Fire
04. Tears Have Come
05. I Confess
06. Rapid City/Unchained Assault
07. Queen Of Fire
08. Breaking Through
09. Taken By Desire
Label: Earache Records
Online: http://www.myspace.com/cauldronmetal  
Genre: Traditional Heavy Metal
Hardrock Haven rating: 8.3/10
by Derric Miller
Staff Writer
Cauldron bassist/singer Jason Decay checked in with Hardrock Haven to discuss their brand new and sophomore studio release Burning Fortune; how/if the band's sound has evolved from their debut release; how the movie "Star 80″ influenced one of the new songs; specific songs like "Tears Have Come" and "Rapid City;" tour plans; and a whole lot more.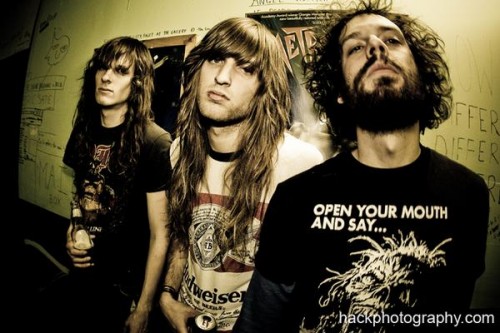 Cauldron's debut surprised a lot of heavy metal fans, but Burning Fortune is going to cement them as one of the best new bands in all of Heavy Metal. Tune in now to get to know the singer and the music, and pick up Burning Fortune as soon as you can.
Online: www.myspace.com/cauldronmetal
(If the embedded player doesn't populate, click here to stream the interview in a stand alone player.)
by Justin Gaines
Staff Writer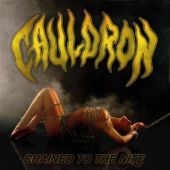 It was bound to happen sooner or later. Someone finally slapped a label on the recent revival of adjective-free heavy metal that has been gaining momentum worldwide. Bands that worship at the altars of Judas Priest and Iron Maiden are now being classified as the New Wave of Traditional Heavy Metal (NWOTHM). Even the acronym is old school metal! The trend tag wasn't unexpected, but it is somewhat odd that Canadian band Cauldron, a relative newcomer to the scene, seems to have emerged as the standard bearers of the genre. You'd think it would be Wolf, who has been blazing the trail for nearly a decade, Icarus Witch, or what seems like half the population of Raleigh, N.C., (Twisted Tower Dire, Widow, et al).
Cauldron, which emerged from the ashes of thrash band Goat Horn, may not be the first band to eschew sub-genre trappings and opt for a straight-up heavy metal sound, but there's no denying the fact that they do it well. Chained to the Night is the band's first full-length album (coming after the Into the Cauldron EP), and it's an absolutely fierce slab of uncompromising old-school metal. It's a cross between the classic NWOBHM and early Metal Massacre sounds, only with a modern edge and energy. Chained to the Night is all metal guitar hooks, fist-pumping choruses and songs about chains, witches, the night, chains around witches, chains in the night, and possibly witches being chained in or around the night. Songs like "Conjure the Mass," "Midnite Hour" and "Bound to the Stake" are exactly what you need to shake off the endless sub-categorization (progressive/power metal, melodic Swedish death metal, etc.) and get back to the pure, unadulterated heavy metal sound that we all fell in love with in the first place.
If you've been enjoying the traditional metal revival that has been going on in recent years (and really, why wouldn't you?), you'll definitely want to check out Canada's contribution to the NWOTHM. Sew a Cauldron patch on the back of your denim jacket, strap on your spiked wristbands, and crank this one up. Cauldron is bringing back old-school heavy metal with a vengeance.
Note – Initial CD pressings of Chained to the Nite feature a pair of bonus tracks ("The Striker Strikes" and "Restless"). These tracks were not included on the version of Chained to the Nite provided to Hardrock Haven, so they have not been reviewed.
Lineup:
Jason Decay – Bass, Vocals
Chris Rites – Drums
Ian Kilpatrick – Guitar
Online: www.myspace.com/cauldronmetal
Track Listing:
1. Young and Hungry
2. Conjure the Mass
3. Chained Up in Chains
4. The Leaven/Fermenting Enchantress
5. Dreams Die Young
6. Bound To the Stake
7. Witch Trial
8. Midnite Hour
9. Chains Around Heaven
HRH Rating: 7.5/10