by Jonna Ambur
- Photojournalist –
FEBRUARY 17, 2012, MOHEGAN SUN ARENA, UNCASVILLE, CT –
Aranda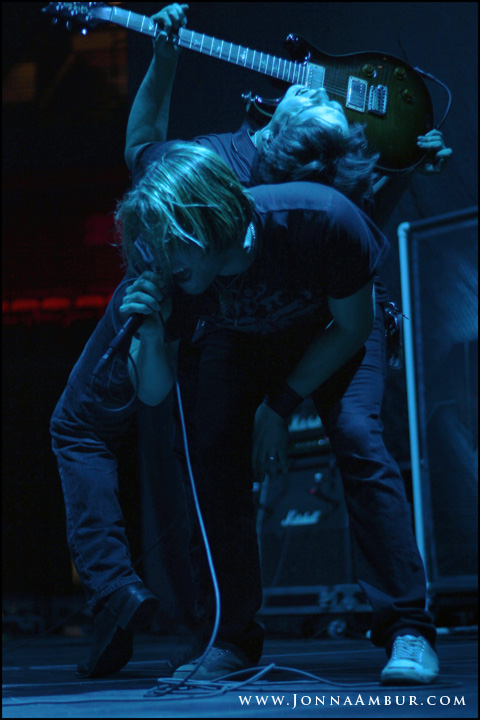 The Oklahoma City-based brothers Dameon (guitar/vocals) and Gabe Aranda (vocals/keyboard), along with Mike Walker and B. Webb comprise Aranda. The band formed in June 2001, and its first record, Aranda, was released in 2008. The band's most recent album, Stop the World, which was released in 2011, features "Undone" and the recent hit "One More Lie."
Up first, Aranda was just the energy the crowd needed to get the night started. The band's impressive guitar acrobatics, virtuosic skills and the set-ending standard "das boot" performance left everyone, even guests new to Aranda, cheering.
Set List:
One More Lie
Stand
Gravity
It Ain't Easy
Satisfied
Whyyawannabringmedown
3 Doors Down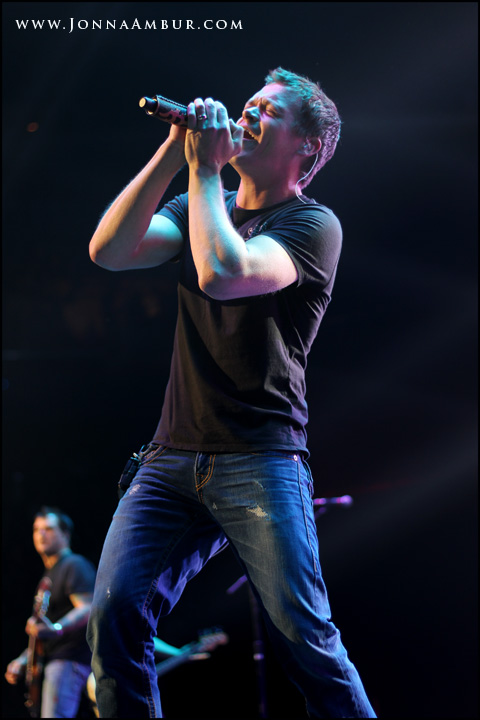 Mississippi's 3 Doors Down's first studio album, The Better Life, was released in 2000. Featuring hit singles, "Kryptonite," "Loser" and "Duck and Run," it went on to sell more than three million copies. In 2003, the band started The Better Life Foundation, TBLF. TBLF supports many children's charities and has assisted with aid to the Gulf Coast region of Mississippi after Hurricane Katrina.
Since The Better Life, the band has been putting out hit after hit from its following four studio albums. The band has been on the road in support of its Greatest Hits album, which was released in 2012. "One Light" is the new recording and hit single from that album.
Mohegan Sun was sold out and by the time 3 Doors Down came to the stage; the place was packed. After days of performing and traveling to and from Dubai, the band was running on adrenaline and arrived pumped and ready. Brad Arnold addressed the crowd in his smooth Mississippi twang and issued a challenge to the Mohegan Sun. Just before performing the song "One Light"; he asked that everyone "look for the chance to be that one light for somebody else." It was a heartfelt request that was received with applause. Soon after, the band played "Citizen Soldier," which had everyone standing and singing along. This is truly a band that loves its fans and uses its music to reach everyone on personal levels.
The band surprised everyone with a cover of Megadeth's "Symphony of Destruction," and when it came time for the encore, when "Kryptonite" filled the arena, fans screamed in approval as Chris Daughtry joined the band on stage to perform with them. The band's last song of the night, "When I'm Gone," was a dedication to our armed forces and their families. It was a solid hour of ass-kickin' rock and roll and a finale that people are still talking about.
3 Doors Down comprises Brad Arnold (vocals), Chris Henderson (lead guitar), Chet Roberts (guitar), Todd Harrell (bass), Greg Upchurch (drums)
Set List:
Time of My Life
It's Not My Time
Duck and Run
The Road I'm On
Away From the Sun
Let Me Go
Goodbye
Loser
There's a Life
One Light
Here Without You
Citizen Soldier
Symphony of Destruction (Megadeth cover)
The Better Life
Kryptonite
When I'm Gone
Daughtry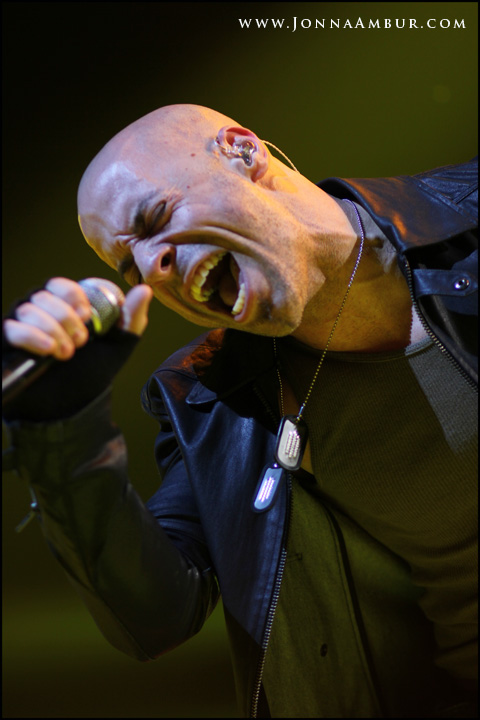 Daughtry, formed and fronted by American Idol finalist Chris Daughtry, closed the night. The band's self-titled debut album was released in November 2006 and reached No. 1 on U.S. charts. The album went on to sell more than four million copies in the U.S. and produced four Top 20 hits. The band's second album, Leave This Town, was released in July 2009. It quickly became Daughtry's second No. 1 album in the U.S. Daughtry's third studio album, Break the Spell was released in November 2011 and has since been certified Gold. The single, "Gone Too Soon," originally recorded by Daughtry as part of the album, is being sold as part of a fundraiser to assist the victims' families in Newtown, Conn.
Many people haven't seen Chris Daughtry since his American Idol days. Tonight, he proved that it doesn't matter if you win the contest; if you have the talent and desire to make it, you'll get there. Chris was offered the chance to be the new front man for Fuel shortly after Idol, but he decided that he was going to form his own band. He clearly made the right choice.
Chris had the ladies swooning and hoping to reach far enough to shake his hand as he made his way to all sides of the stage.He is the quintessential rock and roll front man and proved it by belting out each song with precision and sheer power.
It was announced in September of 2012, that bassist Josh Paul would be leaving the band, which led to the addition of Andy Waldeck. The band worked the arena like a well-oiled machine. Fan appreciation was apparent, especially when Chris sent T-shirts sailing into the crowd. The entire hour-plus set was full of changing moods and included a piano rendition of "Gone Too Soon."
In keeping with the tone of the double-header tour, Brad Arnold came on stage to join Daughtry to perform Phil Collins' song "In The Air Tonight." The set ended on a high note, with "September" and "It's Not Over," which rounded out its 15-song set and an amazing night of rock and roll! It was a night that won't be forgotten anytime soon.
Daughtry comprises Chris Daughtry (vocals), Andy Waldeck (bass), Brian Craddock (guitar), Josh Steely (guitar), Robin Diaz (drums), Elvio Fernandez (keyboards).
Set List:
Break the Spell
Feels Like Tonight
Outta My Head
Crawling Back to You
What I Want
Renegade
Gone Too Soon
Tennessee Line
Over You
No Surprise
In the Air Tonight (Phil Collins cover)
Every Time You Turn Around
Home
September
It's Not Over
LIVE! | 3 Days Grace, Daughtry with Aranda Concert Photo Gallery
[Photos by Jonna Ambur]
by Deb Rao
- Senior Columnist –
August 26, 2012 at the Vegas Rocks Magazine Awards After Party at Vinyl in Las Vegas, NV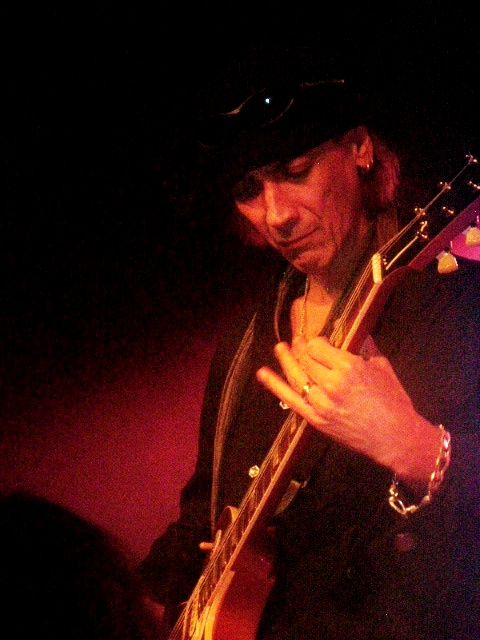 One of the hardest working bands in Las Vegas, The Sin City Sinners performed at the Vegas Rocks Magazine Awards After Party at Vinyl on August 26th. The night was filled with many exceptional performances. The festivities kicked off with special guest Paul Shortino who sang "Rainbow In The Dark." Paul was then joined onstage with Danny "The Count" Koker for a cool rendition of "Rocky Mountain Way."
The Sin City Sinners featuring Lou Merlino on vocals, Brent Muscat on guitar, Jimmy Crespo on guitar, Zachary Throne on bass, special guest drummer Jeff Torturo gave one of the most outstanding performances of their career. The band went down the classic rock route tonight, as Keel front man Ron Keel and Great White's Mark Kendall rocked the house on the Led Zeppelin classic "Whole Lotta Love." Ron Keel's vocals were outstanding. This had to be one of the best cover performances of the night. Ron has a vocal range that surely soars. As the clock struck midnight, The Sin City Sinners also celebrated their 5th Anniversary.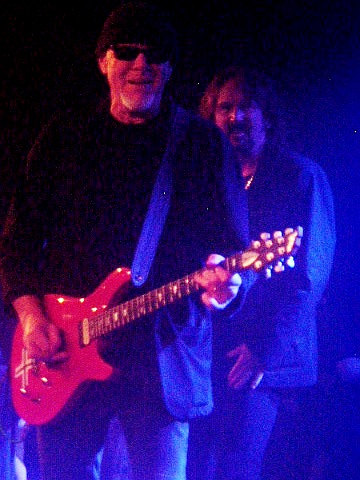 Next up Guns N' Roses guitarist DJ Ashba and Bulletboys frontman Marq Torien brought the house down with the Sin City Sinners performing the ZZ Top hit "Tush." Ron Jeremy played harmonica on ''When The Saints Come Marching In.'' DJ Eddie Trunk was also in the house. Other special guests included Frank Dimino of Angel.
The Sin City Sinners capped the night performing their riveting original songs, "It's Not You It's Me" and "Going To Vegas." But the night was not over yet! As Vinnie Paul stepped onstage for the hard rocking rendition of Judas Priest "You Got Another Thing Coming."
It was a night filled with many great celebrity guests, as the Sin City Sinners let the music do the talking with former Aerosmith guitarist Jimmy Crespo on hand in true Vegas style. The Sin City Sinners have proved they are a force to be reckoned with and one of the top working bands in Vegas today. Be sure to check out the Sin City Sinners on September 26 at Vinyl with special guest Sebastian Bach.
Web: www.facebook.com/sincitysinners
Marq Torien and DJ Ashba with Sin City Sinners Performing Tush
by Deb Rao
- Columnist –
August 4, 2012 at Fremont Street Experience in Las Vegas, NV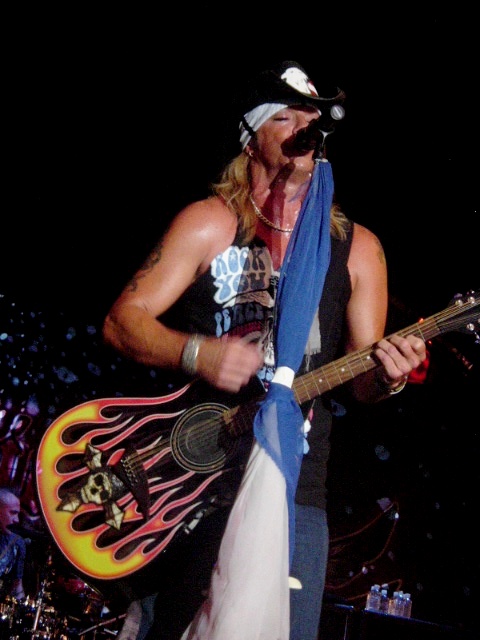 Fans were treated to "nothing but a good time," as VH1 reality star Bret Michaels took the stage for a free concert at Fremont Street Experience on August 4th. Breaking all attendance records at the Fremont Street Experience with a sea of over 20,000 fans, Bret Michaels and his solo band performed an energized set of Poison hits plus songs from his upcoming solo album Get Your Rock On.
Opening the show was Jizzy Pearl who performed two sets of classic hit songs including songs by Cheap Trick, AC/DC, LA Guns and RATT. Former Sin City Sinner, Doc Ellis, is playing guitar in the Jizzy Pearl Band. Jizzy has a voice that can sing anything and make it his own.
Bret Michaels hit the stage at 10:30 P.M. performing an hour set of all the hits. Bret has to be one of the hardest working musicians in music today! I didn't get to see him perform with Poison this year but his solo band surely made up for it. Opening with "Talk Dirty To Me," Bret captivated the audience from the get-go. Performing many Poison hits such as "Look What The Cat Dragged In" and "Fallen Angel."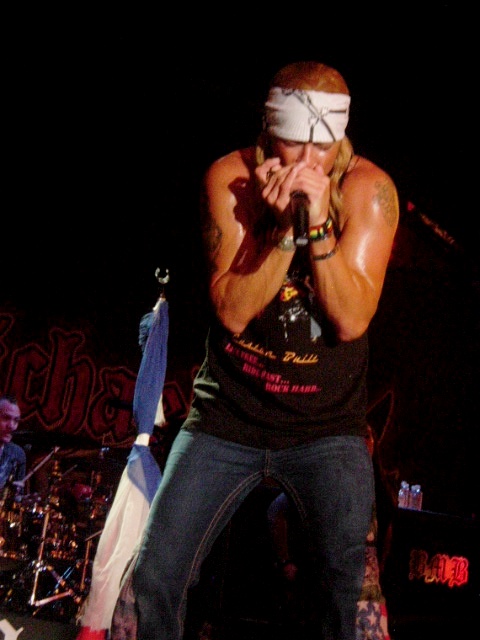 The band also performed songs from his upcoming solo album including a cool rendition of "Every Rose Has Its Thorn," and the Sublime hit "What I Got." Highlight of the evening was when Bret dedicated "Something To Believe In" to the Armed Forces, also the bluesy hit "Your Mama Don't Dance" featuring Bret on harmonica was surely riveting.
There has a been a revitalization in the downtown area of Vegas. The free concert series at Fremont Street experience is the icing on the cake with many restaurants to go to before the concert. One of the hottest casinos in the area is The D. Make sure you stop in there for dinner for the all the shows this summer.
Bret ended the show with "Nothing But A Good Time." I think all the fans there will agree; it will be hard to top this act this summer. Be sure to catch Dee Snider Sept 1 at Fremont Street Experience.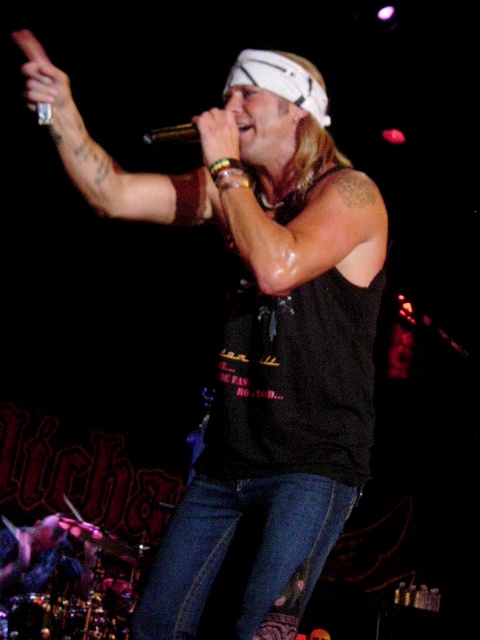 Set List:
Talk Dirty To Me
Sweet Home Alabama
Look What The Cat Dragged In
Go That Far
Something To Believe In
Unskinny Bop
Drum Solo
Your Mama Don't Dance
Every Rose Has Its Thorn
What I Got
Fallen Angel
Nothing But A Good Time
On the web: www.facebook.com/bretmichaels
by Deb Rao
Staff Writer –
March 9, 2012 at Vampd in Las Vegas, NV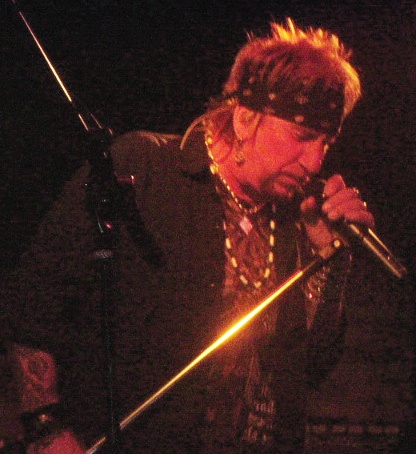 Jack Russell made a special appearance with his new version of Great White in Las Vegas at Vampd on March 9. They say you have to live the blues in order to sing them and in the past Jack Russell has surely paid his dues. But the past his all behind him, as one of Rock's best performers Jack Russell is back! Jack Russell's new version of Great White consists of a new young breed of top-notch performers including Matthew Johnson on guitar, Robby Lochner on guitar, bassist Dario Seixas and drummer Derrick Pontier.
Jack Russell performed a 90-minute set to a packed house of die-hard fans that embraced the singer's return. Jack is perhaps known for his outstanding bluesy vocals and tonight the Great White singer gave an outstanding performance, as he sang every lyric with much passion.
Jack opened the show saying that he almost didn't make it back and jokingly kidded he wasn't going to make any more deals with the devil. After witnessing tonight's performance the singer has many great years left and totally entertained the crowd with all of the Great White hits including; "Desert Moon," "Lady Red Light" and "Rock Me."
Perhaps one of the greatest highlights was during the sing along to "Face The Day" and the powerful ballad "Save Your Love." Tonight's show in Vegas goes down in history as Jack Russell and his "Great White" are back making music the fans love. The '80s were known for their powerful front man and Jack Russell is one of them. A band without their original singer is just a cover band in essence. The singer is the one who sells the records and one of the most important aspects to a band. Jack Russell proved tonight in concert that his voice is a powerful force to be reckoned with and his new line-up rocks!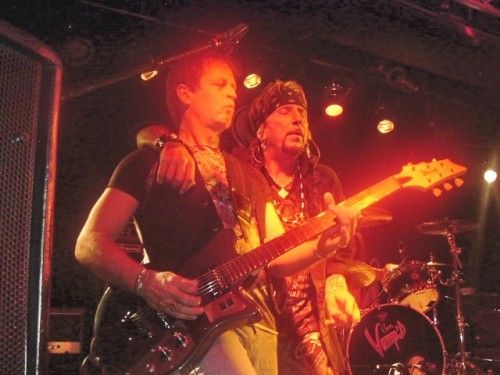 During the show Jack's new members played the blues. Guitarist Robby Lochner was amazing. Also guitarist Matthew Johnson did a great job singing on one blues song. Bassist Dario Seixas and drummer Derrick Pontier laid down the powerful grooves and are indeed the backbone to the band.
The band was called back to the stage for two encores including a song from Jack's 2002 solo album called, "Paradise" and a Led Zeppelin cover. The night would not be complete without playing one of their biggest hits, "Once Bitten Twice Shy."
Be sure to check out Jack Russell's Great White on tour. Also, the band will be performing on a special package deal this summer also featuring Pretty Boy Floyd, Bullet Boys and Lillian Axe.
After the show the band did a special meet and greet. Jack Russell wants to thanks all of his fans who have stood by him. The Staff of Hardrock Haven wishes Jack Russell all of the best on his current tour.
Set List: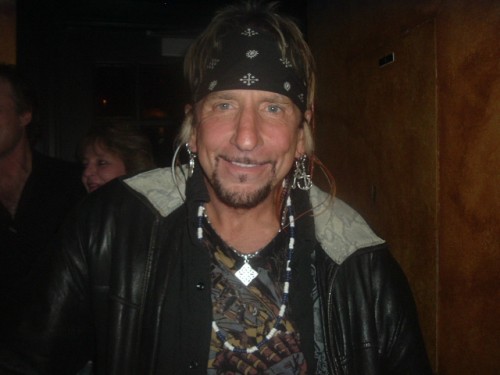 Desert Moon
Lady Red Light
House Of Broken Love
Save All Your Love
Rock Me
Face The Day
Paradise
Led Zeppelin cover
Once Bitten Twice Shy
Photos appear courtesy of Deb Rao
by Deb Rao
Staff Writer –
February 17, 2012 at Green Valley Ranch in Henderson, NV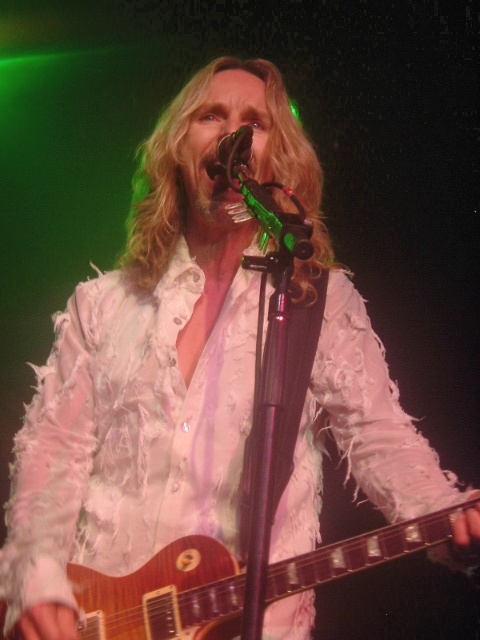 Back by popular demand, Styx returned to Vegas for a sold out performance at the Green Valley Ranch in Henderson, NV. This was my first time at the venue and the acoustics were perfect for this outstanding event. The line circled all the way down to the Grand Cafe upon entrance. The age range of the fans ranged from the die-hard early fans to the new generation of fans at the arena show.
Opening with "Blue Collar Man," singer Tommy Shaw took full command of the audience. Las Vegas radio station KOMP were playing Styx songs all week long to get the fans pumped up for the show. But nothing compares to hearing these classic hits live. Hit after Hit, Styx wasted no time kicking the show in full gear from the opening song. Next up "The Grand Illusion" and "Too Much Time On My Hands" soared.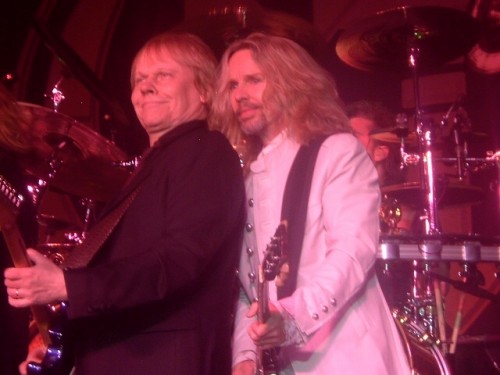 There were so many highlights of the show one of them included the song "Lady." Keyboardist Lawrence Gowan performed on a revolving platform with his keyboards. His voice was flawless. Also, I might add the harmonies of the band were spectacular. Singer Tommy Shaw said that the band wanted to perform all of the hits but also bring some of the more obscure some to the table this time around including "Man In The Wilderness." Styx has been touring non-stop. Receiving great reviews from Coast to Coast and tonight's performance was outstanding!
Highlight of the show was the acoustic performance of "Crystal Ball;" the finger-picking acoustic guitar and lyrics of this song say it all. The couple behind me even commented out loud this is one of the bands best songs! The song built into a powerful crescendo with the rest of the members of the band joining in at the end.
Not many bands have a set list full of hit songs like the classic set performed tonight by Styx. The songs brought back a lot of memories growing up. Styx ended the night with the encore "Renegade' in a blast of confetti falling from the air! Be sure to check out the band when they come to a city near you.
Special Thanks to Amanda Cagan for letting Hardrock Haven cover this event.
Set List:
Blue Collar Man
The Grand Illusion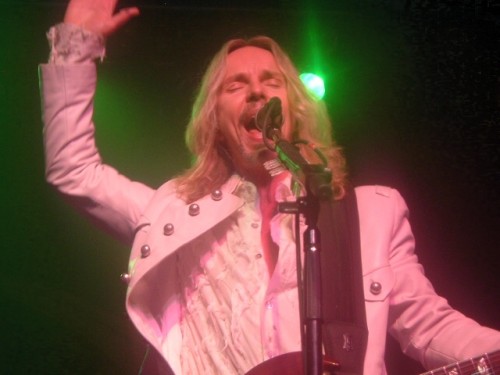 Too Much Time On My Hands
Lady
Lorelei
Man In The Wilderness
I'm OK
Crystal Ball
Suite Madam Blue
Piece Of Eight
Fooling Yourself
Miss America
Come Sail Away
Rockin' The Paradise
Renegade
Photos appear courtesy of Deb Rao
by Sara Mccarthy
Staff Writer –
February 29, 2012 at Auditorium Theatre in Rochester, NY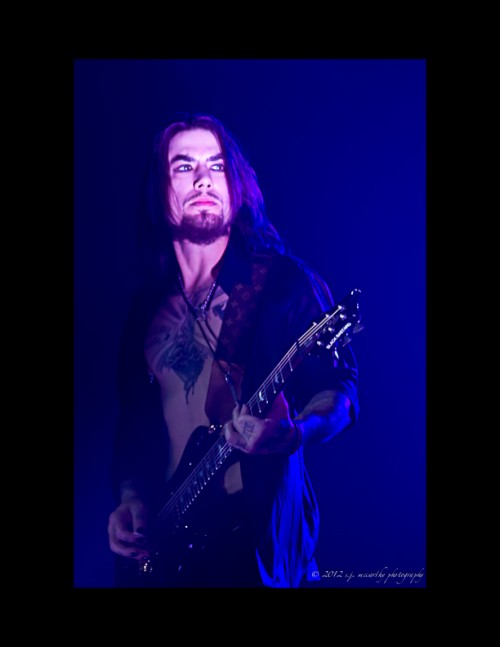 Wednesday night the Auditorium Theatre in Rochester, NY was filled to capacity with fans that grew up with Jane's Addiction through the '90s. Looking forward to a night of good music and reminiscing about their childhood and the last time the band stopped in Rochester (1991), concertgoers took advantage of the well stocked bars to begin their evening.
Opening the show was a guitar and drum duo from Brussels, Belgium, Black Box Revelation. Touring to support their recently released EP Shiver of Joy, Jan Paternoster (vocals and guitar) and Dries Van Dijck (drums and percussion) got the crowd on their feet and dancing with their growling, bluesy riffs and intense drums. Watching this duo play brings to mind, The White Stripes, The Black Keys and Middle Class Rut. Each song was a different adventure of sounds that took the listener into a world surrounded by nothing but tearing guitar and deep percussion, you could do nothing but listen and be impressed. This is a band whose star will continue to rise and the climb will be fun to watch.
The forty-minute set change transformed the stage into the Cirque de Satan Soleil, which is what Jane's Addiction is calling the Theatre of Escapists tour. Opening with "Underground" off their latest release The Great Escape Artist, two women dressed white voluminous dresses with twenty feet long skirts, were raised on trapeze bars high above the stage. The show was broken into three distinct sections, the first ending with "Ted" being paired with "Twisted Tales" and seemingly aged "home movies" of doll abuse, high school age children drinking and using drugs, adults engaged in sadomasochist sexual acts and other scenes that fit right in with a "twisted" frame of mind.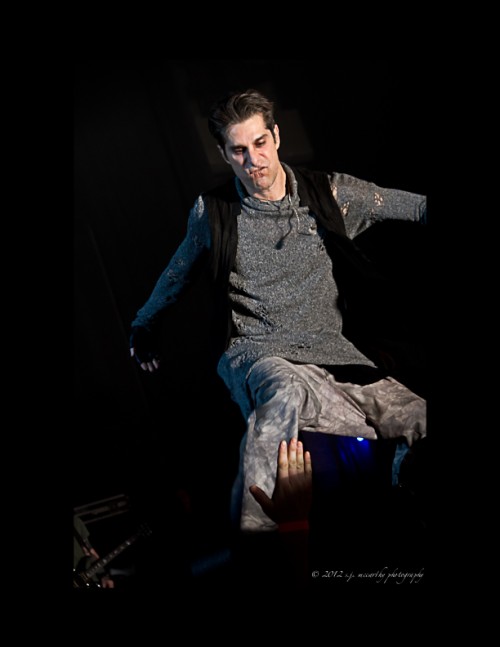 Perry Farrell, vocals, was obviously enjoying himself, interacting with the crowd and visibly reacting when he saw them singing and dancing along. Dave Navarro, guitar, shirtless and wearing an open jacket, played the part of the lead guitarist to a "T," posturing for the crowd and photographers alike. His charismatic performance showed off his skills honed from countless years of playing and touring. Bassist, Chris Chaney, also showed off his prowess producing some deep, low end sound that vibrated the internal organs of every individual within a five block radius.
The second portion of the show brought the entire band to the front of the stage, and showcased drummer, Stephen Perkins on a variety of percussion instruments. This more intimate feel brought the audience in closer with the band with "Classic Girl" setting the stage for a more mellow experience. Farrell introduced the final song in the three-song set, "Chip Away" by stating that "I've tried to find satisfaction from a woman, from a bottle and from a needle, but I will keep on chippin' away."
The final third of the band's performance showed everyone in the building exactly why after twenty plus years, this band is still able to sell out just about every show they book. "Lies" started the final leg followed by "3 Days." To say that Jane's Addiction killed it is an understatement; they took an amazing song and brought it to a new level. Fans left their seats and spilled out into the aisles dancing, all but unaware of others around them. Security tried to get them back into the rows, but eventually gave up, probably due in part to the fact that everyone was seemed to be having their own personal, but peaceful experiences. 'Stop" had the crowd even more riled jumping up and down and singing along. One of the last things Farrell had to say to the audience was a bit of sage advice to all of the "old people out there keep dancing or die!"
Jane's Addiction Set List:
Underground
Mountain Song
Just Because
Been Caught Stealing
Ain't No Right
Ted
Twisted Tales
Classic Girl
Jane Says
Chip Away
Lies
3 Days
Stop
Words Right Outta My Mouth
Ocean
Jane's Addiction with Black Box Revelation Photo Gallery
Photos appear courtesy of Sara Mccarthy
by Alissa Ordabai
Staff Writer –
February 22, 2012 at The Underworld in London, UK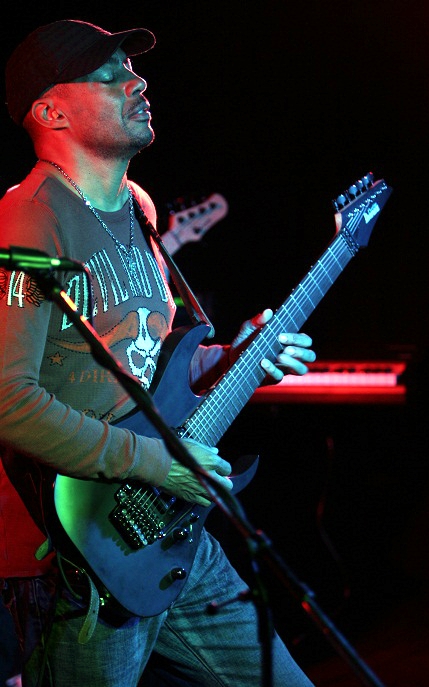 Currently in Europe road-testing his new self-titled album, the guitar virtuoso Tony MacAlpine is proving yet again that his solo records remain his most exciting work. After keeping busy touring as a member of Steve Vai's live band, collaborating with Billy Sheehan, Virgil Donati, and other hotshots on prog-rock projects, as well as releasing jazz fusion CDs, the veteran of high-tech guitar is now back to being the grand master of his own creative universe.
Comprised of Angra drummer Aquiles Priester, Bjorn Englen on the bass (who also plays for Yngwie Malmsteen) and a 23 year-old up-and-comer Nili Brosh on the second guitar, MacAlpine's live band is a tough-sounding combination of ferocity and discipline – something Londoners got a taste of first-hand at the Underworld club last Wednesday.
Not interested in overwhelming or intimidating his audience (which on the night – incidentally – included Herman Li from Dragonforce as well as a whole bunch of aspiring local shredders), MacAlpine made this show at once accessible and utterly futuristic, combining his instant-grip melodies with the angular punch of riff-heavy prog-rock.
The organic way in which MacAlpine weaves his insanely complex solos into the fabric of his songs, plus the way his melodies are at once memorable and constantly expanding, draws in the unprepared, while also keeping the most discerning high-brows on their toes.
The band was clockwork-tight, despite this being their first tour together. Aquiles Priester can go from melodic, hypnotically fluid beats to a roiling groove all within the space of one song, and floats perfectly even the most complex harmonic changes. Far from just keeping time, he builds several layers of texture, but never sounds cluttered while doing that – something which not only adds heat to the proceedings, but gives them an extra sonic and compositional dimension.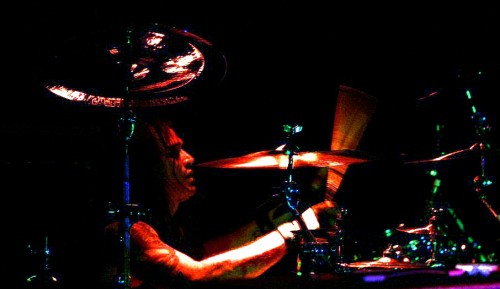 Nili Brosh's volume was at times completely inaudible, but when her 7-string guitar was managing to cut through the mix, she complimented MacAlpine's leads spot-on, sometimes playing in unison with his neck-break passages, and sometimes taking over all the guitar duties when MacAlpine was soloing on the electric piano. She is a young, camera-shy performer, studiously sincere and industrious (which is affirmed by her faculty membership at Berklee College of Music), but only beginning to find out about the balance between supporting a monster player and expressing herself.
But it was not MacAlpine's instrumental wizardry – be it on the guitar or the keyboard – which was the biggest draw of the show. Nor was it the tasty, richly articulated fiesta of Priester's drumming. As the band picked momentum, launching into the most audacious songs of MacAlpine's first 1985 album The Edge of Insanity, suddenly the door into a different world was flung wide open. The sprawling soundscapes, soaring melodies and swirls and sparks of the lightning-fast, but at the same time non-obsessive guitar solos was where you forgot about the technique and let the actual music do its magic.
Somewhere between metal, prog-rock and melodic rock, MacAlpine's material – be it old or new – escapes categorisation. Probably because he never thought of it in terms of genres, as he told this writer before the show. To him compartmentalization has always seemed artificial, and with his breadth of musical knowledge – stretching from his classical piano training to his love for jazz – this allows him to play without the weight of history on his back.
MacAlpine's music has changed since the release of The Edge of Insanity in 1985, but while the new record sounds edgier and darker compared to the sunny vibe of his earlier albums, there is that balance of chops, structure, and emotion that unites them, despite the transfiguration's of the past 25 years in music in general and in MacAlpine's own inner continuum. The highlight of the show "Ölüdeniz" from the new record was one such number with the melody so open and so poignant that it erased distinctions between the Eighties and the now, between the high-brow and the low-brow, connecting with the audience through the heart, not through the brain.
"We are not going back to the big hair days!" MacAlpine laughs when asked about the vibe he feels when playing the new tunes and the material from 1985 in the same set. But the fact that he plays his very first record in its entirety on this tour shows that the material was able to stand the test of time. Asked if how he sees the difference between being a guitar player now as opposed to the Eighties, he tells me that both the instruments and the amps have become better: "In the Eighties you had a whole rack of effects, while now it is all built into the amp."
Not a big fan of complexly layered guitar effects, on the night MacAlpine made sure his tone was clear and vivid. He used the Hughes & Kettner amp with the Coreblade head which allows guitarists to upload presets, and which he says is helpful in live situations because the rig is already included in the amp head.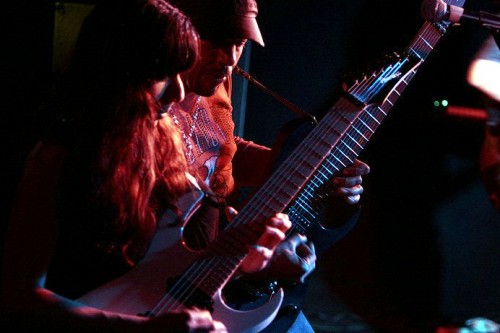 But the "sonic fullness" which he sometimes refers to in interviews is there mainly thanks to his 8-string guitar which allows him to double harmonies and musical phrases with other instruments, especially with the bass. This way he can diversify the lower end of the sonic spectrum without overloading the lower register.
MacAlpine's custom-made 8-string Ibanez Prestige looked swaggeringly high-style on the night, but rather than the instrument itself, the most spectacular visuals came from watching his formidable chops up-close – something which an intimate venue such as the Underworld is brilliant at allowing you to do. MacAlpine's superhuman right-hand technique, the flying successions of pitch-perfect bends, his spare but tasteful tapping – all this seamlessly blended with the songs. The combination of dazzling flights of imagination and the down-to-earth craft, the magic and the technique, the personal and the traditional is what makes seeing MacAlpine live such an authentic experience. This is where it's at – music which shares something real, played by someone who cares deeply enough to have progressed to the highest standards of his craft to match his inner realities.
Set List:
1. Wheel of Fortune
2. The Stranger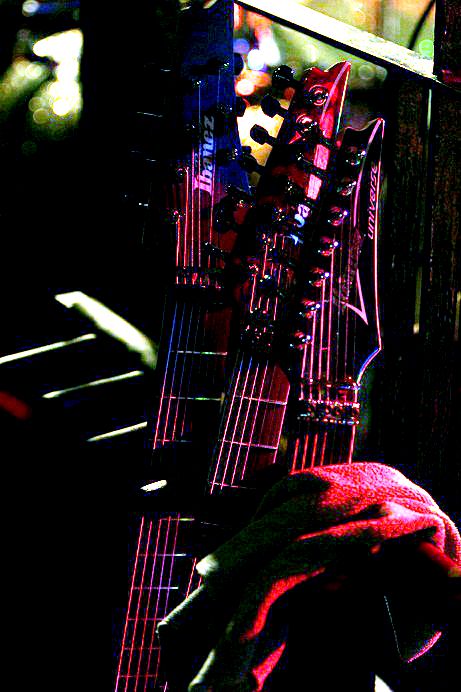 3. Quarter to Midnight
4. Agrionia
5. Empire in the Sky
6. The Witch and the Priest
7. Keyboard solo by Tony MacAlpine
8. The Taker
9. Edge of Insanity
10. The Raven
11. No Place in Time
12. Angel of Twilight
13. Ölüdeniz
14. The Sage
15. Tears of Sahara
16. The Violin Song
17. Serpens Cauda
18. PsychOctopus
19. Aquiles Priester drum solo
20. Stream Dream
21. Pyrokinesis
Encore:
1. Guitar Solo by Tony MacAlpine
2. Hundreds of Thousands
Photos appear courtesy of Alissa Ordabai
by Deb Rao
Staff Writer –
February 15, 2012 at The Joint, London in Las Vegas, NV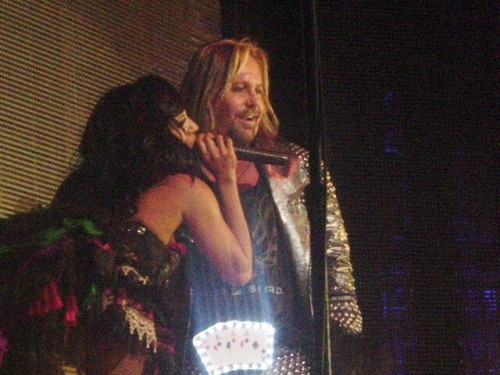 On Feb. 3, Las Vegas Mayor Carolyn Goodman declared it Motley Crue day. One of the most notorious bands in metal, they raised the bar high as metal's finest and just wrapped up a three-week residency at The Joint at the Hard Rock Cafe. Las Vegas may be known as the city of residencies with Celine Dion and Elton John, but no one can match the over the top musical reign that The Crue hosted. Complete with enough pyro, flash pods, video screens, midgets and dancing girls, Motley Crue lit up The Strip.
Opening with "Live Wire," Motley Crue performed all of the hits plus a few obscure tunes in a two hour power packed set. From the song "Wildside," to "Shout At the Devil," the magic of these timeless hits outshined the stage set. Vince Neil was in great voice and ready to rock his hometown Las Vegas crowd. The rhythm section of bassist Nikki Sixx and drummer Tommy Lee pummeled the driving hit songs. Only the Crue could perform a three-week residency without getting boring. Keeping it fresh and over the top, just as the fans that have been with the band from day one would expect.
What would Vegas be without a mock wedding? As a fake minister wed Vince to one of the dancing girls. Motley Crue then launched into an acoustic set with on a floating stage that had to be one of my favorite parts of the show. Nikki SIxx told the crowd, "The acoustic set was a first for the band. We want to portray the band as band of brothers who write songs in their living room." They performed three songs acoustically including, "Don't Go Away Mad", "Without You" and "On With The Show."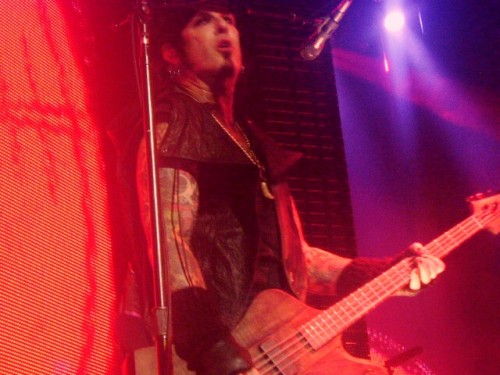 Nikki Sixx performed a riveting bass intro for "Primal Scream." Another highlight was Tommy Lee's drum solo in a 360-degree angle. Tommy also invited one fan to sit next to him and do the spin around in his daring drum solo. Motley Crue went back to their heyday with "Smokin' In The Boys Room." The audience was caught off guard during "Kickstart My Heart," as fake blood spiraled into the audience. Nikki Sixx became a blood spitting bassist. All in good fun of course.
Motley Crue ended the set with encore, "Home Sweet Home." As the floating piano descended onto the floor with Tommy Lee and Vince Neil glided through the crowd. It was a once in a lifetime chance to see Motley Crue up close and personal. Hopefully, Motley Crue will do another residency soon. The stars came out to shine, as Vinnie Paul of Hell Yeah was cited at the show I reviewed.
Many Thanks to Motley Crue, and their management at 10th Street for letting Hardrock Haven review the show.
Set List:
Live Wire
Wildside
Too Fast For Love
Saints Of Los Angeles
Shout At The Devil
Afraid
Same Ol' Situation
Without You
On With The Show
Don't Go Away Mad
Looks That Kill
Mick Guitar Solo
Piece Of Your Action
Primal Scream
Dr. Feelgood
Tommy Lee Drum Solo
Smokin' In The Boys Room
Girls, Girls.Girls
Kickstart My Heart
Encore
Home Sweet Home
Photos Appear Courtesy of Deb Rao
by Alissa Ordabai
Staff Writer –
February 16, 2012 at The Islington O2 Academy, London, U.K.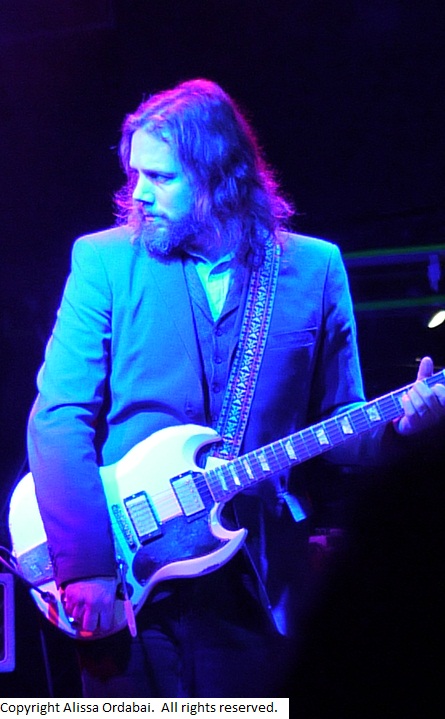 There comes a time in every rock musician's life to stand up and deliver on their own. And the way you respond to this challenge is telling in more ways than one. Your chops, your songwriting, and your charisma – or the lack of it – are suddenly under the microscope. If you are a guitarist, you will also unexpectedly find yourself up for scrutiny against the most competitive bunch in the world – other guitarists. Even if you have never wished, dreamed or aimed to be measured against the virtuosos, the visionaries, the icons, or simply those who eat, drink and sleep guitar.
So spare a thought for Rich Robinson who after years in a mammoth band began venturing out on his own about 8 years ago without his superstar big brother Chris or the instrumental support of such prodigiously talented axe-men as Marc Ford or Luther Dickinson.
Currently on the road with his second solo album Through a Crooked Sun, Robinson played the London date at the Islington O2 Academy, almost selling out the 700-capacity venue. Expectations were running high, with the uplifted vibe in the room already before Robinson hit the stage. What the crowd was presented with, however, was illuminating in more ways than anyone has initially expected.
To start with, it soon became clear that there are inner realities which Robinson could have conveyed with more transparency and more depth had he had a richer instrumental vocabulary.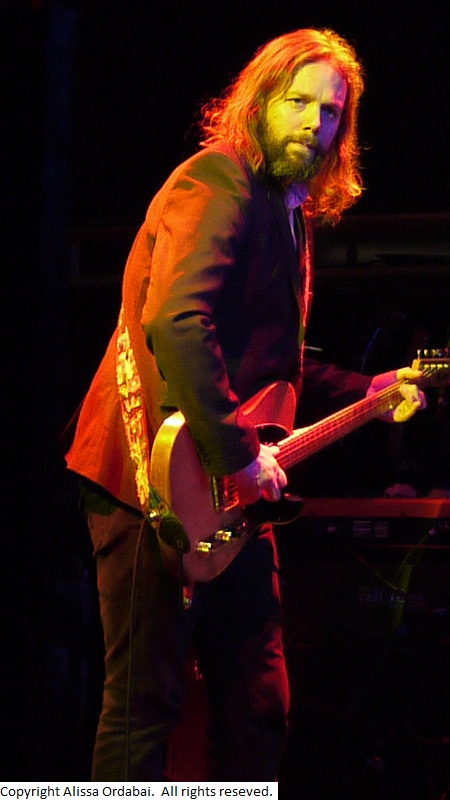 What those realities are for now remains somewhat of an enigma, with only glimpses revealed during the show, and the rest obscured by the clichéd blues, country, and blues-rock formulas – a received tradition Robinson chose to merge with decades ago when he was still a young man, and which to this day he doesn't risk stepping away from.
One gem which showed that there is more to Robinson than standard-issue Americana, was the highlight of the new record "Standing on the Surface of the Sun". The late Sixties psychedelic vibe – elegantly understated, but at the same time touchingly sincere – was where Robinson managed to match the inner and the outer with spot-on precision. The song was all about the intuitively, yet accurately balanced atmosphere of regret, hope a dash of knowing bitterness, channeled through eerie retro-style psychedelia with a hint of the blues. This is where it's at with Robinson, and had he explored this direction further, the set would have been a far more poignant affair.
The crowd welcomed this standout in the best way an English crowd can do, perhaps doubly grateful for this treat which came almost straight after the cover of the Rolling Stones ballad "Winter" – the low point of the show where the magic of the original became smothered, but no alternative angle offered instead. A rather apathetic vocalist, and an unsophisticated guitarist, this time Robinson tackled a song too subtle for him, despite its seeming simplicity.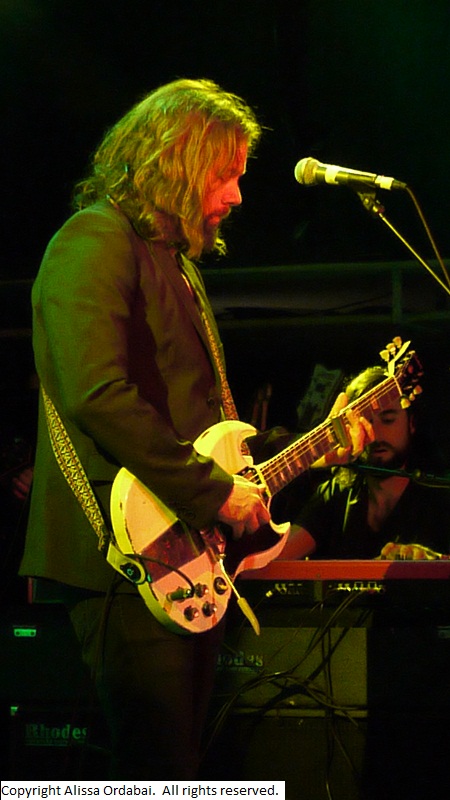 So apart from occasional contrasts in hue, several blunders, and several lucky finds, the proceedings on the night stayed level, with nuances and the most tasteful instrumental parts supplied by the elegant, non-obsessive keyboard parts floating Robinson's uncomplicated guitar while never overshadowing him.
And speaking of the guitar parts, those were mostly standard-issue blues-rock affairs – always somewhere between real grit and genuine fluidity, perhaps lacking in edge or depth, but still good entertainment, with occasional savory slide-work thrown in, sounding at their best when working a simple, time-tested blues-rock groove. The sometimes muddled, undefined guitar sound in the live mix was partly to blame for the blurry impression from the show, but where Robinson meant to be direct and clear, he was – especially when demonstrating his slide prowess or driving an unaccompanied groove on some of the intros.
Not interested in protracted solos or in extrapolating extra meaning from what the songs already offer, Robinson fundamentally is a solid rhythm guitarist with a natural feel for riffs, grooves and ostinato repetitions – the bread and butter of the Southern rock tradition and an indispensable part of the sound and the feel of the Black Crowes. Whether he has enough to say to launch a full-scale solo career remains to be seen. There is probably more songwriting to be done and more time to be spent with the guitar before anything would emerge beyond the habitual conventions, well-trodden paths, and safe formulas.
Photos Appear Courtesy of Alissa Ordabai
by Alissa Ordabai
Staff Writer –
February 13, 2012 at The Underworld, London, U.K.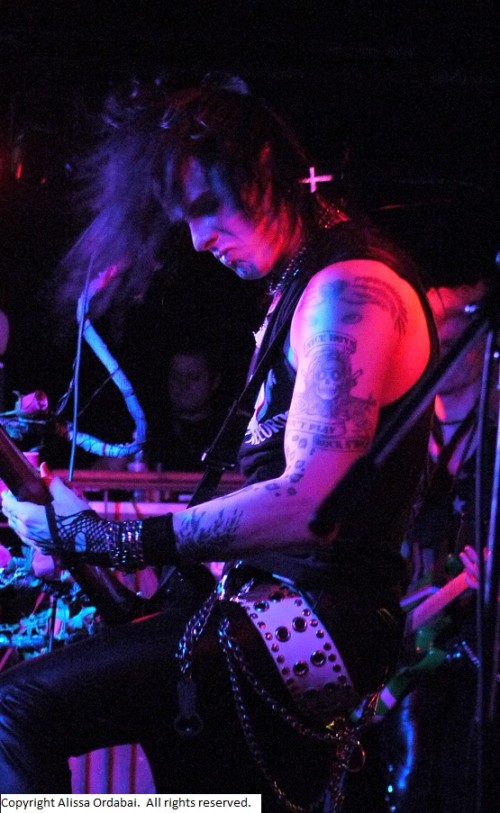 Think of the late 19th century French libertines, but this time clad in leather and animal print, and using music as their weapon of choice instead of literature. That doesn't mean, however, that our heroes are any less decadent than their honourable Symbolist predecessors. Because where Rimbaud and Baudelaire both charmed and shocked with one sharp verse, this quartet of rock'n'roll profligates uses riffs and grooves no less poignant, tied to melodies that you have to hear once to remember forever.
BlackRain, France's newest glam metal export, is one of those rare revivalist bands who manage to turn a nostalgia for a past trend into a personal statement. Mixing the traditional hedonistic spirit of the French bohemia with the late Eighties decadent swagger of Hollywood, they already have gathered an impressive following not only in Europe, but also as far as Japan. And tonight it was London's turn to find out what the buzz has been all about for the past 3years.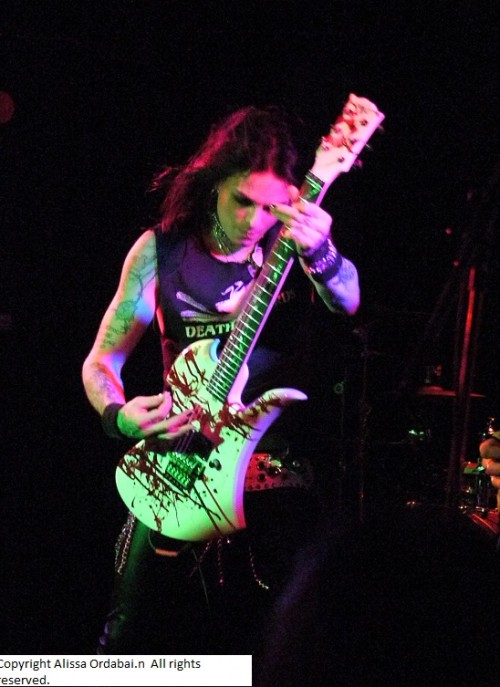 Propulsive riffs, instant-grip melodies, roiling grooves, and a piercingly high, gritty vocals of singer Swan is what hits you first when you hear BlackRain live. Add to this the band's exuberant – but still elegantly thought-through visual image – and you will understand why the London crowd welcomed BlackRain with open arms. Non-existent promotional effort was to blame for a rather modest turnout on the night, but everyone who did turn up was scrambling for space in front of the stage already by the middle of the first song.
Lead guitarist Max 2 may not be into high tech fretboard acrobatics, but delivers his hefty leads with precision and confidence of someone who honed his chops through years of touring and playing support for such luminaries as Alice Cooper and the Scorpions. Knowing how to deliver his solos with laconic punch, he compliments singer Swan perfectly – expanding the melody and complimenting the vocal lines while never overplaying.
And Swan's vocals remained the focal point throughout the show. There is unusual – even for glam – audacity about his singing, with latitude from sharp screams to gravelly snarls. A times this spookily brings to mind young Tom Keifer's aplomb and razor-sharp focus, but with Swan it's all about remaining himself, even when he channels his favourite Eighties icons or when he hints at the lineage going further – sometimes all the way back to Robert Plant and early Ozzy.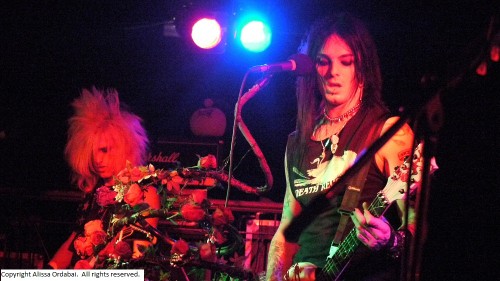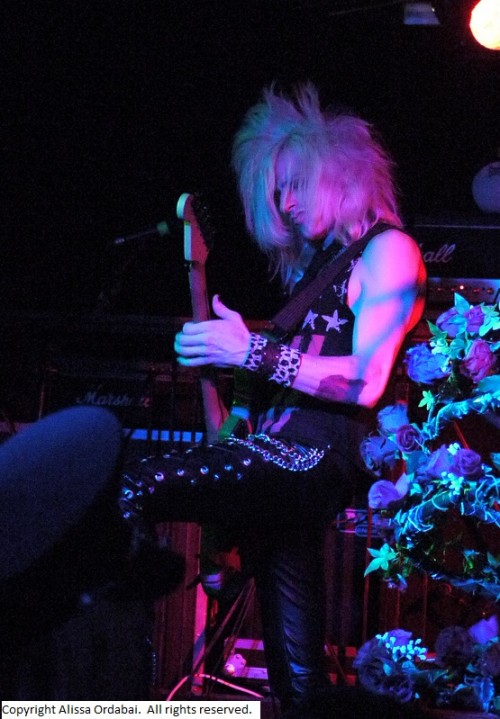 But it's that unmistakable feel of a real thing and the energy of a band believing in what it does which made the crowd demand the encore on the night. What for Swan and Max 2 started in 2002 with playing covers of W.A.S.P. and Motley Crue at their local biker clubs in France, has now developed an independent phenomenon – a killer band with riotous songs, explosive delivery, and fans being recruited at lightning speed wherever they play.
The crowd didn't want to let the band go, chanting their name and singing the most memorable hooks from the show to cajole them back on stage. Sadly, to no avail. For now, however, those in the UK who didn't get a chance to see BlackRain in London, can still catch them on their upcoming dates in Bolton, Cardiff, Nottingham, or Glasgow.
Meanwhile, anyone interested in hearing how brazenly glam metal is continuing to expand in the new millennium, is urged to check BlackRain's 2009 album License to Thrill and the newly released CD A Lethal Dose of…. On both releases the band is tapping into the canonic beau ideal of glam rock with a perfect sense of taste and true originality.
Photos Appear Courtesy of Alissa Ordabai
by Alissa Ordabai
Staff Writer –
February 11, 2012 at Brixton Academy, London, U.K.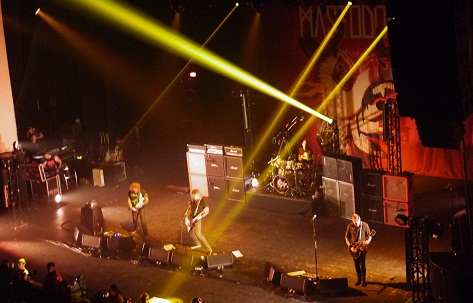 There couldn't have been a greater difference between the finely wrought, multi-layered sound of Mastodon's latest album and the way they sounded on the London date of their current tour. While most concert-goers know that projecting studio material live is a difficult art to master – especially if the songs are new – tonight's performance showed that Mastodon this time have found it particularly hard.
To do the band justice, their muddled, edgeless soundscape on the night was to a large extent the sound engineer's doing. The front of house mix was the worst this writer has ever witnessed at the 2000-seater Brixton Academy over the past 18 years: drums to the fore, guitars and bass crammed into mid-range and sharing so many frequencies they were losing their contours and becoming indistinguishable from each other, and vocals buried deep within the jumble of this unbalanced, disproportionate mix. And it would be hard to believe that the engineer could be following anyone else's instructions and thickening up the band's sound to the point where it became such a jumble.
As a result, even anthems such as "Black Tongue" and "All the Heavy Lifting" were projecting on the sheer power of the songwriting, but at half-strength, with riffs and grooves drowning in the mix where guitars were struggling for definition.
While in the studio Mastodon's rhythm section is a formidable beast – locked in a powerful, textured, multi-layered interaction, tonight the drums and the bass seemed to exist in different dimensions. The drums were performing with their usual clockwork precision, but were excessively, unreasonably loud, while the bass sounded muddled and was scrambling for space with the guitars.
Songs followed each other in a stream of poorly defined texture, and it is the superb songwriting and nothing else that made "Black Tongue" and "Blasteroid" stand out from this sonic goulash.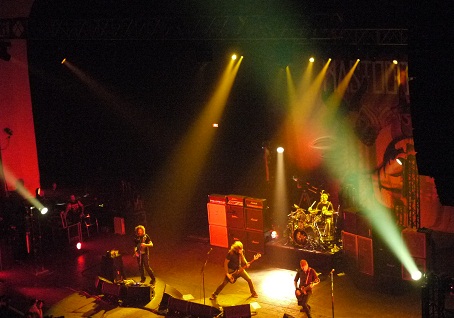 Things picked up during "All the Heavy Lifting", "Spectrelight" and "Curl of the Burl" – the highlights of the show which drew animated response from the sold-out venue. But if problems with the sound are that severe as they were on the night, all of it is bound to affect the musicians. And while Mastodon weren't firing on all cylinders, you can't fault the band for not giving up under the circumstances.
Mastodon, of course, are no virtuosos when it comes to instrumental skill, but flashy chops isn't what this band is about. With them, it's all about great grooves, epic moods (which sadly they were able to convey only occasionally this time), and the candour with which they channel the primordial archetypes to build and inhabit their universe.
The London date, while not projecting half of what Mastodon is capable of, was nevertheless a telling experience. It showed that with a certain type of band – where instrumental mastery is not the biggest aim – factors such a poor sound mix can turn what could still have been a good performance into a disappointment. And while band can create marvels in the studio, when it comes to touring, the whole thing turns into a completely different ballgame.
Set list:
1. Dry Bone Valley
2. Black Tongue
3. Crystal Skull
4. I Am Ahab
5. Capillarian Crest
6. Colony of Birchmen
7. Megalodon
8. Thickening
9. Blasteroid
10. Sleeping Giant
11. Ghost of Karelia
12. All the Heavy Lifting
13. Spectrelight
14. Curl of the Burl
15. Bedazzled Fingernails
16. Circle of Cysquatch
17. Aqua Dementia
18. Crack the Skye
19. Where Strides the Behemoth
10. Iron Tusk
11. March of the Fire Ants
12. Blood Thunder
Encore:
Creature Lives
Photos Appear Courtesy of Alissa Ordabai
by Deb Rao
Staff Writer –
February 3, 2012 at Club Fortune in Henderson, NV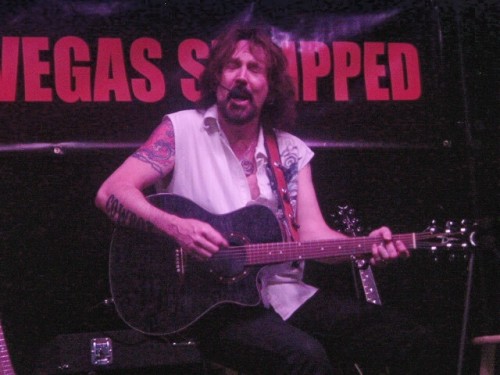 Since I moved to Las Vegas a year ago Valentine's Day, there is one thing that I have noticed tremendously. Vegas has a very tight knit musical community. One of the main reasons that the singer songwriter community is thriving is due to musicians like '80s rock veteran Ron Keel and Brent Muscat keeping the music alive in clubs all over town.
Last Friday night, I went to Ron Keel's Las Vegas Stripped show at Club Fortune in Henderson. There were many singer songwriters there and featured act were Brent Muscat and Scotty Griffin from the very popular Sin City Sinners. Before the feature act took the stage singer/songwriters had an opportunity to perform three songs. It was great to be able to perform three songs off of my latest songs from my CD, The Looking Glass in front of such an enthusiastic audience. Between performers singer Ron Keel performed songs from Keel and a few of his favorite cover tunes. Ron has an incredible voice and his talent is outstanding. Other performers who stood out were blues singer Bud Mickle that performed his new song, "Just Leave Me The Bottle."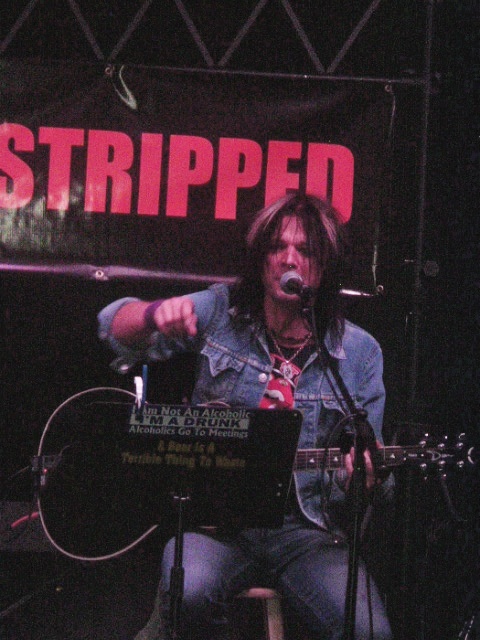 I was looking forward to hearing feature act Brent Muscat and Scotty Griffin form the Sin City Sinners perform acoustically. This was sure a magical treat indeed. Brent and Scotty took the stage a little after 9 P.M. They were joined onstage by Ron Keel and performed four songs, opening with "Because The Night." It was so heartwarming hearing Brent talk about his time with Faster Pussycat and opening for Kiss. The band performed a riveting version of "Hard Luck Woman", but the magic didn't end there. Fans were treated to a great rockin' version of Faster Pussycat's "House Of Pain." The set ended with the song "Sin City." Brent said when he moved to Las Vegas from LA he wanted to do something different.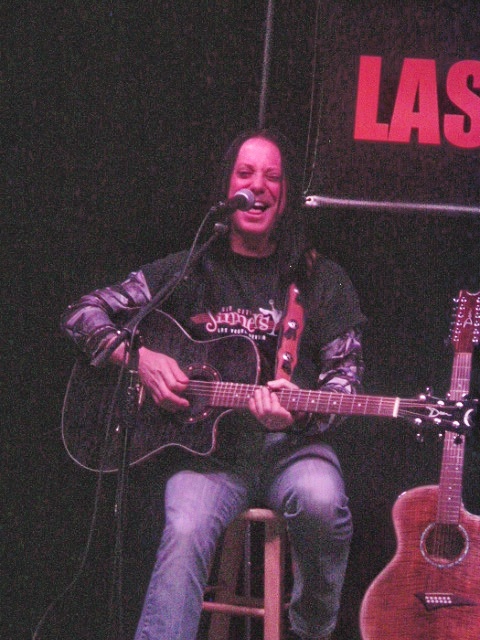 He wanted to start a rock and roll community. An event like this would never happen in Los Angeles. It would cost 20 dollars to park and get into the venue. Brent said he was just happy to be able to play music. He spoke candidly of being a cancer survivor and being cancer free for five years. Brent has done so much to keep the music alive in the clubs.
A true song stands on its own acoustically. It was great hearing Brent, Scotty, and Ron at Las Vegas Stripped. Be sure to check out www.ronkeel.com for upcoming Las Vegas Stripped shows. Next one is slated at Club Fortune on Feb. 17. Stay tuned for our exclusive interview with Ron Keel.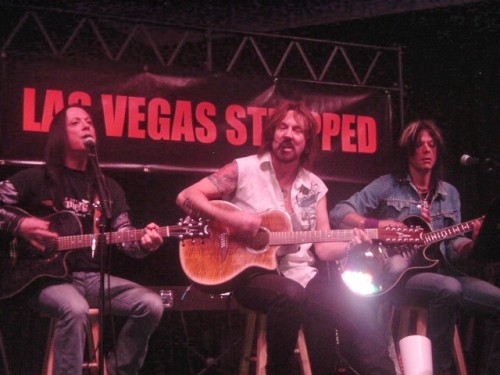 Photos Appear Courtesy of Deb Rao
by Deb Rao
Staff Writer –
November 17, 2011 at Vamp'd in Las Vegas, NV.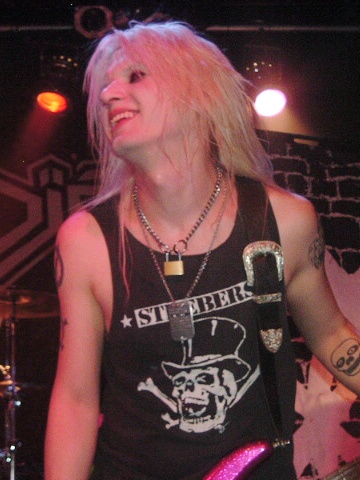 One of the hottest bands to emerge out of Sweden metal scene, Crashdiet, graced the shores of the West Coast in their first North American tour. Crashdiet made a special stop in Las Vegas performing at one of the best live music venues in the area Vamp'd on Nov. 17. From the response of the packed house on a Thursday night in Sin City, it is hard to believe it was Sweden's finest Crashdiet first time to perform in town.
I had the opportunity to talk with the band before the show and they were happy to announce that the glam metal scene is alive and well. They are proud to be a part of the new generation of glam metal bands taking the world by storm. Hot off the heels of performing at the Sweden Rock Festival this past summer, Crashdiet hit the stage at 11:30 P.M. with a vengeance. For one night Sin City rock club Vamp'd was turned into a scene right out of the '80s Sunset Strip when Metal ruled the scene and boys had long hair and played loud and hard.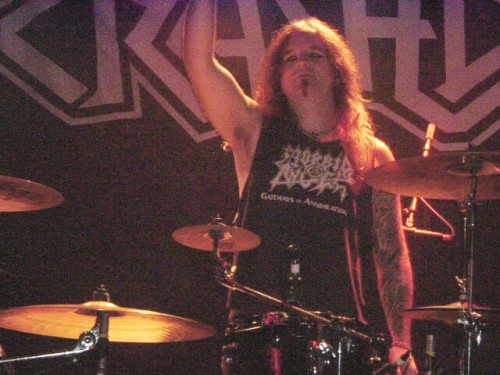 Fronted by lead singer Simon Cruz, sporting a New York Dolls shirt, Crashdiet opened the show with "Breakin' The Chainz." The band also features Eric Young on drums, Martin Sweet on guitar and bassist Peter London. From the moment Crashdiet hit the stage fists were in the air singing along to every song. Perhaps, the best way to describe Crashdiet's sound is Guns N' Roses meets the New York Dolls. Raw and energized, the band played catchy songs full of young angst and aggression!
Drummer Eric Young and bassist Peter London laid down the feverish rhythm section. Guitarist Martin Sweet reminds me of a young Mick Mars. Crashdiet performed crowd favorites such as "Chemical", "Down With The Dust", and "Rebel." My favorite moment occurred at the end of the set when the band performed "Generation Wild", the title track from their latest release. This song could very well be the anthem of fans from the new metal generation. It has a powerful chorus and called for a moment of deja vu. This song reminded me of hearing "Young Gone Wild" for the first time. It was so refreshing to walk into club and hear a band perform with so much energy. Crashdiet has my vote for breakthrough band of 2011. Stay tuned for exclusive interview with the band.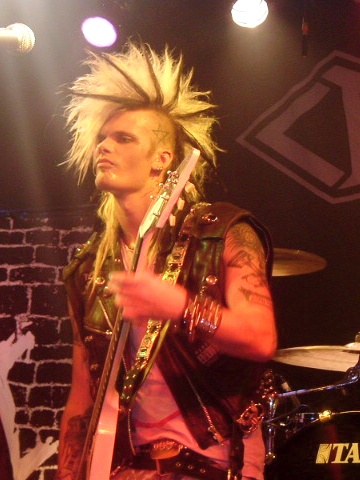 Crashdiet Set List:
Breakin' The Chainz
Down With The Dust
So Alive
Riot In Everyone
Bound To Fall
Chemical
Straight Outta Hell
In The Raw
Queen Obscene/69 Shots
Rebel
Generation Wild
Photos appear courtesy of Deb Rao
by Ron and Don Higgins
Staff Writer
August 3, 2011 at Riverbend Music Center, Cincinnati, Ohio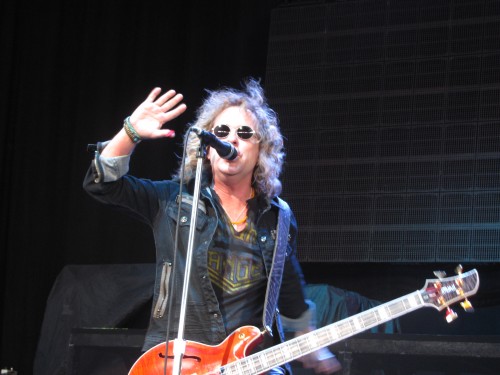 Night Ranger's 30th Anniversary tour rocked through Cincinnati, Ohio recently, opening up for rock and roll heavyweights Foreigner and Journey. Unlike the other bands, Night Ranger still features their original lead singers, bassist Jack Blades and drummer Kelly Keagy, and therefore sound exactly like fans remember from their glory days of the 1980s. Founding member, guitarist Brad Gillis, is still with the band as well and doesn't appear to have aged a bit, either in appearance or musicianship. He's as sharp as ever and, if anything, laying down even heavier, rocking licks. Rounding out the band is guitarist Joel Hoekstra, who also plays lead guitar in the Broadway hit "Rock of Ages" and recently toured with TSO, and keyboardist Eric Levy.
The night started out with a quick meet-and-greet with the band. Unfortunately, the meeting was very short since it was held before the show and the band had to hit the stage in 20 minutes. However, it was long enough to spend a few minutes chatting with the guys, thanking Brad for the phone interview conducted the day before (transcription coming soon!) and getting the band to autograph the cover of their awesome debut album Dawn Patrol.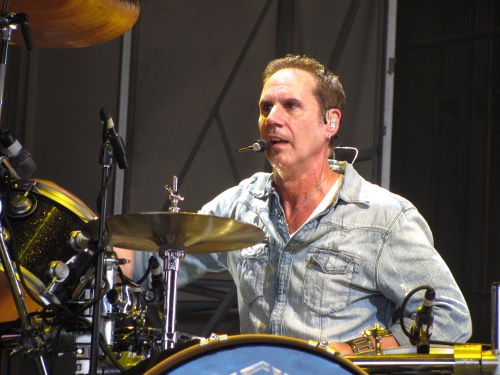 Once the meet-and-greet was over, there was just enough time to head back to the front office, grab a photo pass and head right back down to the front of the stage to take some pictures of their killer set. Interestingly, they kicked off their set with "Lay It On Me" from their new album Somewhere in California. It was a bold choice given its relative obscurity but given that it's one of the best songs on the album (and the heaviest) it was a great choice. People sometimes forget that Night Ranger, although known for some monster ballads, was formed by Ozzy Osbourne's ex-guitarist. To read a review of this incredible album (rated 9.25 out of 10 by Hardrock Haven), just click here: http://hardrockhaven.net/online/2011/night-ranger-somewhere-in-california/.
After introducing the crowd to their impressive new music, they switched to familiar territory with their hit ballad "Sing Me Away" from their first album. The crowd joined in on the familiar chorus as they prepared themselves for a long evening of singing along to the soundtrack of their lives. Surprisingly, their third song wasn't even one of their own songs! It may seem strange for such a well established band to play a cover song when playing such a short set but given that the song was "High Enough", the massive hit by Jack's other "supergroup" band Damn Yankees, it's really not too surprising. This song made it all the way to #3 on Billboard's Hot 100 back in 1990 so the crowd was certainly familiar with it. More group singing ensued. Playing the vocal part of Tommy Shaw was Kelly and filling the shoes of the Motor City Madman was Brad, who is certainly a capable fill-in for The Nuge.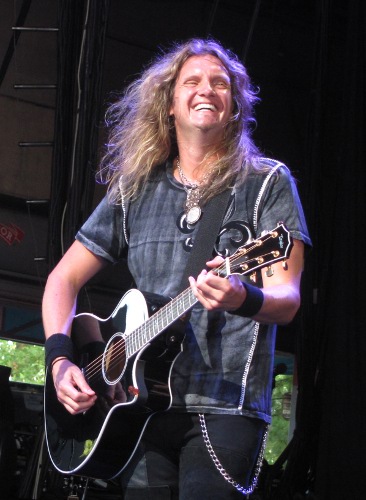 At the midpoint of their set, they played one of their biggest hits "When You Close Your Eyes" from their platinum selling Midnight Madness. This was followed up by their first big video hit "Don't Tell Me You Love Me", which enjoyed heavy rotation on MTV during its early years. Even today it's hard to hear this song without picturing Jack standing on railroad tracks!
Finally, they played the song everyone was waiting for, their biggest hit "Sister Christian." This song continues to show up on compilation disks, frequently mislabeled as a "Power Ballad," and is definitely a fan favorite. Kelly walked out from behind his drum kit with sticks in hand and began leading the crowd as if he were a symphony orchestra conductor. Fortunately, his voice was in fine shape and their rendition of this iconic song didn't disappoint. Sometimes his voice can be a little shaky due to overuse from singing night after night but on this night he sounded perfect. At this point, the crowd was in a state of rock and roll bliss and fully ready to welcome the night's next to acts. However, Night Ranger weren't quite finished yet. A stage hand brought out a large American flag and, joining in the patriotic spirit, both Brad and Joel played red, white and blue guitars as they finished up their set with their popular rocker, "(You Can Still) Rock in America."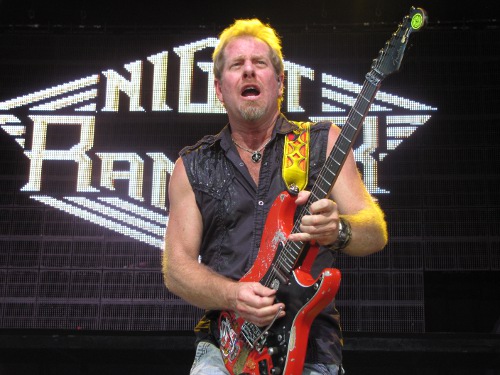 Overall, they put on a high energy show, they looked great, they played great, and they sounded great. Just as important, they appeared to really be having fun on stage. This is a band that is celebrating their 30th anniversary and yet they played with the swagger and vigor of guys half their age. They've been around the proverbial block and are clearly happy with the current state of their careers in 2011. They could spend all of their time looking backwards but instead seem to be more interested with enjoying the present and moving into the future with their best new material in years.
The only downside to their show was the short set list. With three bands, the opening act is always going to have a limited set but as well as they were playing it would've been nice to hear them play more. Only getting to hear them tear through seven awesome songs merely whets the appetite to see them play a full show. If you get a chance to see them on this current tour with legendary acts like Foreigner and Journey, run, don't walk to your nearest ticket agent. After all, you can see these three amazing bands for as cheap as $30, which is an incredible deal. On this particular summer night, it was nice to see that three classic bands could still pull in nearly 20,000 fans and prove that you CAN still rock in America!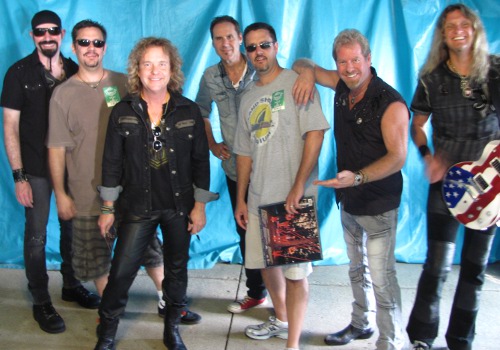 Photos appear courtesy of Ron and Don Higgins
November 19th, 2009 at the DCU Center in Worcester, MA.
by Deb Rao
Staff Writer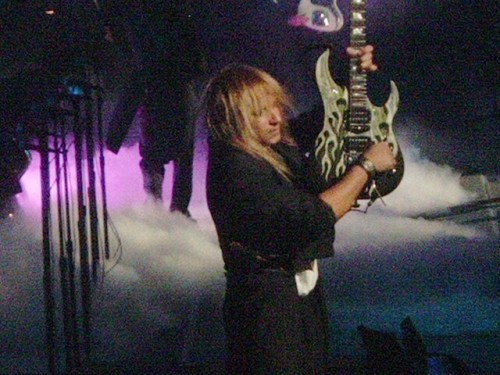 Christmas is just around the corner and what better way to get into the Holiday Spirit than listening to the Trans-Siberian Orchestra. Every Christmas season, TSO comes to the DCU Center in Worcester, MA. This year I thought it was time to check out the rave reviews that I have been hearing about the Holiday mega-event. Prior to the event, it was announced that the TSO concert was sold out. It was no surprise with the caliber of musicians that are featured in the Trans-Siberian Orchestra. There are two different touring entourages for the East and West Coast event. The East Coast entourage is listed below.
Some of the musical guests included ex-Savatage guitarist Chris Caffery who was featured on guitar along with Alex Skolnick of Testament. James Lewis was on vocals and Jeff Plate from Machines of Grace and ex-Savatage was one of the featured drummers. Plus an amazing orchestra led by featured violinist Anna Phoebe.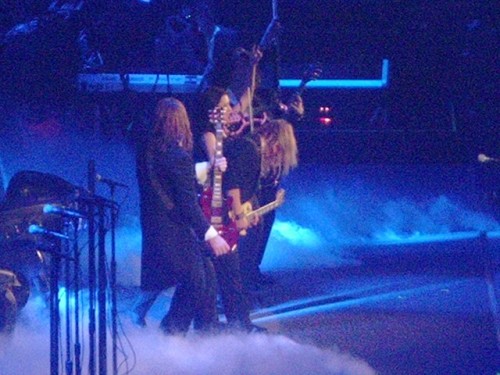 The evening started out with a Narrator, who set the stage for Christmas Eve. In which the stated was the most magical night of the year. The event featured a state of the art sound system dynamic pyro, lasers, flash pods, snow, and magnificent lightning. The arena was lit up like a Christmas tree. The music was overwhelmingly beautiful as the first part of the show consisted of Christmas Carols. The spirit and true meaning of Christmas was displayed with great passion, as the musician played and sang every note with much conviction.
Part two of the Trans-Siberian Orchestra concert consisted of selections from their latest album Night Castle. After the concert, there was a meet and greet, and I had the to talk opportunity with drummer Jeff Plate. Plate commented about the tour and new Night Castle album, "The shows have been full. We've have had some very great and excited audiences. We had our fingers crossed this year knowing the people are having some difficulties. Non-the less the venues have been full. The new Night Castle CD is out. Which I am sure has generated some more interest in and brought some newer people into the audience. So far so good. The show is once again way over the top. They have added some more production. They have changed some things; the show is certainly different than last year and much better in many respects."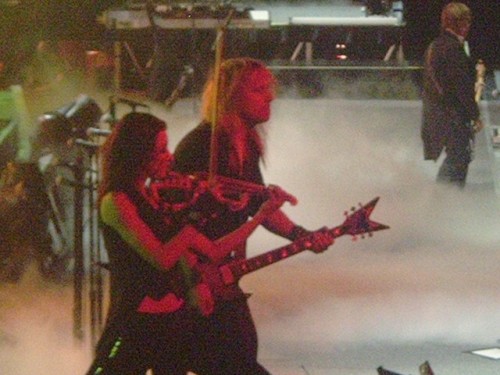 "There are several songs on there which come from the old days and the old Savatage catalog. One of them is "Believe," which we actually started doing this song live last year finally when the CD was finished. There is another snippet of the old "Prelude to Madness" is now called "Mountain." It is an instrumental piece. There are certainly other instrumental parts and pieces from some old Savatage stuff that has made its way into the TSO music."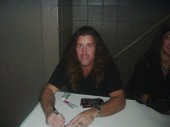 TSO East Coast Line-up
Robert Kinkel – Keyboard, Music Director
Luci Butler – Keyboards
Chris Caffery – Guitar
Alex Skolnick – Guitar
Johnny Lee Middleton – Bass
Anna Phoebe – Violin
Jeff Plate – Drums
Bryan Hicks – Narrator
Steve Broderick – Vocals
Rob Evan – Vocals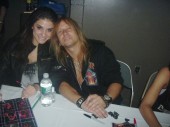 Alexa Goddard – Vocals
Tim Hockenberry – Vocals
Jodi Katz – Vocals
Danielle Landherr – Vocals
James Lewis – Vocals
Jay Pierce – Vocals
Valentina Porter – Vocals
Photos by Deb Rao
July 7, 2009 with Whitesnake at Comcast Center in Mansfield, Ma.
by Deb Rao
Staff Writer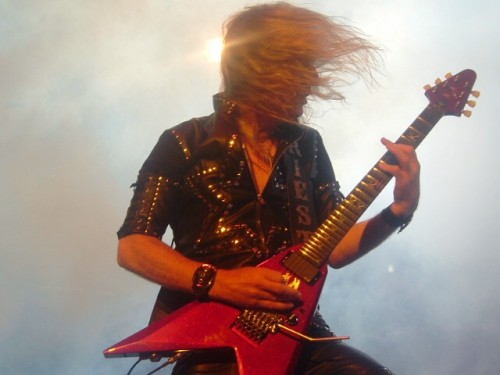 Judas Priest is celebrating the 30th Anniversary of their 1980 hit album British Steel and performing the album in its entirety. The British Steel Tour featuring Judas Priest and Whitesnake with opening act Pop Evil rolled into the Comcast Center in Mansfield, Mass. on July 7.
Judas Priest is one of the first British bands that spearheaded the British Invasion into the U.S. As the curtain donning steel factories and the logo The British Steel Tour fell to the stage, die-hard Judas Priest fans were on their feet in anticipation of the Metal Gods that once ruled the charts in the 1980′s. Judas Priest hit the stage at 9:30 P.M. performing a 90 – minute set that did not disappoint. The band sounded tight and at the top of their game.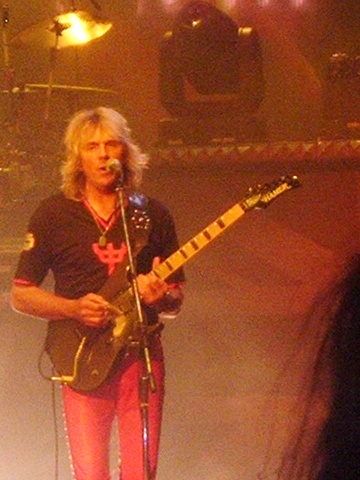 Rob Halford was in great shape dressed in black leather and sunglasses, as he spun circles around the stage, unleashing his powerful vocals to such hits as "Breaking The Law," and "Living After Midnight." The green laser show was spectacular and the lighting was very bright and illuminating.
Guitarist Glen Tipton and K.K. Downing shredded out the classic hits with a vengeance. I last saw Judas Priest last summer with Heaven and Hell at the Mohegan and tonight's performance seemed more exhilarating. Maybe it was the aura of being at an outdoors arena Priest show, but you could tell the band was really into performing "British Steel" live. Halford was very active onstage and gave a stellar performance.
Highlights of the set were "The Ripper" and "Victim Of Changes" and the new song "Prophecy." Judas Priest ended the night with "You Got Another Thing Coming".
Judas Priest Set List:
Rapid Fire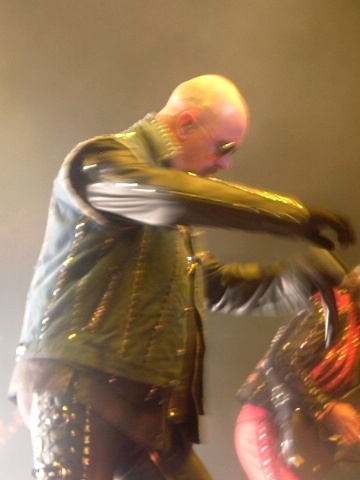 Metal Gods
Breaking The Law
Grinder
United
You Don't Have To Be Old To Be Wise
Living After Midnight
The Rage
Steeler
The Ripper
Prophecy
Rock Hard Ride Free
Victim Of Changes
Encore:
Freewheel Burning
Diamonds And Rust
You've Got Another Thing Comin'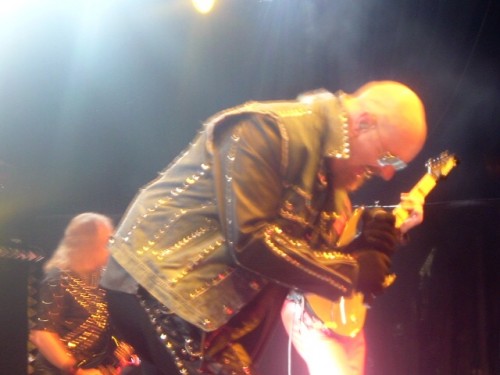 Opening act Whitesnake hit the stage at 8 P.M. performing a 60 – minute set of all of their classic hits. Although the cast of characters has changed since the heyday of the band Reb Beach and Doug Aldrich held down the fort with their amazing guitar duos.
Opening with "Bad Boys," Whitesnake took the metal crowd down memory lane performing all of the MTV hits. The bluesy vocals of David Coverdale sounded good, as the band launched into "Fool For Your Lovin", and "Slow And Easy."
Singer David Coverdale remarked, "Here we are in Massachusetts on this lovely night. Thank God the rain stopped." Actually the only disappointment tonight was the weather factor that kept many fans away as flood warnings were posted earlier due to severe thunderstorms that embraced the area.
Do you remember when guitar solos ruled the '80s? Well, tonight in Mansfield, guitarists Reb Beach and Doug Aldrich wowed the crowd with their dueling guitar mastery before the song "Crying In The Rain". Also the band has New England roots, as Providence native bassist Uriah Duffy performed with the band.
Highlight of the Whitesnake set was the singalong to "Here I Go Again" and "In The Still Of The Night".
Bad Boys
Fool For Your Lovin'
Love Ain't No Stranger
Slow And Easy
Lay Down Your Love
Guitar solos from Reb Beach and Doug Aldrich
Crying In The Rain
Is This Love
Give Me All Your Love
Here I Go Again
Still Of The Night
Photos courtesy of Deb Rao
July 3, 2009 Taffy's, Eaton, OH.
by Chris A.
Staff Writer
Many in the crowd at the sold out Johnny A. performance at Taffys in Eaton, Ohio had no idea whom or what they were about to see and hear as Boston's tone-monster guitarist stepped forward. 90 Minutes later it was all over and Johnny A., supported by his exceptional band, left the crowd shaking their heads in awe at the incredible performance they had just witnessed.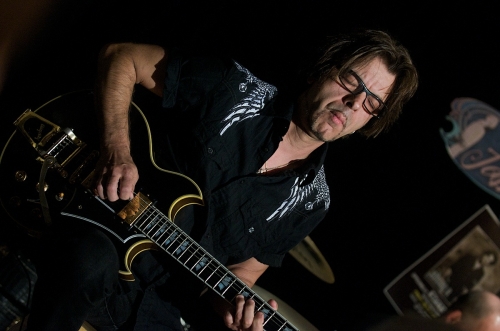 In less than two hours, the namesake of the Gibson Custom Shop Johnny A. Signature model guitar had created another army of fans. Signed to Steve Vai's guitar-god heavy label "Favored Nations," Johnny A. is acknowledged as one of the finest guitarists to ever plug in. Influenced by the likes of Hendrix, Beck, Bloomfield and others, his talent, touch, soul and ability to extract incredibly emotive tone from his instrument and gear is legend among savvy guitar players and "in-the-know" music lovers.
A true contemporary of guys like Stevie Ray Vaughn, he's worked with and shared the stage with guys like Peter Wolfe, BB King, Aerosmith and Eric Clapton. Seated on his trademark stool playing a trans black model of his signature Gibson guitar, he wowed and the Taffys crowd with original compositions like "Two Wheel Horse" and "Tex Critter". His ability to merge the diversities of rock, jazz, blues, country and rockabilly into a single entity and then "JA" them together with his shimmering Bigsby vibrato, well, it never fails to impress and is the essence of the "Johnny A. sound."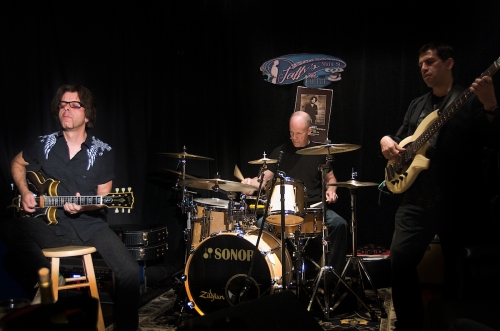 During his performance of his original composition, the soulful blues filled "Krea Gata," he demonstrated what dynamics in music are all about. Taking his guitar from a quiet, mournful pitch he slowly built up to a crescendo of sound that was moving and crushing in its intensity. Sophisticated in their appreciation for fine music, the Taffys audience rewarded the musicians with rapt attention and enthusiastic exclamations of approval. Supported by two exceptional musicians, drummer Ron Stewart and bassist Jesse Bastos, Johnny A., knows he can cut loose and let it rip with these two professionals behind him.
From aesthetically pleasing original compositions to outstanding, imaginative covers of Beatles classics through his show ending "Jimi Jam", (Mr. A's tip of the hat to the late, great Jimi Hendrix,) one could easily argue that he is one of the most talented individuals to pick up the iconic instrument we call the guitar. Johnny A. is currently on tour in the United States and if you love guitar music this is the guy you need to know. You can learn more about this incredible guitarist, his music and his gear at www.johnnya.com
You can also find video and information about Johnny A. on YouTube.
June 30, 2009 with Poison & Cheap Trick at the Comcast Center in Mansfield, Ma.
by Deb Rao
Staff Writer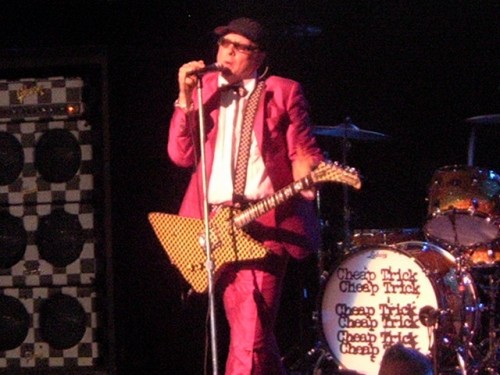 One of the most anticipated tours of the summer Def Leppard/Poison/Cheap Trick rolled into the Comcast Center in Mansfield, Mass. Tuesday night performing to a near capacity crowd. The audience spanned a generation, as families brought their children to see the two legendary '80s metal bands that are still at the top of their game today.
Kicking off the nights festivities at 6:45 P.M., Cheap Trick hit the stage for a colorful set, as guitarist Rick Nielsen dressed in a pink suit and 5-neck yellow plaid guitar cranked out the catchy riffs of "I Want You To Want Me", and "Surrender". Singer Robin Zander sporting a white hat was in good voice. Highlight of the Cheap Trick set was their hit ballad "The Flame."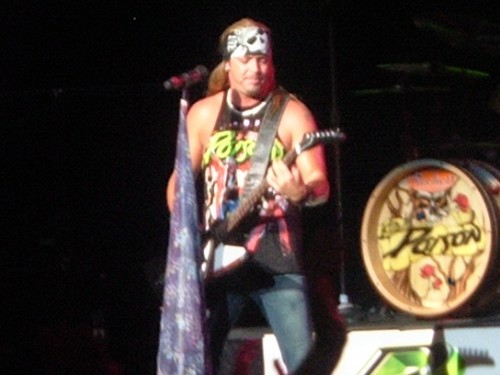 Rock of Love's Bret Michaels and his band Poison hit the stage at 8 P.M. performing a 60-minute set of pure infectious pop. Opening with "Look What The Cat Dragged In," Poison delivered a high-energized punch featuring Bret Michaels in pretty good voice for having suffered from the major Tony Awards incident a few weeks ago.
Highlights of the Poison set were the acoustic laden," Every Rose Has Its Thorn", and acoustic "Something To Believe In" in which Bret Michaels dedicated this song to the Armed Forces. Also the bluesy intro featuring Michaels on harmonica and C.C. Deville playing the blues was a fan favorite on "Mama Don't Dance."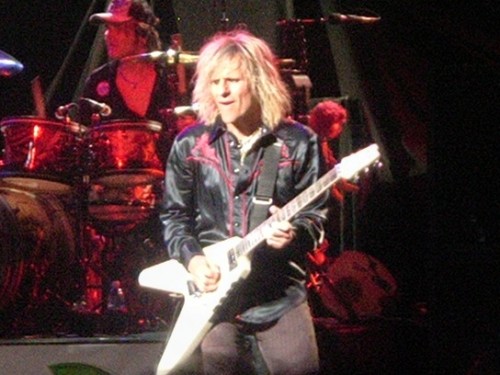 Bret Michaels commented," Poison has been coming to Boston for the past 22 years. Every year just keeps getting better and better. I am a rock and roll fan too. Every night I get to sit on the side of the stage and listen to Cheap Trick and Def Leppard. I want to thank Def Leppard for letting us be a part of this tour."
Every Summer for the past nine years, since the Power To The People Tour, I have been coming to see Poison perform. I have to say this year, the band's performance seemed to be re-energized. Although, the set list was the same, Poison had everyone one their feet and ready to rock.
After the concert Bret Michaels hosted a Bret Michaels after-party at the Hard Rock Cafe in Boston.
Poison Set List:
Look At What The Cat Dragged In
I Want Action
Something To Believe In
Mama Don't Dance
CC Solo
Unskinny Bop
Rikki drum solo
Every Rose
Talk Dirty To Me
Encore:
Nothing But A Good Time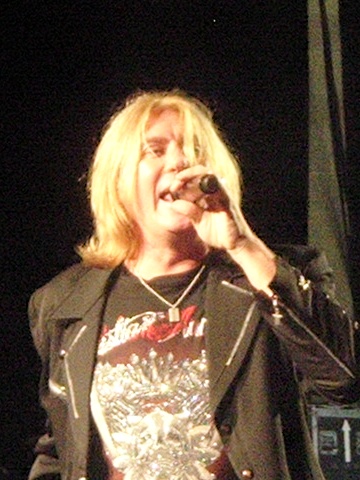 At 9:30 P.M. one of the most popular bands of the metal genre Def Leppard took the stage with a vengeance. The Def Leppard stage show featured spectacular lighting, a video screen that almost spanned the entire stage, and a catwalk in which every member walk down to showcase their talent. The video screen launched photos of the band from past to present spanning their illustrious career in music.
Singer Joe Elliot owned the stage, with his powerful vocals. Opening with "Rock!Rock!Till You Drop," the band was surely there to rock unleashing hit after hit to the capacity crowd. Fueled by the extradonairy guitar work of Phil Collen and Vivian Campbell, highlights of the set would include the acoustic performance of "Two Steps Behind," "Bringing On The Heartbreak", and new song "Nine Lives."
The show didn't end there. Def Leppard packed a powerful end of night punch with "Hysteria," "Animal," and "Rock Of Ages." For one night music fans got to re-live the heyday of their youth with songs that have outlasted the test of time and everyone had nothing but a good time!
Def Leppard Set List:
Rock!Rock!Till You Drop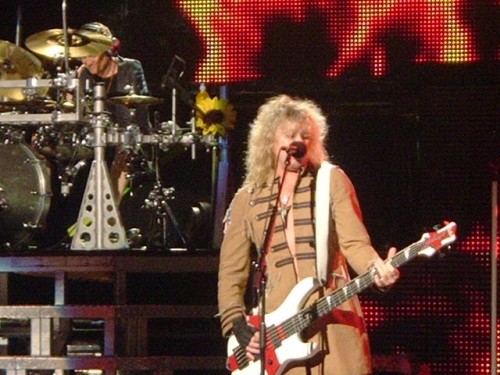 Rocket
Let's Get Rocked
Foolin
Too Late
Nine Lives
Rock On
Two Steps Behind
Bringing On The Heartbreak
Hysteria
Animal
Armageddon It
Photograph
Pour Some Sugar On Me
Rock Of Ages
Photos courtesy of Deb Rao
June 16, 2009 The Riot Room, Kansas City, Mo.
by John Kindred
Staff Writer

Orange Sky opened the evening with a blistering set of music that comprises a multitude of musical elements from hard rock, soft rock, punk and reggae which is ground into a metallic presentation. The band is led by lead vocalist and guitarist Nigel Rojas, rhythm guitarist Joel Beazer, bassist Nicholas Rojas, keyboardist Richard Hall, and drummer Obasi Springer.
Touring in support of their latest studio album Dat Iz Voodoo on StarCity records, Orange Sky took the stage and for nearly an hour they held the attention of the crowd. Not being overly familiar with the band was not a hindrance to enjoying the energetic music.
Hailing from Trinidad, the Caribbean band had no trouble connecting with the audience. Their free spirited energy certainly was absorbed by the crowd. The band was more than generous with their time before and after their set. They mingled with the crowd, signed autographs and took pictures with eager fans.
Check them out on the web:
www.theorangesky.com
www.starcityrecording.com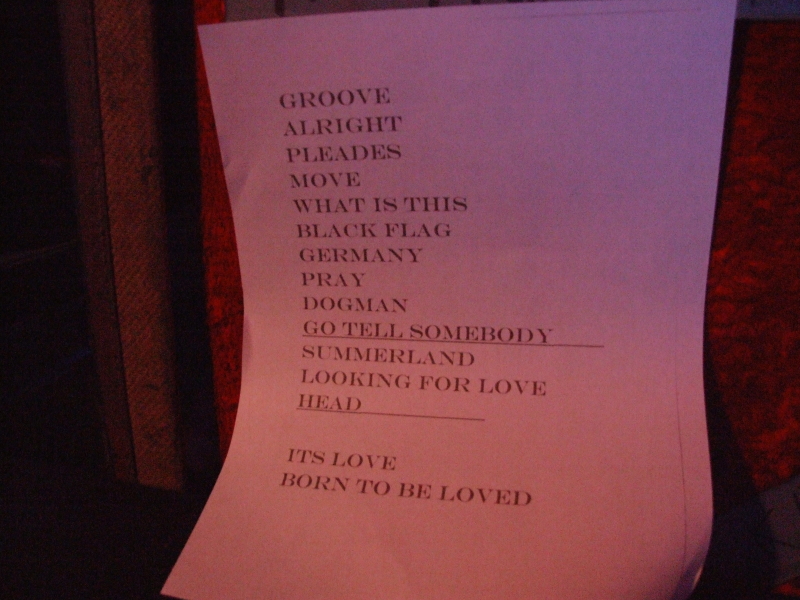 Doug Pinnick, Ty Tabor, and Jerry Gaskill are the three parts that equal the whole that is King's X. Their return to Kansas City was witnessed by a packed house. From the time that the band took the stage the demeanor of Pinnick was the focal point, as technical difficulties with his monitors distracted and you could say enraged him. Giving a bit of a tongue lashing to the "sound guys" the show moved forward but throughout the set Pinnick remained disgruntled.
Can't say what Pinnick was hearing but the soulfulness and bluesy grit of his voice was dynamic as ever. The Beatle-esque harmony vocals are the pinnacle of the band's sound and King's X more than delivered in the live setting. The trio can be measured against some rock's better known bands made up of only three members, such as Rush or Triumph, as King's X delivers a wall of sound that fills up any venue.
It is amazing to see Pinnick play the bass guitar as aggressively as he does and then add in his ability to sing so flawlessly. It's pure magic. Ty Tabor is no slouch on guitar or vocals either. His unique guitar style joins with Pinnick bass lines and Gaskill's percussion and builds out the music of the uniquely progressive band.
Touring in support of their recent release XV the band performed their "hits" as well as fan favorites. In all including the encore's King's X performed fifteen songs. They certainly extended some songs into longer jams as on the classic "Over My Head." Or the closer "Born to be Loved" which seemed as if it was always on the verge of stopping but carried on.
King's X put on a great live show. And after the show the were gracious enough to hang out and meet fans, sign autographs and take photos.
Set List:
Groove
Alright
Pleades
Move
What Is This
Black Flag
Germany
Pray
Dogman
Go Tell Somebody
Summerland
Looking For Love
Head
Encore:
It's Love
Born To Be Loved
Photo Gallery
Pictures courtesy of John Kindred & Gary Dean Ash